Leap of faith – Vow Bridal Gallery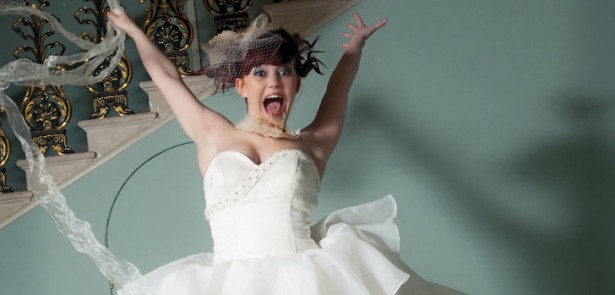 Lisa Smith and Dave Gallagher, the dynamic duo behind the new Vow Bridal Gallery talk to Kate McAuley about following their passions, creating something beautiful from scratch, and what you can expect to find inside their stunning emporium.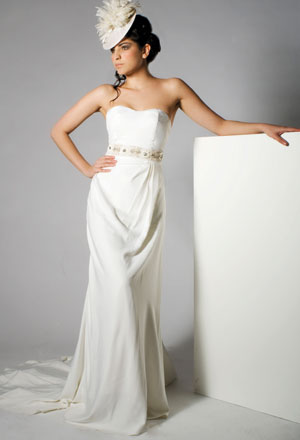 It's always impressive when you hear stories about people who have changed their life completely to both follow and realise a dream. It goes without saying that it takes a lot more than just money to make such a move – you have to be brave, passionate, hardworking, enthusiastic and, above all else, you must be able to ignore all your self doubts and any other naysayers that will try to stop you in your tracks.
This is no easy feat, but Peterborough native Lisa Smith and Yorkshire-born, locally-based (for eleven years now) Dave Gallagher have managed to pull it off with aplomb. The pair, who met while working for a government agency, have just opened Vow – a bridal boutique with a difference.
At first the shift seems slightly incongruous, but it all becomes clearer as they begin to explain the decision making process that brought the Vow into fruition. 'I wanted to do something more creative,' Lisa tells me in what soon becomes her typically enthusiastic and friendly manner.
Until she started on this venture, Lisa originally studied performing arts before obtaining a management position within the public sector, but the work was no longer fulfilling, and Dave, who's an environmental scientist by trade, felt the same way. 'I'd been working in a structured, scientific organisation for too long. I'd wanted to do something different for a while. We started by buying property in Orlando [Florida], but soon we wanted something more.'
But that still begs the question: with so many other options available, why did you choose to open a bridal boutique in particular? 'We love the elegance and extremes you go to in bridal,' says Lisa. 'We wanted something that would encompass a total look and bridal gives you the whole experience. We also were excited about designing the interior.'

And upon visiting the boutique it becomes obvious that no expense has been spared. The two-floored space they chose, which is located in the historic Haycock Hotel in the village of Wansford, has obviously been fitted out with much care and attention. 'We called it Vow Bridal Gallery,' Lisa says. 'It's more typical of what a bridal shop should be called. It's functional as well as arty, so that it means more.' 'We got it as an empty shell,' Dave adds. 'It was supposed to be a music centre. So, we had to completely start again.'
Having to start from scratch has obviously suited Dave and Lisa. The space is so well-designed, with an area for the male members of the bridal party downstairs, which is decked out in more masculine colours, comfy chairs and a swish coffee machine to keep the groom and his mates happy. 'The space is really cool for blokes,' says Dave. 'We wanted to make the experience of hiring a suit enjoyable rather than a chore. We opted for a Bachelor pad look, decorating in chrome and steel.' Don't worry ladies, it's not too reminiscent of a man's single life. There's too much wedding-related paraphernalia about to keep your man's mind from drifting into a nostalgic reverie for his unattached days.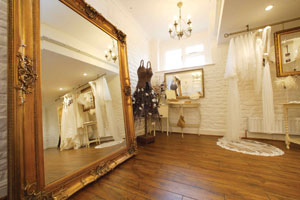 Upstairs, is the women's domain. Polished hardwood floors stretch the length of the space, the walls are painted white and the layout is very similar to an art gallery. Nothing is crowded; the dresses hang freely, while a number are suspended in frames. It is also beautifully decorated with chests of drawers standing on carved feet and vases of flowers that call to mind childhood fairy tales without lapsing into the land of the overly kitsch – think 18th century chateau rather than Disney's Sleeping Beauty.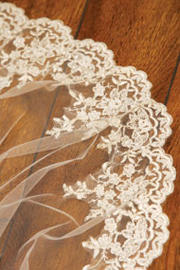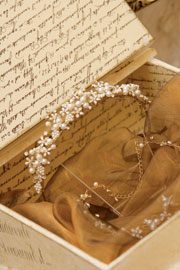 The Vow Bridal gallery is a place that you will most certainly want to spend time in, and you can always combine your visit with a coffee or meal at the hotel. 'We want customers to have the full experience and enjoy our hospitality,' Lisa says. 'It's not about coming in and simply finding a dress, we want to understand the type of wedding our clients want and work with them to fulfil their wishes,' she adds. 'A wedding day is special, and that feeling should be with our clients from the moment they come in and see us.'
While the menswear collection is classic and available in a range of sizes, the gowns have been sourced from three of Britain's more contemporary bridal designers – Natalie Gladman of Madeline Isaac-James, Sanyukta Shrestha and Annabel Jenkins. 'I wanted to stock gowns that were just that little bit different,' Lisa says by way of explanation. 'And I've been true to this aim.'
That's not, of course, to say that she's gone out on a wacky sartorial limb. Instead, what you'll find at Vow is a range of alluring, unique gowns that are thoroughly modern. Each of the designers offers something slightly different in an effort to match varied tastes. 'We've got slinky, glitzy and quirky gowns,' says Lisa. 'But we also stock fairy tale traditional as well.'
The Madeline Issac-James label was chosen for its myriad styles, while Bridal Innovation 2011 winner Shrestha is predominantly guided by ethical and environmental considerations when designing her delicately bohemian creations. Annabel Jenkins, meanwhile, produces gowns of a more quirky design. 'We've built up a relationship with these designers,' says Lisa. 'We picked them, we got on well, we like their values, and we love the dresses.'
All in all, Vow Bridal Gallery is an enchanting place for the married-couple-to-be. So, if you're planning a wedding, please make an appointment to see Lisa and Dave. Why, after all, should you wait until your wedding day to experience something special when all the fun can start now?
[youtube=https://www.youtube.com/watch?v=sB4vv6dlxJ8&w=615&h=415]
Vow Bridal Gallery
The Haycock Hotel, London Road, Wansford, PE8 6JA.
Tel. 01780 781 101

www.vowbridal.co.uk
Leave a Reply