The top five fashion items you MUST have in your spring/summer wardrobe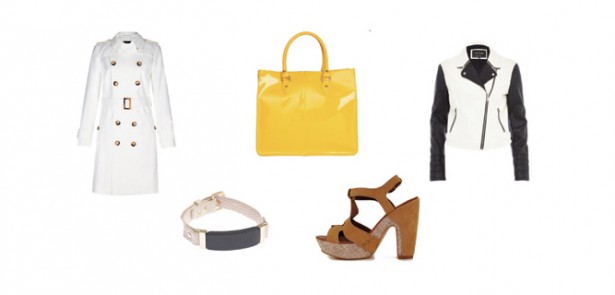 Fashion guru DAVINA ST CLAIR has been studying the fashion forecast – and can confidently predict an absolutely gorgeous spring/summer season…
The spring/summer trench
Marks and Spencer is finally dragging itself out of the fashion doldrums, thanks mostly to new line Best of British. As far as is possible all pieces are created in the UK, and the results are superb-quality clothes, well made and beautifully designed and therefore worth the slightly higher prices attached. This classic trench – in fresh, clean white – will see you through not only this spring and summer, but probably the next 50 into the bargain.
The chunky sandal
Despite the appearance of a range of styles on the spring/summer catwalks, from brogues to thick-soled brothel creepers to kitten heels – yes, kitten heels! – chunky heeled and platform soled sandals are clearly still very much a firm fave with designers. If you fear veering too enthusiastically from heavy winter boots to something strappy and delicate come the warmer weather, the chunky sandal is the perfect compromise.
The pop of yellow
Pastels are so over: time to embrace monochrome, strong acid brights, and – as far as I could tell when I was at the spring/summer shows in Paris back in September– colours that look like a bruise. If you're young and hip, grungy purples, bilious greens and storm-cloud blues will be on your must-buy list this season. If you did all that back in the 90s and would, frankly, rather not revisit it, stick to crisp, sophisticated black-and-white and robust, cheerful shades to stay on trend.
The tomboy bracelet
Ladylike is history; there's a new chick on the block and she'd rather rock patched jeans with eye-wateringly high heels, a beanie and a cashmere boyfriend coat than a pencil skirt or a ballet flat. Cleaner, more confident styles require stronger accessories, so snap up a leather cuff with metal or jewelled embellishment (it will almost certainly see you well into autumn/winter, too).
The evolved biker
It's official: the biker jacket is The King of outerwear. It will never, ever go out of fashion, and you can now get it not only in traditional black leather but in every shade and fabric you might care to imagine. Channel one of this season's key colour trends with a monochrome version, teamed with a hot-pink silk blouse, boyfriend jeans and heels so high you can barely walk in them.
Featured items (from left to right)…
BEST OF BRITISH PURE COTTON TRENCH COAT WITH BELT, £249
MARKS AND SPENCER
www.marksandspencer.com
EFE BRACELET, £17.50
TAHLIA'S CLOSET
www.tahlias-closet.co.uk
MADE IN ITALY YELLOW PATENT LEATHER OVERSIZED FASHION SHOPPER, £120
FRED & EVE
www.fredandeve.co.uk
LADIES BEIGE LEATHER PLATFORM STRAPPED HEELS, £52.49
EL SHOE BOUTIQUE
www.elshoeboutique.co.uk
BLACK AND WHITE COLOUR BLOCK BIKER JACKET, £60
RIVER ISLAND, QUEENSGATE
www.queensgate-shopping.co.uk
www.riverisland.com
Leave a Reply