Eye for detail at The Oculist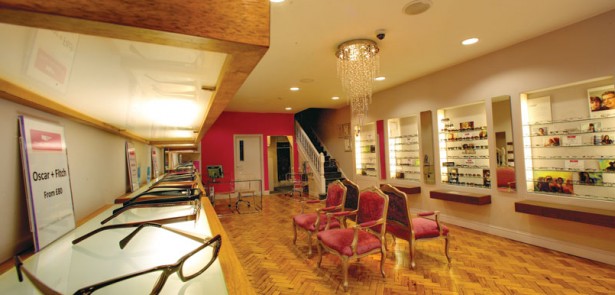 Optician Gerry Sondh of The Oculist talks to Kate McAuley about the rising popularity of bespoke eyewear and why he decided to turn the traditional opticians on its head.
Taking on the High Street goliaths – regardless of the product or service you are offering – is never an easy feat. This fact is especially true when it comes to opticians. Who in their right mind would willingly challenge the plethora of chain stores with their offers of two-for-one specs and cutesy-cutesy advertising? Optician Gerry Sondh, that's who.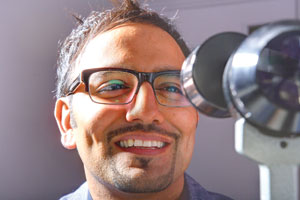 Sondh saw a niche and took a gamble. In 2007, after years working for the big boys and becoming more and more disgruntled, he broke out on his own and set up The Oculist in the Queensgate Centre's Westgate Arcade. 'My plan was to open up a practice with a relaxed vibe while still retaining a professional atmosphere,' he tells us during a break in his busy day. 'I wanted to create a completely different kind of approach to buying spectacles and seeing your optician.'
And this is exactly what he's done. Walking into The Oculist is an experience of a another kind. The space is light and airy. There's music playing and the layout is more like an art gallery that exhibits eyewear than the clinical, cookie-cutter opticians you find everywhere else.
Not that this makes The Oculist too cool for school. Sondh believes that substance is as equally important as style – a fact that's immediately apparent as soon as you walk into the space. Regardless of your requirements – whether it's to have your eyes checked or you are just browsing for new frames – Sondh and dispensing optician Emma Woolner, do their utmost to welcome you and cater to your needs. It's a level of commitment that cannot be faked. The Sondh and Woolner synergy is obvious when you meet them and they combine their skills to provide an excellent experience.
Fyi Private and NHS patients welcome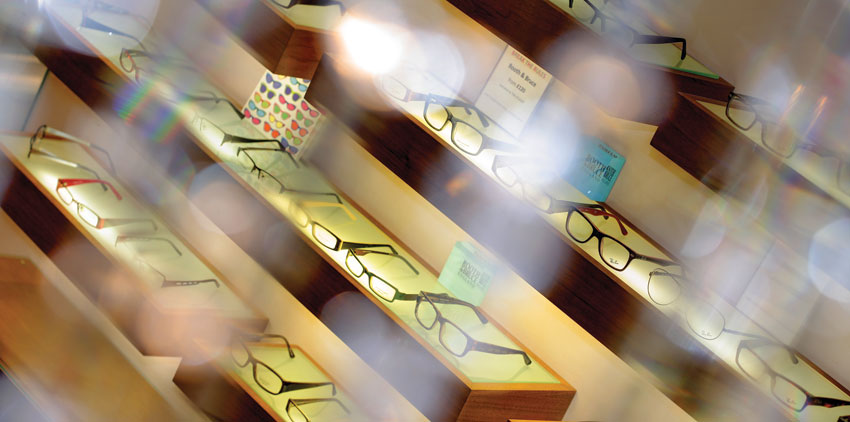 His passion for his work pervades every service that The Oculist provides, from state-of-the-art eye tests to finding you the perfect frames. 'People are usually so impressed with the boutique feel and fashionable eyewear they don't realise that the practice provides eye examinations. I set up my consulting room with equiptment that I would expect if I were visiting an opticians for a thorough eye test,' Sondh says. 'Using visual field and pressure machines we are able to detect diseases such as; diabetes, glaucoma and brain tumours. Digital photography – which is part of every test at The Oculist – provides an image of the inside of the eye. This enables us to record the appearance of the blood vessels, optic nerve and macula. We can then compare and contrast these images each time you visit.'
The machines are used as part of what Sondh has termed a 'life style' eye test. 'Each of our appointments is between 40 minutes to an hour long,' he says. 'We use a chart that can display number plates, teletext, animals on the horizon as well as the conventional letter chart. I have numbers and shapes which make it easier to examine children. The chart allows me to individualise the test to tackle my patients' visual needs.'
Moving on from the clinical aspects of the business, Sondh and his team are also well known for their sartorial nous. Not only are they well versed in all the designer brands and seasonal trends, but they understand the nuances of the face and have an almost instinctive understanding of what frames will be best. 'We stock branded frames, like Rayban, Prada, Dior and Tom Ford' says Sondh. 'Brands that people are familiar with. We also stock exclusive brands designed by engineers using light weight materials. Frames made from titanium can be combined with screw-less joints and vibrant colours to create your desired look. A bespoke frame service and contact lenses are available if you are unable to find your perfect frame.'
'When an individual visits The Oculist to choose a new pair of spectacles we talk to them to discover what they're after. Whether it's a minimalist look, retro or oversized geek chic frame, there are lots of different collections to choose from to achieve the perfect look. The bespoke frame service also allows us to make a frame if somebody has a specific look in mind.'
It's this tailor made offering that really makes The Oculist stand out from the crowd.
'We first take vital facial measurements like – the shape of the bridge, the width of the head, the width of the temple, the position of the ears, etc. Secondly the patient selects their frame colour from a colour palette ranging from understated blacks and browns to vibrant orange and purple. Next is the design stage where each element of the frame is chosen. This isn't just an option for those with a creative flair. It can be achieved by anyone with any prescription.' says Sondh.
This information goes in to a software programme but does not end there. 48 hours later you receive a portfolio of three designs superimposed on your face so that you can see what your new frame will look like. At this point you can still make changes. And then, once you've made your choice, four-weeks later your specs come tailor-made from the factory.'
Although made-to-measure glasses are a little more expensive (a completely bespoke pair comes in at just over £400) it's a desirable option to make them fit perfectly.'
It's obvious why spectacle wearers love The Oculist. With its funky interior, 'life style' eye tests, bespoke frames, and excellent, professional service, there's no better place to choose for your next opticians appointment. 'I'd like to think that we've got one of the best services in town,' says Sondh. We tend to agree.
The Oculist, 24 Westgate Arcade, Queensgate Centre, Peterborough PE1 1PY t: 01733 555 621
www.theoculist.com

Leave a Reply