Style special | essential footwear for autumn/winter 2013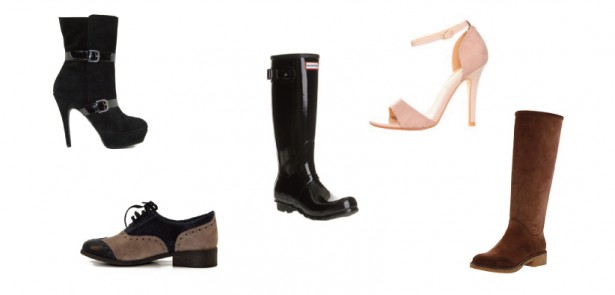 DAVINA ST CLAIR reports on the finest shoes and boots to rock this season
Having looked out of the window this morning, it's become clear to me that sliding ones feet into rubber flip-flops (casual) or leather flip-flops (every other occasion) is no longer going to cut it. Summer has fled. Winter creeps up behind us wearing a malevolent grin, clutching a large air horn labelled 'snow, wind, sleet, frost' which it is about to parp in our faces. We need to man up, face reality, and get with the program: we, ladies, need to go shoe shopping…
The ankle boot
Some outfits need a killer heel. It might be because the hem of your trousers will drag on the ground if you wear a flat, or it might be because you want to intimidate someone – whichever it is, winter demands your heel of choice takes the form of a robust yet saucy boot. Remember: always keep black boots in tip-top condition. Tan pays for fading and distressing over time, but scuffed black boots look unremittingly awful, so only opt for black if you've got the time and the patience for regular sessions with shoe polish and a stiff brush.
The welly
Those pink wellies with daisies on that you bought for festival season look rather melancholy now, and with harsh weather comes harsh truths: you're a grown-up. Leave cute, flowery wellies to five-year-olds and find something sleek, stylish and sophisticated. Avoid green (farmers) and navy (people who come from towns but like to pretend to be farmers at weekends) and go for a pillarbox red or black high-gloss statement welly.
The party shoe
Winter is party season! Which – considering the skimpy frocks and the barely-there shoes – is really, really the dumbest time ever to have a party season. However, unless you move to Australia it simply can't be helped, so the best thing to do is embrace it whole-heartedly and buy the most screamingly gorgeous, strappy, delicate, sparkly heels you can find. Just make sure you bag a bargain, because you'll need lots of money to pay for all the taxis you'll have to take when you wear them.
The knee-high
The chunky tan knee-high boot is your friend. Not only is it versatile, looking nicely classic with both skinny jean and knee-length skirt or dress, it can and will hide a multitude of sins, not least the one of not shaving your legs for six months.
The office flat
I have never worked in an office, but I can imagine that doing so requires comfortable footwear for all that standing around next to water coolers and faxing and wot-not. Office shoes also need to get you from car park or train station to desk and back again, whatever the weather, so choose something practical that also channels a hot season trend, such as boyfriend style, to make sure you remain stylish and environment-appropriate.
Featured items (from left to right)…
SUEDE PATENT BUCKLE HIGH HEEL BOOTS, £77
EL SHOE BOUTIQUE
www.elshoeboutique.co.uk
SUEDE TWO-TONE BROGUE, £43.57
EL SHOE BOUTIQUE
www.elshoeboutique.co.uk
HUNTER ORIGINAL BLACK GLOSS WELLIES, £89
OFFICE, QUEENSGATE
www.queensgate-shopping.co.uk
www.office.co.uk
ANA LUBLIN NUDE HIGH HEELED SANDALS, £35
FRED & EVE
www.fredandeve.co.uk
TANG KNEE HIGH BOOTS, £145
DUNE AT JOHN LEWIS, QUEENSGATE
www.queensgate-shopping.co.uk
www.johnlewis.com
Leave a Reply