Style special | The best seasonal accessories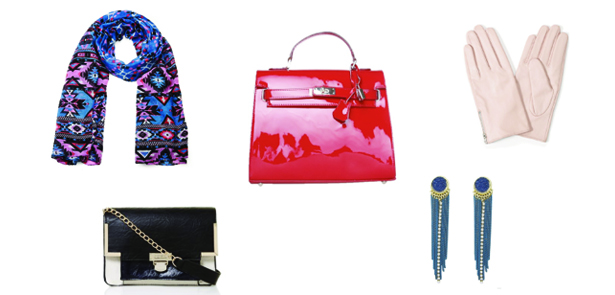 It's is a time for giving, of course… but no-one's looking, so make room in your shopping bag for a little treat or two for yourself. The Moment magazine online's style guru and lady-about-town DAVINA ST CLAIR picks five of the best accessories…
A scarf is for life…
Bold, clashing prints are everywhere this year, and I even hear that the young and the beautiful are going crazy for this trend top-to-toe. If you are young and beautiful, go knock yourself out on this one. If, however, the years are advancing (in fashion terms: you're over 21) and you favour soft lighting, then a scarf is the perfect compromise.
Bag it up
Is it a bag, or is it a clutch? A darling little thing like this – a perfect handful with a delicate chain strap which you can so easily tuck away under the flap – will take you from daytime at the office to a night on the tiles with minimal effort (well, you'll still need to get dressed and brush your hair, but you get the gist).
Paint the town red
Red is a colour for Christmas, and personally I think this gorgeous bag is far more festive than boring old tinsel. Please note, do not accessorise it with anything green or you risk looking like an elf.
Statement pieces
These earrings are to die for, and will jazz up a plain black dress no end. If anyone asks say they're Isabel Marant – because they so easily could be – and that they cost a fortune – which they would have done if they really were Isabel Marant.
Tickled pink
If you were one of the (does rough calculation on back of an envelope) 2.342 billion women on the planet who did not get their hands on The Famous Marks & Spencer Pink Coat this season, rejoice! You can avoid looking like a walking marshmallow but still catch the trend with some fabulous pink accessories, such as these adorable 'Murder at the Vicarage' gloves.
Featured items (from left to right)…
AZTEC AND CIRCLE PRINT SCARF, £7.99
REBA BOUTIQUE
www.rebaboutique.co.uk
JUNO MULTI COLOURED SHOULDER BAG, £49.99
REBA BOUTIQUE
www.rebaboutique.co.uk
RED PATENT LEATHER HANDBAG, £80
FRED & EVE
www.fredandeve.co.uk
NAVY DRUZY STONE CHAIN EARRINGS, £19
TAHLIAS CLOSET
www.tahlias-closet.co.uk
LEATHER GLOVES WITH ZIP, £22
ACCESSORIZE, QUEENSGATE
www.queensgate-shopping.co.uk
uk.accessorize.com
Leave a Reply