Style Diaries | SUNSHINE NANA-MAANUA DUNCAN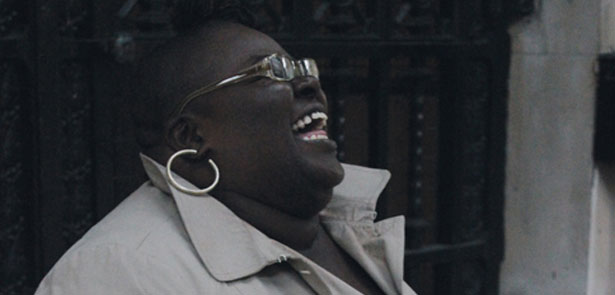 Canadian-born, London-based, plus-sized stylist and blogger Sunshine Nana-Maanua Duncan talks Queen Latifa and wearing men's clothes
Who is your style icon and why?
I have always loved Queen Latifa. She is a voluptuous beautiful woman who has always celebrated everything about herself, especially her size. I love her style. She goes from glamorous to biker without skipping a beat!
What's one piece of clothing every woman needs in her wardrobe this season?
In this country, I'd have to say a good trench coat. It looks stylish, keeps you somewhat dry and not too warm for these crazy showers.
Describe the best outfit you've ever worn.
That would have to be my custom made hot pink silk corset and flair skirt with my pony haired leapord print Irregular Choice pumps.
What look do you love but doubt you could pull off?
I love the high-waisted jeans, crop top and 5 inch heel look. It's all wrong for me. First off, I'd have to find a way not to fall in the heels!
What do you wear when nobody's looking?
Absolutely nothing…I love being naked.
What was your most memorable fashion faux pas?
Unfortunately I used to do this quite often, before I was enlightened on what well-fitting clothes can do for a woman. I used to wear a lot of oversized men's clothing because I thought that 'nothing fit', but it was only because I wasn't really looking and mens' clothes were easy.
What is your most treasured piece of clothing or jewellery?
I have an oversized army green LRG hoodie that I 'borrowed' from a friend about 10 years ago. I love it and he knows he's never getting it back. I take it wherever I 'live'. It doesn't matter that the zipper is broken, and the sleeves have holes. I adore it.
What's your favourite style blog?
I love letmeseeyourwears.co.uk and gabifresh.com. Both make what others would call issues into their assets. LetMeSeeYourWears for her height and GabiFresh for her plus-sized shape.
 Where do you shop?
Evans, Monif C, Asos Curve, Additionelle's MXM, and Irregular Choice are my faves.
What is your most extravagant sartorial purchase?
That would have to be that same hot pink custom-made corset. I wish I had a reason to wear it everyday!
 Describe your style in five words.
Bright, Funky, Cute, Quirky and Bold….simply Sunshiny!
To find out more about Sunshine visit www.cocoandcowe.com.
Leave a Reply