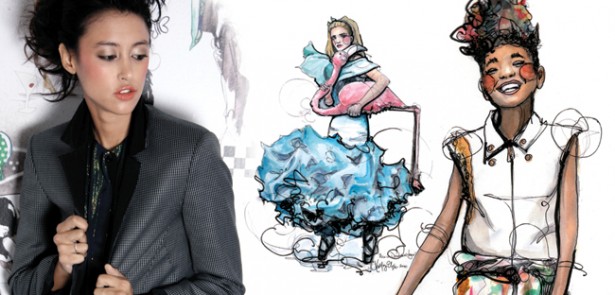 Kate McAuley rounds up our favorite fashion bloggers
It took the fashion industry a little longer than most to embrace the internet. Designers were worried about copyright and exclusivity, while anyone sartorially inclined would've balked at the idea of blogging – best leave that to the computer nerds, was the collective thinking.
It's all changed now – to the point where high-end designers have even started to broadcast their runway shows live across cyberspace, while a new army of bloggers are becoming serious industry players – they're flown around the world for various fashion weeks, they're courted by designers, and they're interviewed in magazines. Meet some of our current favourites.
Who: Katie Rodgers – PaperFashion
The skinny: Boston-based Katie works by day as an apparel designer for Reebok and by night (and all her other spare time, it seems) creating beautiful images for her blog PaperFashion. What started for her as a creative outlet, has resulted in a neat little side venture that's seen her work for US-brand Coach and attracted a whole lot of attention from a raft of other designers. Her work is inspired by anything fashion related – be it a street style photograph, catwalk image or editorials that catch her eye in magazines.
Why we love her: Katie's illustrations are so unique and full of whimsy. And we can't help but applaud the fact that she's developed this style all on her own.
www.paperfashion.wordpress.com
Who: Kristin Knox – The Clothes Whisperer
The skinny: Kristen, AKA the clothes whisperer, is a fashion obsessive, though she takes it all with a healthy pinch of salt. Together with her dog Butters, she travels the world to shop anywhere she can, report on all things clothing related, and to attend some of the most enviable events. Thank goodness, she's witty, knowledgeable and likes to share – albeit in her own quiet tones and dulcet ways.
Why we love her: Kristin is living the life every fashionista wants to live – and we don't mind watching her do it one bit.
www.theclotheswhisperer.co.uk
Who: Natalie Hartley – Natalie Hartley Wears…
The skinny: You might already recognise Natalie. Her blog is actually a follow on from the column she used to have in the Sunday Times Style magazine. Natalie now works as a senior style editor for In Style, but her weekly piece was so popular that she decided to keep it going as a blog.
Why we love her: We missed her when she left Sunday Time Style, so we were thrilled when she popped up online. Natalie has that enviable talent of meticulously choosing her outfits, but looking like she's just thrown it together on a whim. Get ready for a style masterclass.
www.nataliehartleywears.blogspot.com
Who: Emily Johnston – Fashion Foie Gras
The skinny: Emily is the dark clotheshorse of the bunch. She's definitely the most prolific poster – she force-feeds us fashion news (hence the name…) 24/7, as well as holding down a full-time job. Although her gorgeous face pops up on her blog from time to time, she seems to be more interested in pumping her contacts and scouring the internet for the latest industry news, images and trends. So, if you need to know what's going on, Fashion Foie Gras is your one click stop. Why we love her: Emily literally keeps us up to date. We also adore her 'outfit du jour' posts (pictured), and her sassy critiques.
www.fashionfoiegras.com
5 Steps to starting your own Fashion Blog
1. Come up with an idea – Peterborough street style, perhaps?
2. Arm yourself – all you need is a computer, an internet connection and a digital camera.
3. Get online – we like WordPress, Tumblr and Typepad. All are free and come with easy to follow, step-by-step instructions.
4. Be daring and post often. Find your own voice and let your inner style shine through. This is how you'll get noticed.
5. Get viral. Share your posts on Facebook and Twitter. Engage with other bloggers. Leave comments around the web on the things you like – just make sure you leave your URL.
Get this right, and before you know it you'll have more followers than One Direction on Twitter. The next time we meet, you might be sharing a front row seat with Anna Wintour at the next collections. There's no harm in aiming high!
Leave a Reply