Lets get Sirius | Sirius Jewellery
At Sirius Jewellery you'll want to be BFFs with more than just diamonds, says Kate McAuley
Fashion is having a moment. Although the big design houses still lead the trends, with each passing season there are more and more looks to choose from. These days anything goes – from vintage-inspired romance to edgy looks with a sporty vibe – there are now so many more options for us to express ourselves.
This is a fact that's not lost on Sirius store manager Carolyn Howe. A seasoned retailer, Howe joined the boutique at its inception 18 months ago and has been instrumental in its design and development ever since. 'We sell a mixture of designer, traditional and contemporary jewellery,' she tells me during a quick break in her very busy day. 'It's important to have a wide spectrum of goods to please all people,' she adds.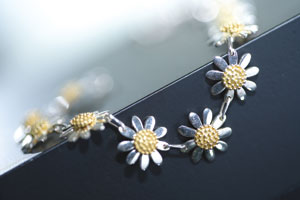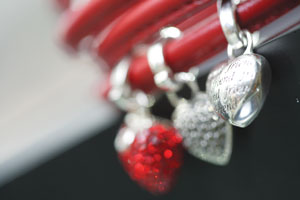 And we couldn't agree more. In addition to an impressive array of platinum and diamond engagement and wedding rings, Sirius stocks a remarkable selection of pieces that are the perfect accompaniment to a number of trends that we're seeing this summer season.
It also tickles my fancy that Howe and her team haven't strayed too far afield to stock Sirius' shelves. 'We mainly source our products from UK designers,' she says. 'I go to several shows a year and I'm always on the look out for new pieces and new designers that are producing something that's a bit different or a bit unusual.'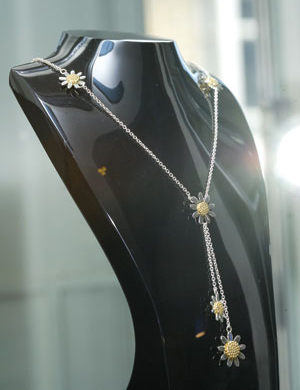 There's no doubt she has the eye. Tastefully displayed on Sirius' modern, understated shop floor you'll find pieces by, among others, Malcolm Morris (who created the tiaras worn in the film Shakespeare in love), Dower & Hall, Cavendish French, Bjorg, 5C, Eternity Range, Jane Adam, Pink Powder, Amy Duggan, and Michael Berger. Our favourite designers, however, have to by Yen (the award-winning, London-based label), Daisy (one of the first, flower-obsessed studios to produce stacked rings), and Virtue (a company known for its edgier pieces). Check out the following pages to see which pieces from these designers topped our list and how to work them into this seasons trends.
If, however, you're after something more personal or, for example, assistance with sprucing up a brooch that belonged to your grandmother, Sirius also employs accomplished goldsmith Patrick Sigler. With a resume that includes an apprenticeship and ten-years working in Cambridge for Cellini Fine Jewels and training at the prestigious Sir John Cass School of Art and Design, Sigler specialises in restorations, remodeling and bespoke jewellery design.

There's not much more Sirius or Howe could do to please me. I'm definitely going to pop in the next time I'm in the mood for something sparkly. There's also an old chain of pearls at the bottom of my jewellery box that is in desperate need of attention. And I'm thinking about leaving a Sirius card in the proverbial doghouse for the next time my other half decides to misbehave. It can't hurt right? I look forward to seeing you there.
Sirius Jewellery
8 St Mary's Hill, Stamford, PE9 2DP.
Tel. 01780 767878
www.siriusjewellery.co.uk

Leave a Reply