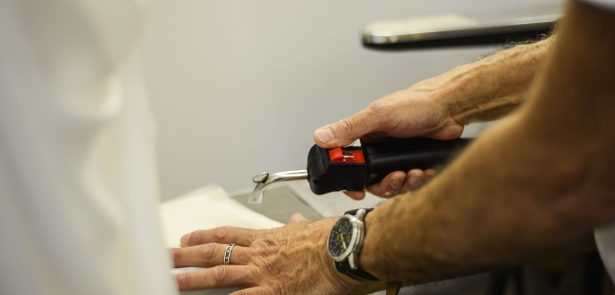 Peters' Cleaners has been providing garment cleaning services in Peterborough and Stamford for nearly 60 years. With its two shops and two pioneering drop-off and pick-up cleaning pods it's quickly earned an award-winning reputation for innovation. They have partnered with us here at The Moment Magazine to help provide useful tips on cleaning your treasured pieces to keep you and your family looking your best this winter.
How do I keep my trainers white?
Leather: It's always helpful to use a waterproof protectant spray on new trainers to help stop stains sticking. If you get grass stains on your white leather trainers try using a little Vanish soap and a soft toothbrush to gently tease the stain out and then wipe with a clean cloth.
Canvas: If your trainers are made from a canvas, brush off mud, treat marks with a stain-removal bar or the suds of Fairy Liquid and use a low-temperature synthetics program on your washing machine.
Suede: If your white trainers are suede then when necessary, use a soft toothbrush and clean with Fairy Liquid soap suds, ensuring they are evenly distributed over the suede. Remove the suds using as little water as possible and blot dry allowing them to then dry naturally. Once dry use a suede brush to raise the pile.
Deodorant marks drive me mad on my clothes; how do I remove them?
If you don't want your clothes to stain, avoid wearing alcohol based deodorant, use sparingly and always let your deodorant dry before getting dressed. If you didn't notice the mark until you took it off, before you wash the item rinse the deodorant mark with cool water so it doesn't set in by the hot water in your washing machine.
● Before treating any mark or stain on your clothes or fabrics check the care label. If in any doubt, seek professional advice. It is not advisable to apply water to dry clean only fabrics as water may shrink, distort and discolour some fabrics. www.peterscleaners.co.uk
Leave a Reply