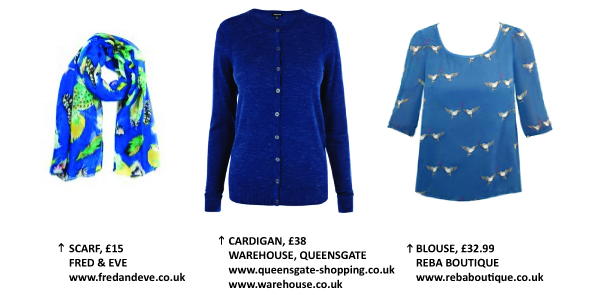 Nights are drawing in, evenings are chilly, mornings have that tangy crispness about them. Time to dust down your boots, coats and woolly tights? Er, no, says DAVINA ST CLAIR, because by lunchtime on most days, it's likely to be a sweltering 25 degrees in the shade...
It's a tricky time of year for effortlessly cutting a dash from dressing to undressing. But, with a few simple tips and tricks, you too can master the art of the 'transitional wardrobe' – not, as it sounds, the technical title for Lucy's transport into Narnia, rather the combining of lighter and heavier pieces without looking as though you got dressed in the dark.
It's all about layering…
Whereas in the winter you can pile on as many baggy thermals as you like under a nice roll-neck sweater, or in summer throw on a maxi dress and know you're sorted, sartorially, for the next 12 hours, transitional dressing requires a little more thought. A chilly morning hinting at the promise of a burnished, sun-soaked afternoon means you need to assume that, at some point during your day, another human being might see pretty much every layer of your clothing.
Start with a high-summer cami top, over a strapless bra of course, because if you end up with your bra straps showing we might as well stop all this now and go home. Over that, you can slip a pretty summer blouse – you know, the one that in the last week or two you've been thinking: 'well, I won't get any more wear out of that this year' – and a mid-weight cardigan. A heavier morning chill can give you the opportunity to show off your fashionista credentials with an new-season, on-trend scarf (this autumn/winter is all about stripes and clashing prints) so you can buy one now that will see you through till spring 2014.
As for what to wear on the bottom, one fail-safe trick is to wear a heavier trouser, but roll at the cuff for a more summery look and feel, especially when teemed with a high-heeled sandal or wedge. If you're feeling devil-may-care, you can even rock the 'socks and wedge sandal' look. It's not for the faint-hearted, as one false move and you're more eccentric aunt than cutting edge, but get it right and it's cool, cute, kooky, and doubtless many other words beginning with 'c' and/or 'k'.
Of course, as the day wears on you can peel off/put back on again as many layers as needed: cami with cardigan? No problem. Blouse and scarf? Check it! Envious glances from inappropriately-dressed friends and colleagues who lack your flair and effortless elegance? Done and done.
And that's it. You're welcome.
I'd like to thank…
www.fredandeve.co.uk
www.rebaboutique.co.uk
www.warehouse.co.uk
Leave a Reply