Kate's Kloset – Do men still like lingerie?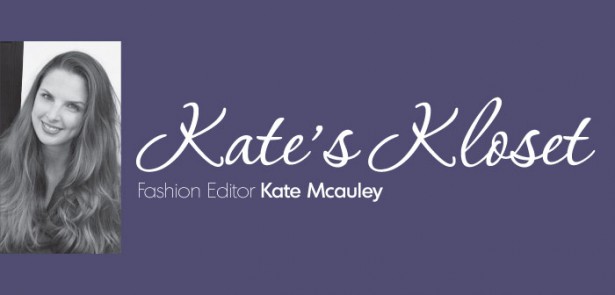 Recently it was revealed that one of the first national surveys in Britain asked women to reveal intimate details regarding their foundation garments (that's knickers and bras, to you and me).
And no, a perverted staffer at the National Bureau of Statistics didn't think it up. The questions were actually devised during wartime because, according to The Telegraph, Ministers feared that the parts needed for corsets might have been contributing to a nationwide steel shortage.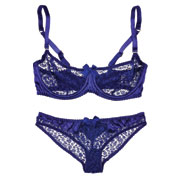 La Senza, Betty bra and briefs set (from £42)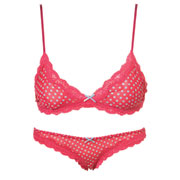 TopShop, Spot chiffon briefs (£4) and triangle bra (£16)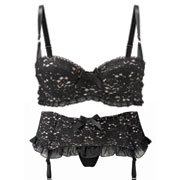 Agent Provocateur, Roxie leopard-effect lace briefs (£55) and bra (£75)
It was a simple case of supply and demand. And the reasons appear sound enough, especially when you consider how much more heftier these items used to be. A quick squizz through some of my fashion history books has revealed bulky looking brassieres and robust corsets, featuring an array of lung-pinching and rib-cracking boning. Suspender belts and stockings were all the rage too.
In all honesty, to me these undergarments looked totally utilitarian rather than sexy, but apparently just the idea of seeing a woman in nothing but her bulky smalls (how's that for an oxymoron?) used to send menfolk into lather back in the day. So, it got me to thinking. Does lingerie still have the same allure? Or are we so used to seeing nudity now that it no longer has the same effect.
Instead of pondering this dilemma on my own, I took it to the streets – well, a to a dinner party later that week – and posed the question to a couple of my male mates. And, wouldn't you know it, after much discussion they revealed that they could take or leave the lace and satin. Apparently, it's nice and all (and seeing a real live woman in her knickers was all they could think about as teenagers) but as thirtysomething men they prefer cutting to the, erm, chase.
Now, while it's true that my sample size wasn't incredibly representative (five men – one gay – from a similar demographic), at face value this probably doesn't sound like great news for La Senza and Victoria Secret (the American chain that is just about to set up shop in the UK). Yet, I wouldn't be so hasty. The women at the dinner party didn't care for the mens' opinions. They all liked wearing sexy bits and pieces on occasion, even if it was just to make them feel better about themselves. And, as soon as the boys heard this, up pricked their ears. As it appears all is not lost, I've gone ahead and picked out some lovely new season pieces…
For more fashion and beauty stories by Kate, visit www.i-am-not-a-celebrity.com
Leave a Reply