Style Diaries | Harriadnie Beau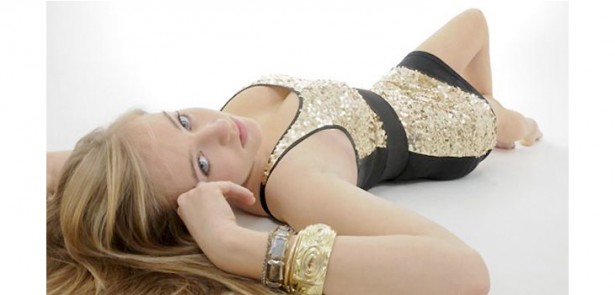 The Peterborough-based 18-year old fashionista and couture model lets us take a peek into her personal style.
Who is your style icon and why?
The legendary Audrey Hepburn. She was magnificent and oozed charisma. I adored her sultry expressions. I am into 50s style – I loved her pencil skirts, ankle-strap shoes and simple jewellery.
What's one piece of clothing every woman needs in her wardrobe this season?
A beautiful, good-sized scarf. I have a beautiful designer pure silk scarf – it's black with gold printed fish. I bought while I was in the Caribbean and it's so versatile. I can wear it with my favourite dress, my work suit or my jeans. Wonderful!
Describe the best outfit you've ever worn.
I love HMH Couture's silk jersey dresses. They're figure-hugging, but accommodating. I particularly adore the Erato dress in deep red.
What do you wear when nobody's looking?
I'd love to say nothing by Chanel No.5, but actually I like to lounge around in a very oversized, baggy cotton T-Shirt that my boyfriend bought for me.
What look do you love but doubt you could pull off?
I love summer dresses in florals and beautiful cotton prints, but unfortunately my tall, slender frame never seems to look right in them. I guess that's why I'm a couture evening dress model.
What was your most memorable fashion faux pas?
I once left the house in fur snow boots in the middle of summer. Very eccentric!
What is your most treasured piece of clothing or jewellery?
I have a beautiful cream silk blouse that I keep wearing. I hope it will last forever.
What's your favourite style blog?
I love Joy Payton's fashion detective –www.fashiondetective.co.uk.
Where do you shop?
This makes me smile – I shop everywhere. I love designer clothes and shops such as Harrods. I also treat myself to a shopping spree every now and then. I love retro clothes, pencil skirts and 50s style blouses, so I do haunt the charity shops.
What is your most extravagant sartorial purchase?
I once bought myself a beautiful Versace bag in the heat of the moment at the airport. Duty free!
Describe your style in five words.
Elegant, sultry, flamboyant and classy.
Leave a Reply