Get gorgeous this Christmas!
Get gorgeous this Christmas! 1 2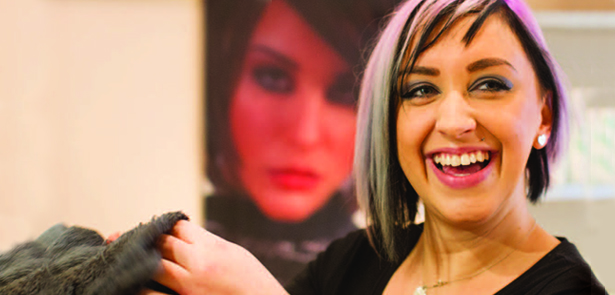 The Moment magazine hits the salons, including SaVi Hairdressing, El esha and Serenity Loves...
SAVI HAIRDRESSING
SO SPECIAL, SAVI…
Vicki, the manager at Savi, doesn't hesitate when I ask her what makes the salon such a special place.'We always make sure we know exactly what the customer wants, we make sure that they are happy, and we make sure we understand exactly what it is that they are asking for. You hear it so often: "I only wanted an inch off and they took three!" It sounds simple, but it's so important.'
THE BEST FESTIVE LOOKS
Glamour is back! Maybe it's the Mad Men or Masters of Sex effect, but big curls, big hair, the beehive and backcombing are all coming back with a vengeance. 'People are starting to want to look groomed,' explains Vicki, 'more than, say, the natural look.'
PROTECT AGAINST THE ELEMENTS (AND THE FILAMENTS!)
Savi offer that most sought-after of hair-care indulgences: Moroccan Oil. 'We think it's an excellent all-rounder, and it replenishes the oils in the hair,' says Vicki. Savi also use a range of products called Hot Off The Press, which protects against damage caused by heated styling tools.
IT'S THE MOST WONDERFUL TIME OF THE YEAR…
Each year, Savi offer a special Christmas shopping night, and details of this year's will go up on their facebook page shortly. 'We offer all sorts of different things, mince pies, beauty treatments at reduced prices, hand massages,' explains Vicki. 'This year we'll also offer a Christmas market at the salon, so people can have their Christmas beauty treatments and also catch up on a bit of gift shopping!'
Savi Hairdressing Ltd
29 Oundle Road, Peterborough,
PE2 9PB
01733 310222
savihairdressingltd.weebly.com
EL ESHA
A BIT OF TENDER LOVING CARE…
For winter-ready hair, visit Laura, the Eufora specialist at El esha. Eufora's unique formulation is based on organic aloe vera, known for its soothing and healing properties for hair and skin. Containing 95% of the body's amino acids, it's brilliant for problems relating to hair and scalp. El esha are excited about the launch of Eufora's newest line, the Thickening Collection, especially formulated for fine and thinning hair; users can expect to see results within weeks. This new range is groundbreaking, being one of the first beauty products to use stem cell technology. Also available at El esha is the PPD- and ammoniafree permanent hair colour, MC2. This safe and gentle product is particularly popular with expectant mums and people with sensitivity.
DECK THE HALLS…
The salon promises to look dazzling this Christmas, but underneath the tinsel and the mistletoe, staff will be preparing for the party season with military precision: there will be plenty of glitter in stock, and each and every heated roller will be checked to make sure it…
Get gorgeous this Christmas! 1 2
Leave a Reply