Fashion heaven, fashion hell… Rachel Parkin, businesswoman and indie crusader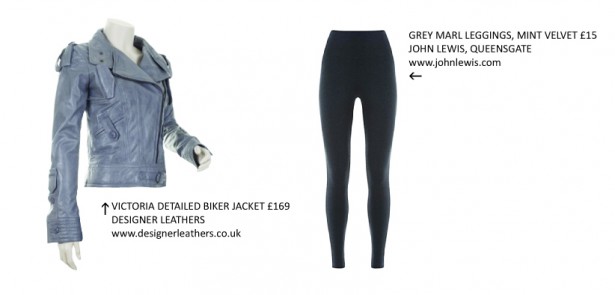 The Moment magazine online asks the women who make Peterborough tick what constitutes their 'fashion heaven' and their 'fashion hell'. This time, Rachel Parkin, founder of Peterborough Independent Retailers and head of Balagan Group jewellery retailers, shares her idea of divine – and dreadful.
Fashion heaven
'My fashion heaven is essentially anything that can be classified as a jacket, be it tailored, biker or fitted in any way. So, why the jacket, I hear you chorus? Well ladies, the first rule of the British weather is dress for unpredictability: hot weather does not last and extra layers are cool! The biker jacket is the time-honoured symbol of rebellion, glamorised by James Dean and many others; it epitomises tough cool and is an off-duty, go-to fashion staple.
'Tailored jackets show off feminine curves, they smooth out lumps and bumps for all shapes, they are a triumph of fashion-meets-function and they work through the transition of almost every season, save for deepest winter!
'So, whether it's a casual jacket, a dinner jacket, blazer or biker, there's a reason they're a fashion essential. Sure they come back year after year updated, with a new cut or fabric, but the idea is basically the same: warm and cool! Embellished, emblazoned or ultra pared down – what's not to love?
'Jackets can be bold and attention-grabbing or they can be cultured, tailored and understated. You can dress them up or down. With a fashion t-shirt they are understated cool, with a chiffon blouse they are businesslike and feminine. As I said, a pure winner!
Fashion hell
'Without a doubt for me it's leggings! Ladies, leggings are not trousers!
'I'm pretty sure that they are one of those 80s fashions that seemed cool at the time, but in years to come everyone will look back at pictures of themselves and shake their heads, murmuring the immortal words: "what was I thinking?"
'Even worse than leggings are jeggings! If you really must wear this fashion derivative, please wear them with something long, i.e. long enough to cover your derierre!
'In the interests of fairness, I've tried to think of something positive to say about leggings, and essentially they're aerodynamic. But, I ask you, how much of a benefit is this to you during an average day? On another note, I'd like to add that just because they're available in all sizes doesn't mean that every girl should wear them!
'Yes, I can imagine the cries of despair if leggings were removed from the fashion lexicon. I know they're cheap and they're thicker than tights and they can look okay or even pretty when worn with long tops and or dresses – I just don't like them!'
Featured items…
VICTORIA DETAILED BIKER JACKET, £169
DESIGNER LEATHERS, 8 QUEEN STREET, PETERBOROUGH
www.designerleathers.co.uk
GREY MARL LEGGINGS BY MINT VELVET, £15
JOHN LEWIS, QUEENSGATE
www.johnlewis.com
Leave a Reply