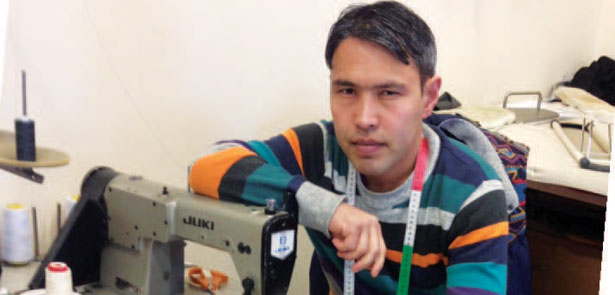 Having trouble with your formal evening wear? Need new doublet and hose? Theatre curtain in need of a little TLC? Stitch Tailoring & Alterations can help...
Master Tailor at Stitch, Jaik Taylor, is no stranger to the limelight. In fact, his work has appeared in it on numerous occasions; Jaik's client list includes Warwick Davis (star of Return of the Jedi, Harry Potter and Ricky Gervaise's Life's Too Short) and, just recently, he made an entire theatre curtain.
It seems that wherever sewing is involved, Jaik is the man.
"Marco Cereste, leader of the City Council also gets his alterations done here," he says. It's not all glitz and glamour, of course. Jaik is there for us when we break a zip or split a seam, with an emergency rush service available when urgent action is required. But it's also about helping us all to feel that bit more special – about getting your clothes exactly the way you want them, and looking the way you want to look. How often, for example, have you found just the right suit, dress or item of clothing only for one key detail or crucial measurement to be not quite right? Stitch can help. They can tailor most articles of clothing to make them fit correctly, including men's suits. And then there are those times when we are centre stage.
"We have more than 15 years of experience in altering wedding dresses and formals. Whether you need your dress hemmed, or completely re-sized, we can make your dress fit the way it was meant to fit. We know how important your special day is to you," says Jaik.
In effect, even if your dress is off-the-peg, Stitch can provide the benefits of made-to-measure – surely an awful lot easier and less stressful than trying to get yourself to fit the dress.
Jaik is even doing his bit for recycling. If you've an old favourite in your wardrobe that still has life in it but has perhaps gone out of style, his advice is simple:
"Bring them to us for an update. We can restyle your outdated pieces and bring them to life again with a few expert alterations."
Thanks to long experience in this field Stitch are able to take on even the most challenging of materials, including silk, chiffon, lace work, sequins, beading and Swarovski Crystals. And it isn't only the grown ups who can benefit from the service – Stitch can cover alterations for children's clothes, too.
Because he's a genuine Master Tailor, Jaik can also make custom clothes, completely from scratch – your chance to indulge your clothing fantasies, whether it's simply a suit that's a little bit different,
or the garb of an 18th century gent.
"Just bring us your fabric and pattern, and we'll be happy to cut it out, sew it, fit it and make necessary final adjustments."
Prices for this vary, based on the pattern and complexity of the work. And if you don't have a design or pattern, Stitch can even help provide that, with door-to-door and online/postal services also available.
● Stitch Tailoring & Alterations, Unit 5 Courtyard
Business Centre, 27 Norfolk Street, Peterborough, PE1 2NP
● Tel: 01733 773505
●
Leave a Reply