The Fane Clinic: where feet run in the family…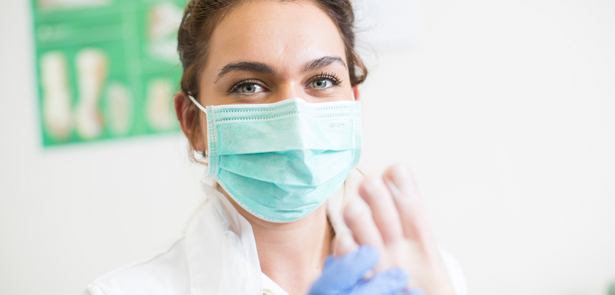 The Fane Clinic Ltd, co-founded by director Adrian Woolley, has offered Foot Care, the provision of Prescription Orthotics, and the treatment and management of injuries since 2008. In 2013, Adrian's wife Louise joined the clinic as a Foot Health Practitioner and now Louise's daughter Stephanie is the latest recruit to the Foot Care team. The Moment talks to Adrian about family values, The Fane Clinic's Foot Care service and how it is now helping people in care homes nationwide.
With the addition of Stephanie The Fane Clinic is becoming something of a family business. Was that a natural development?
Very much so. My wife works in the Foot Care side of the business, and although Stephanie could have chosen a number of careers, she followed her into this business. She's our newest recruit on the Foot Care side of things and is already very busy!
You started out dealing mainly with sports related injuries and have become highly respected in that field, but what does the Foot Care side of the business involve?
The services provided are basic nail cutting and filing, diabetic Foot Care and advice, dealing with thickened and fungal nails, heel and foot pain diagnosis, callous and hard skin removal, verrucas and corn removal. We offer three different environments for Foot Care, one is at the clinic, then we do home visits for those who are less mobile and also Foot Care in residential and nursing homes around the country. Stephanie, along with other members of the team is involved in all of the above. It's not only the physical health, of course, it's the mental wellbeing. If you have been an active person all your life and you're suddenly immobilised because your feet are playing up then you can easily spiral into a depressive cycle. So there is a bit more to Foot Care than most people would think – particularly with the care we do out in the community. When we go out to people's homes we might well be the only person they see that day – and the members of our team do go a bit above and beyond the call of duty in recognition of that. You need empathy in your nature to be able to do this job. I always look for people with this trait and if they've got a nursing background as well, then all the better.
You mentioned diabetic foot care – what does that involve?
It links in quite well with the residential and nursing home work we do. At the moment diabetic care accounts for around 10% of the entire NHS budget. It's a massive strain on the healthcare system, and one the service is not coping with very well at all. People with diabetes often get something called peripheral neuropathy, which is lack of sensation in extremities, including the feet. There was a graphic demonstration of this was when I was at a care home in Lincoln the other week, visiting one of the practitioners there. They called me over and said: 'Adrian, come and look at this…' He'd just removed a drawing pin from a resident's foot. He had not felt it at all. If he wasn't having his feet checked regularly, that pin could burrow its way into his foot, become a diabetic ulcer and – without wishing to sound too dramatic – he could have ended up losing part of his foot, his whole foot, his leg or even his life. That's the worst extreme, but it does happen. With diabetes your body doesn't heal as well as it should, so if you get a problem with your feet – particularly as you get older and lose your mobility – it can have a really detrimental effect on your health and wellbeing. But with our diabetic Foot Care we will check everything, including the pulses in the feet. Something else all of our practitioners use, which a lot of practitioners don't, is an antiseptic wet spray drill. It's like a tiny sanding wheel with a cooling, antiseptic spray, and that's what we use to pare down nails and hard skin. It makes it a much pleasanter experience but is also less dangerous. Old-fashioned Foot Care involves a lot of scalpel work, but as you can imagine, a scalpel is more dangerous on the vulnerable foot, particularly when the skin is thinner as it is with many older folks, and who may have a neurological condition that causes involuntary movement, such as Parkinson's disease etc.
How many care homes do you visit now?
At present we look after 32 care homes nationwide and provide the care to Care Quality Commission standards across the board, so by the homes outsourcing that Foot Care it ensures that everything is standardised to the required level by ourselves. That works well for them – and also by keeping older people mobile nursing fees are kept to a minimum, so everybody's happy.
Are these also local businesses?
We deal with two main groups, both with their head offices in Peterborough. One is Country Court Care, who have 26 care homes nationwide, and the standard of those homes is very good – they are building new ones all the time and opening several others this year, so hopefully we'll be taking up the Foot Care in those too. It's one less problem for them – one less service they have to provide themselves – and they know they can trust us to get on with it. The other group we look after is PJ Care. That's very different, because they're not just residential homes, but specialist neurological units. They often have younger people in there who have suffered serious brain injuries through vehicle or sporting accidents. PJ Care are expanding as well, building more units. They like the way we do things so hopefully we'll be looking after the Foot Care for their new ones too. These groups set very high standards in their care and we are very proud to work in association with them. We also look after some independent local homes including Cherry Blossom and Clair Francis both of whom also set very high standards.
How did your work in care homes come about?
Both PJ Care and Country Court Care are also family businesses, and I originally met the people who run them through connections with various sports and social organisations. The lads from the family that runs Country Court Care come from a rugby background and came for treatment. We got talking, they realised that we do foot care as well, and then got their dad Abdul Kachra involved who said: 'Would you look after all our care homes?' Of course I said yes, not realising they are now as far afield as Liverpool, but we've been doing that for several years now. With PJ Care I first met Neil Russell the Chairman through my ex business partner Stephen, and got to know his mother and founder of PJ Care, Jan Flawn, when Louise treated one of their family members, whilst they were being looked after in PJ Care in Peterborough. She was impressed, and asked us to cover their homes in Milton Keynes as well. It's a really nice relationship we have with both businesses; they're very concerned and committed to the quality of care they offer, which fits nicely with our values.
Liverpool… That is quite a trek! How far does your reach extend?
As both Country Court Care and PJ Care have expanded they've spread all over the country. Furthest north is Northwich, near Liverpool. Furthest south I believe is Weston-Super-Mare, in Somerset. Then we also cover Burnham-On-Sea, Birmingham, London, Sheffield, Milton Keynes, Lincoln, Grimsby, Boston, Huntingdon, Stamford, Wisbech, Spalding, Holbeach, Market Deeping… But it's actually a part of the job I really enjoy, providing a service for somewhere I may end up living one day! We get to meet some real characters, too. I went to a care home a few weeks ago and saw a lady who was 109 that day. We get lots of people coming here in their 90s – and, in fact, there's something we do at the clinic, which is if you've been a patient of ours for two years or more and you get to 100, then we'll treat you for free for the rest of your life. I just thought that if you get to 100 you deserve a bit of a pat on the back – even if it's just having your feet done every six weeks!
And when you're finally ready to hang up your antiseptic wet spray drill, is Stephanie likely to step into your shoes?
I think she probably will run it one day when I'm ready to step down and retire. She certainly has the right temperament for it.
The Fane Clinic
The Old Farmhouse, Freston, Paston Ridings, Peterborough PE4 7XB.
01733 571555
www.thefaneclinic.co.uk
Leave a Reply