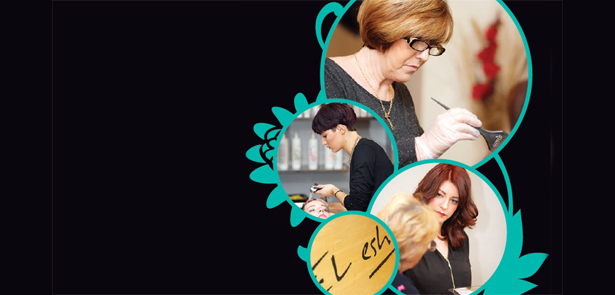 El esha has long been known in Peterborough for its friendly staff, and its incredibly high standards and attention to detail. Now, owner Jayne is putting these skills to impressive use, educating the next generation of hairdressers…
TELL US MORE ABOUT THE EDUCATION SIDE OF THINGS AT THE SALON
We offer a level II and level III training programme in conjunction with an organisation called Cheynes, who are our training provider – they give support and make sure that we're doing everything properly. Elissa and I are now qualified assessors, so we can pass people and get them qualified in hairdressing. We do that on a Tuesday, a Wednesday and a Thursday, and currently we have ten candidates, all at different levels in their NVQ from complete beginners upwards. It's great to watch them develop their skills – I really enjoy it!
HOW HAS THIS CHANGED THINGS AT EL ESHA?
It has definitely fed into the vibe of the salon, this community we're creating that's giving back by educating, as well as by being a great hairdressers! We have to cover things such as safeguarding, equality and diversity, and when it comes to the running of the salon I do expect very high standards from my staff, as we are all role models now. If we're teaching health and safety, for example, then we should demonstrate it, too.
HOW DO THE STUDENTS PREPARE FOR GRADUATION?
We have a show coming up – all our level III students have to complete a show – and that's on Wednesday, 28 January. It will take place after work at the salon, and all proceeds from ticket sales will go to charity. Students have to plan not just the creative stuff but also the practical side of mounting an event, risk assessment and so on.
AND WHAT HAVE YOU AND THE TEAM GOT IN STORE FOR CHRISTMAS?
Our opening times will be extended, especially the week before Christmas: we're going to be open until 8 o'clock most evenings. We've got new colours in, and I think that those by Sensus Hair MC2 are going to prove very popular because they contain no PPD or ammonia. We're expecting requests for bright colours, too, pinks, blues and greens, and we're going to be stocking non-permanent variations of these so you can experiment for a party, then wash them out. One of our favourite ranges, Eufora, have launched a Christmas box – which you'll be able to buy in-salon – and it includes a hairbrush, a shampoo and conditioner; it's cheaper than buying the three products separately. Eufora products are wonderful, a real luxury product that is a natural, botanically-driven, ingredient-conscious brand, and does exactly what it says on the tin: makes your hair better!
EL ESHA HAIR SALON
22 Broadway, Peterborough PE1 1RS
01733 310879
www.elesha.co.uk
Leave a Reply