A day in the life of Vivacity Premier Fitness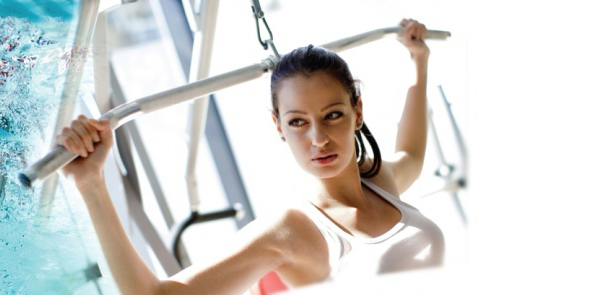 So, you want to get fit for summer but think you can't accommodate it in your busy schedule? Think again! Your local gym is putting in the hours to make it possible. We weigh up the options available on a typical weekday at Vivacity's health and fitness centres, focusing on Vivacity Premier Fitness (VPF) – just one of six key venues in and around the city which together offer an array of classes and facilities. And it all begins at dawn...
6.30 Vivacity Premier Fitness is open and ready for business. Today – Monday – the early morning class is Express Les Mills Body Pump® at 6.45– a barbell class compressed into just 45 mins for those on a tight schedule which will set you up for a busy day ahead. As an alternative, the pool at Regional Fitness and Swimming Centre is open from 6.30 on weekdays.
7.30-9.30 Fitness classes take a break so perfect time for you to grab a coffee from the VPF café – but the 150 state-of-the-art exercise stations at VPF mean you can have a workout any time. Jack Hunt Pool is also open from 7.00 for those wanting to get in an early morning swim.
9.30 The exercise day begins in earnest. At VPF classes during this hour include Studio Cycling, Les Mills Body Combat® (a martial arts based workout) and Young at Heart – Zumba Gold (a lower impact Zumba class for mature adults). By now all Vivacity pools – including the open-air Lido from 27 May– are open.
10.30 An opportunity to slow down the pace with Mat-Based Pilates. Other days and venues have a range of fitness class options of all types, covering Cardiovascular, Muscle Strengthening, Shaping and Toning, and Mind and Body. VPF alone has over 100 fitness classes every week.
11.45 Les Mills CXWORX® – just 30 mins in duration, but focusing on strengthening the core, vital for a stronger body.
12.45 Time to hit the pool again at VPF for Aqua Fit class – assuming you didn't already go for Les Mills Body Balance® at 12.30 (a Yoga/Tai Chi/ Pilates inspired workout). Classes take another break in the middle of the day, but all the regular gym facilities remain available – and at VPF SmartCentre technology allows you to track and monitor your fitness programme as you develop, encouraging you to keep up the regime.
16.45 If you have kids in tow or home from the holidays, why not bring them along? Zumba Jr (4-6yrs) and Parents & Kids Circuits (7-11yrs) provide the opportunity to do exactly that, so you can have fun and keep fit together.
18.00 Post-work, there are plenty of fitness class options, including, on Monday, Studio Cycling, Les Mills Body Combat® and Insanity® (don't worry – it's actually an intense, 'total body conditioning programme'). If you can only accommodate a gym visit later in the day, don't worry –you can still catch either…
19.05 Zumba or Les Mills Body Balance®.
20.05 Fitsteps (step aerobics). At all of the venues classes finish by 21.00 – but the opportunities aren't exhausted yet, even if you are. Most Vivacity fitness and leisure centres are open until 21.00 on some, if not all weekdays (check individual opening times on the Vivacity website).So…
21.00 Another opportunity to hit the pool, the spin studio or the state-of-the-art exercise facilities – or wind things down with a relaxing sauna. Meanwhile, over at Werrington, Hampton or Bushfield, you could also get competitive (or not) with a game of tennis, badminton or squash. Hampton also has netball facilities (and three grass football pitches) while Bushfield can offer Volleyball and Short Tennis. And relax… While we certainly don't recommend you do all of the above, at once, the seemingly endless possibilities make it easy to accommodate an exercise regime even if you have the busiest of lifestyles. So, what are you waiting for?
Vivacity health & fitness venues
● Vivacity Premier Fitness Hadfield Road, Hampton, Peterborough, PE7 8BT 01733 864744
● Regional Fitness & Swimming Centre Bishops Road, Peterborough, PE1 5BW 01733 864760
● Jack Hunt Pool and Gym Ledbury Road, Netherton, Peterborough, PE3 9PN 01733 864759
● Werrington Leisure Centre Staniland Way, Werrington, Peterborough, PE4 6JT 01733 864769
● Hampton Leisure Centre Clayburn Road, Hampton, Peterborough, PE7 8GL 01733 864657
● Bushfield Leisure Centre Orton Centre, Peterborough PE2 5RQ 01733 864656
For more details about each of the venues, including class timetables, facilities and opening times, visit www.vivacitypeterborough.com/vivacity-venues
To find out more about gym membership, visit www.vivacity-peterborough.com/sport/gyms-membership/membership-options
Top Tips
● Fitting an exercise regime around work can seem a challenge, but making the gym or pool your first port of call can be a great solution, providing a positive start and energising you for the day ahead. Don't skip breakfast! It's true what your parents told you – it's the most important meal of the day, and especially important if you're exercising.
● Swimming – available all day long at one or all of Vivacity's pools – is a low impact, total body workout and just 30 mins a day can transform your level of fitness.
● Premium gym membership gives you access to all Vivacity fitness sites – including the Lido – so you can mix and match classes and facilities whenever you like at no extra cost.
● And stretch! -Don't forget, stretching is one of the most important parts of any workout and helps to minimise the risk of injury.
Leave a Reply