Darren Grigas: Super Marathon Man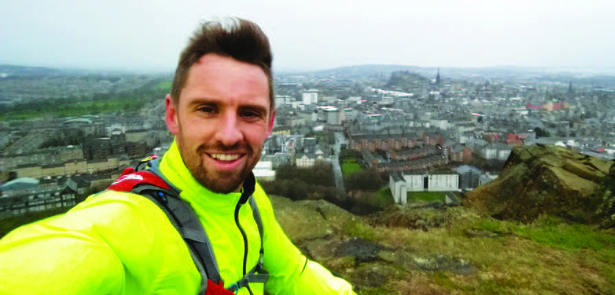 Last issue we spoke to local runner Darren Grigas, who is training to undertake the toughest footrace on earth – the Marathon des Sables, which covers 150 miles across the Sahara. We caught up with him to see how preparations were going
HOW HAS TRAINING MOVED ON SINCE WE LAST SPOKE?
The last few weeks has seen its ups and downs… By Mid-November I had increased my mileage to around 60 miles per week and was pretty comfortable with that. I then took on my first multi-stage marathon, racing 85 miles cross country over three days. I surpassed my own expectations and finished 22nd out of about 120 elite runners, even finishing 10th on the third day! Sadly, however, it seems all the extra miles took their toll and perhaps the big race was the tipping point. I suffered some serious pains and setbacks in my knee and IT band, which pretty much brought my running to a halt. I covered only around 25 tentative miles throughout December, whilst undergoing regular treatment and advice from Peter Corder who is resident physio at Vivacity Premier Fitness in Hampton. Working closely with both Pete and a great strength and conditioning coach Matt Jeffery, I've learned a great deal, been given some very specific and often painful routines to follow and in turn have just started back on the longer runs for the first time in weeks. I actually ran a half-marathon to work this morning and felt great
DID YOU GET A BREAK OVER XMAS?
Over Christmas, although I wasn't getting many miles in, I did my best to maintain my fitness and also build some strength in the gym. I've been making regular visits to Vivacity Premier Fitness, doing my own routines plus sometimes joining in the circuit classes that go on every day. X-Cube is pretty brutal but great for breaking a serious sweat! I did have a nice break in Edinburgh for the New Year but even with the hangover I made it my mission to get up early and run/climb up the city's top attraction – a former volcano, Arthur's Seat.
NOW THE MOST IMPORTANT QUESTION OF ALL: WHAT DID YOU GET FOR CHRISTMAS?
I inevitably got a few running-related gifts, such as trail running socks, and LED armbands to avoid getting squashed in the dark. One of my best gifts was a photo-montage my daughter put together of me and her – she's a big fan! I also got a couple of books written by the legend dubbed 'The World's Greatest Living Explorer': Sir Ranulph Fiennes. My dad got me these, as an exciting bonus to the MdS is that I'll be sharing my eight-man tent with Sir Ranulph Fiennes himself as he is taking on the challenge in a bid to raise a few million quid for Marie Curie. I had the pleasure of meeting him a few weeks back and he truly is a remarkable man. What more inspiration could I ask for than this guy living in my tent as we share such an amazing and testing experience?
WHAT ARE THE NEXT BIG LANDMARKS IN YOUR TRAINING?
A couple of weeks before flying out for the race in April I plan to book into some controlled heated chambers to train and monitor my progress. These are pretty vital to help acclimatise before getting out there. It's going to top 50C each day! I'm really pleased with the fundraising progress and am on the verge of breaking the £3k mark. I've been overwhelmed by the support and just today have had a very humbling email from Carole Hughes ('Anna's mummy') on behalf of Anna's Hope. It's really very inspiring and so motivating to know my efforts are appreciated and all the donations really can make an amazing difference.
To sponsor Darren's epic run, visit www.justgiving.com/DarrenGrigas or to follow his blog go to www.vivacitypeterborough.com/darrengrigas
To find out more about Anna's Hope or to donate, visit www.annas-hope.co.uk
For information on Vivacity Premier Fitness and other Vivacity gyms, visit www.vivacity-peterborough.com/vpf
Leave a Reply