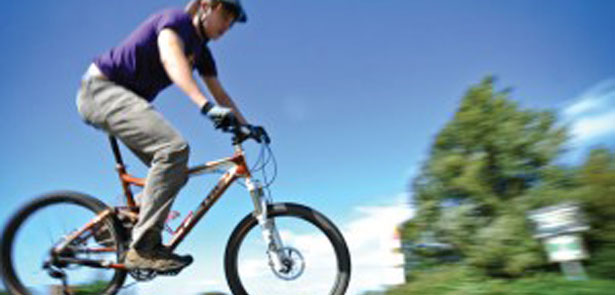 Whether you're looking to enjoy the Great Outdoors, save money commuting or get a little fitter, cycling can be enormous fun. Here are some top tips from Sally Middlemiss, British Cycling Ride Leader and owner of local bike shop Rutland Cycling, on Ham Lane, to get you pedalling in comfort and style
If you're planning to ride regularly it's worth investing in a bicycle with a lighter frame and good-quality components that will stand wear and tear. These days bikes come in many shapes and sizes but if you are starting out opt for one of three popular styles: mountain bike, road bike or hybrid bike. The best option depends on how you plan to ride.
If you'll be doing all your pedalling on roads, a road bike will get you there quickest. If you prefer going off the beaten track along bumpy trails, go for a mountain bike. If you fancy a bit of both, then as long as the off-road terrain's not too uneven, a hybrid bike is perfect. If you want to ride that little bit faster or further, or are recovering from an injury or illness, then consider an electric bike. An e-bike offers all the advantages of a regular bike, while reducing the strain on your body. E-bikes are a lovely way to explore the local countryside, enjoying all the sights and sounds without getting out of puff ! You still need to put some of the work in, but the battery power will give you a boost when you need it. Some models come fully equipped with an integrated lock, light, rack and mudguards, so you're ready to go!
The right bike
Whichever type of bike you're after, it's worth visiting your local bike shop to get some expert advice and try different models. Rutland Cycling has a wide selection of quality bikes at all price points, from kids bikes and bikes for getting about town, through to custom-built carbon road bikes and fullsuspension electric mountain bikes. We love talking bikes and sharing our passion and believe in going the extra mile, whether offering a free courtesy bike while we're carrying out repairs; putting on regular maintenance classes; inviting folk to join us on our free led rides; or offering you the opportunity to hire the latest models. Rutland Cycling also works closely with local employers, providing support, advice and help to get more of their workforce cycling to work. Support ranges from offering tax-free bikes and accessories through the Government's Cycle to Work schemes, to providing fully maintained pool bikes, long-term bike hire and maintenance classes for staff.
How to learn
If you live near one of our Rutland Cycling shops you could join one of our regular rides. Novices – and those getting back into the saddle – are very welcome! Our rides are free to join, or you can hire a bike from us at a special discounted rate. We organise specific rides for women, as part of the British Cycling Breeze network, and for older cyclists in partnership with U3A. All ride information can be found on our website. Alternatively, consider joining a local cycling club. You don't need to be an expert cyclist and tips and activities with other people will help you stay motivated. Information can be found on the British Cycling website: www.britishcycling.org.uk or from Cycling UK (CTC): www.cyclinguk.org
Enjoy your ride
● Stay hydrated before, during and after your ride.
● Wear a helmet to protect your head.
● Change your hand and body positions regularly.
● Keep arms loose and elbows bent to absorb bumps.
● Avoid pedalling in a high gear for long periods of time.
● Ride the correct size bike.
● Wear the right clothing: padded shorts are a good start, and hi-vis clothing to stay safe.
● Use a decent pair of cycling shoes for comfort and speed.
● Invest in a good saddle, particularly if you plan on riding longer distances.
Rutland Cycling Ham Lane
Orton Meadows, Peterborough PE2 5UU.
01733 371013
Leave a Reply