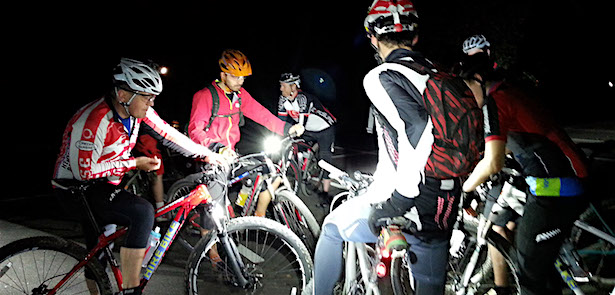 Get into cycling, brush up on your bike maintenance skills, or simply have lots of fun on one of Rutland Cycling's organised rides or classes
As part of Rutland Cycling's commitment to customers, the local community – and to inspire more people to get out cycling – we organise a range of regular led rides, maintenance classes and events throughout the year. So come along and enjoy the ride!

Night Rides
Join our popular Night Rides and try out the latest mountain bikes. Get expert advice and tips as you ride. Rides are 10-17 miles in distance and are sociable, steady paced and without drops.
Dates: Mon/Tues monthly, Oct-March, 6pm
Distance: 10-17 miles
Cost: Free to book with your own bike, or £10 to hire a bike and £5 to hire a set of lights.
To book: Pre-booking essential. For more information or to book visit www.rutlandcycling.com/rides
Maintenance Classes
Learn how to keep your bike in tiptop shape and fix simple mechanicals while out and about. Rutland Cycling's maintenance classes are friendly, interactive sessions run by the expert workshop team, covering popular topics including fixing a puncture, mending a broken chain, cleaning and lubricating your bike and performing simple safety checks.
Dates: Monthly, Oct-March, 4pm or 6pm
Cost: £5
To book: Pre-booking essential. For more information and to book visit www.rutlandcycling.com/rides
Breeze Women's Rides
Fun and friendly rides at a gentle pace, led by volunteer Breeze Champions, who are qualified British Cycling Ride Leaders.
Breeze Mums and Tots Ride: Join us with your little ones for a gentle pedal on quiet, traffic-free trails. Friday mornings, alternating between Peterborough and Rutland at 9.45am. Distance 5-7 miles.
Breeze Midweek Pedal: Leisurely ride around Ferry Meadows or Grafham Water along mainly traffic-free trails. Weds/Thurs weekly at 10. Distance 10-15 miles.
Breeze Weekend Pedal: Easy scenic ride around Ferry Meadows and environs, along mainly traffic-free trails. Saturdays fortnightly at 10am.
Dates: Oct- March
Cost: Free to book with your own bike or from £5 to hire a bike and equipment.
To book: Pre-booking essential. For more information and to book visit www.rutlandcycling.com/rides
Demo Days
Throughout the year Rutland Cycling organises free demo days at various locations across the East Midlands, including Electric Bike Demo Days, Mountain Bike Demo Days and Brompton Demo Days. These are a great way to try the latest bikes from top brands and to get advice from the experts. Keep a lookout for our autumn and winter demo dates!

Rutland Cycling at Peterborough
Ham Lane, Orton Meadows, Peterborough PE2 5UU.
01733 371013, www.rutlandcycling.com
Open 7 days a week.
Visit www.rutlandcycling.com/rides for an up-to-date list of dates for all rides and events.
Leave a Reply