First drive: Citroën C4 Cactus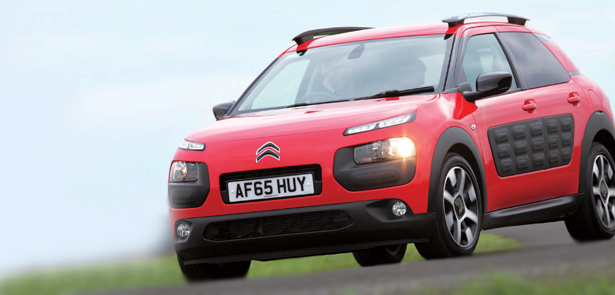 The C4 Cactus is one of the most eye-catching new cars around today, and every bit as quirky as a Citroën should be, reckons RICHARD GUNN. But there's much more to it than just form over function 
Every so often, a new car comes along that stands out from the crowd as something very different. Over its near 100-year history, Citroën has been responsible for more than its fair share of these, such as the Traction Avant, 2CV, SM, CX and, of course, the glorious DS, widely regarded as one of the greatest automotive creations of all time. So this innovative and often somewhat idiosyncratic French car maker knows a thing or two about building distinctive models that get people talking…and the highly individualistic Citroën C4 Cactus has certainly been making that happen since its launch last year.
The Cactus certainly fits in with Citroën's DNA then, with bold and striking styling that makes it completely unmistakeable for anything else around. And that's not something you can say about too many cars these days. The chief feature that stands out is, of course, the 'Airbump' protective surfaces affixed to the doors and underneath the front and rear lights – all those risky areas that frustratingly get scraped and scratched in car parks when we've turned our back for five minutes or so. Not only are these tough air-filled polyurethane panels practical, by protecting against minor dings, but they contribute greatly to the Cactus' fun and funky looks.
Four Airbump colours are available – Black, Stone Grey, Dune and Chocolate – and they can be quite easily changed too, so if you fancy revamping your Citroën's appearance after a while, it's much more straightforward and cheaper than a repaint or a new car. And just try to resist sneakily pushing the Airbump 'capsules' in and out whenever you enter or exit the car. It's not easy and I just couldn't help myself – just a quick sneaky squeeze whenever the opportunity arose. As The Moment's photographer, Simon, commented, "It's like bubblewrap for adults!"
Our later rainy road test did reveal that dirt can build up quite easily on the panels however. My Cactus, borrowed from the extremely nice people at Peterborough's Robinson's Citroën dealership on Storey's Bar Road, was a Sport Red 1.6 HDI diesel version in Flare specification. This is the top trim level and includes such goodies as very handsome 17in Diamond Cut 'Cross' alloy wheels, parking sensors with a colour reversing camera, a navigation and hi-fi upgrade pack (which means six speakers and a 'jukebox' of songs that can be loaded into the system) and automatic air conditioning, lights and windscreen wipers.
It all adds up to a very well-specced vehicle, but beware if you're a little bit of a technophobe. While most of the major controls are controlled via two stalks behind the ovoid steering wheel (which will delight champions of the Austin Allegro, with its famous Quartic wheel), much else is controlled via the seven inch touchscreen in the centre of the dash. It's from there that items such as the climate control, trip computer, sat nav and radio are accessed. To be honest, anybody familiar with a tablet should have no problems with it, and after a very helpful demonstration from Robinson's before setting out, I found it instinctively easy to use. But if you like your rotary or slider knobs for things like heating and music, or shy away from iPads, then the Cactus might take some getting used to.
The interior is both smart and spacious. There's something of a luggage-inspired theme going on in the minimalist cabin, with leather straps for the door pulls and the glovebox looking a little like a suitcase. It's of a decent and useable size too, thanks to the front airbags now being up in the roof rather than on the dashboard and in the steering wheel centre. That does mean there's a small bump in the headlining that I nudged a few times when moving my head forward to look at things, but then again, at 6ft 4in, I'm somewhat taller than most. Under normal driving circumstances, I found the Cactus very comfortable, with seats that were both supportive and cossetting.
With so much uncluttered space inside and an elevated driving position, the Cactus is a very pleasant place to spend time in and its interesting, even rather charming, design means it matches up well to the car's attention-grabbing exterior. There are a few minus points, such as rear visibility not being all it could be, thanks to quite bulky C-pillars and a small rear window, plus the back windows being pop-outs rather than winding ones.
But, overall, this has to be one of the best family car cabins currently in the market. You won't get bored by it easily. Citroën diesel engines have a very good reputation, and the 1.6 unit in this one was very refined, quiet and enthusiastic, almost to the point where you could mistake it for a petrol version at lower revs. It's also, if the official figures are to be believed, very economical too. Wheel size has an effect on what the Cactus can achieve, but even with the largest 17in ones fitted, 74.3mpg for the urban cycle is claimed, rising to 88.3 for longer, faster runs out of town. On 15in wheels, it can go as high as 94.2mpg. Even if you take these statistics with a pinch of salt, the diesel Cactus is still likely to deliver impressive frugality for what is quite a large car with good performance.
I decided to challenge the car properly by pitting it against the bumpy fen roads east of Peterborough. Yet the Cactus coped admirably. It took the rough just as well as the smooth and delivered an excellent, well-balanced ride throughout. Fortunately, this comfort doesn't affect the handling. There's minimal roll and lots of grip, with a safe and predictable response in and out of bends. The well-weighted power steering delivers just the right level of assistance. In fact, everything seems set up to make the driver's job as easy as possible, with a light clutch and gear change. There are five ratios, and it's all this Citroën needs, as they're well-spaced and the Cactus never feels strained. Which is useful as the digital dashboard doesn't have a rev counter on it (which is a small cross against the Cactus). The brakes are sharp and effective, although the rear ones are drums. For most owners, this won't matter in the slightest, but if you like to drive with a bit of spirit, all-round discs do perhaps provide a little extra confidence.
As a family car, the Cactus has much to recommend it – because it's the sort of car that all the family will love. It's got bags of practicality, yet doesn't sacrifice its character and quirkiness to achieve this. It's not simply the most interesting of the compact SUVs around, but also one of the more fascinating new cars of any segment available today, and its forward-thinking design should keep it looking fresh and current for years to come. Prices range from £12,990 to £18,090 'on the road', which makes it good value too, especially when you consider the fuel economy. A very worthy entry in Citroën's catalogue of greats and definitely a future classic too.
SPECIFICATION
CITROËN C4 CACTUS 1.6 HDI FLAIR
■ Engine: 1560cc, four-cylinder, diesel
■ Power: 98bhp@3750rpm
■ Torque: 187lb ft@1750rpm
■ Top speed: 114mph
■ 0-62mph: 10.7secs
■ Fuel economy: 83.1-91.1mpg (combined, depending on wheel size)
■ CO2: 82-89g/km (depending on wheel size)
■ Length: 4157mm
■ Width: 1946mm (including mirrors)
■ Height: 1530mm (including roof bars)
■ Wheelbase: 2595mm
■ Kerb weight: 1070kg
■ Boot space: 358-1170 litres
■ Insurance group: 18A
■ VED: £0.00 first year rate
■ Price: £18,090 'On the road'
MANUFACTURER www.citroen.co.uk
DEALER Robinsons Citroën, Storey's Bar Road, Eastern Industry, Peterborough, Cambridgeshire, PE1 5YS. Telephone: 01733 822847
Website www.robinsonspeterborough.citroen.co.uk
Leave a Reply