Castor Ales: liquid assets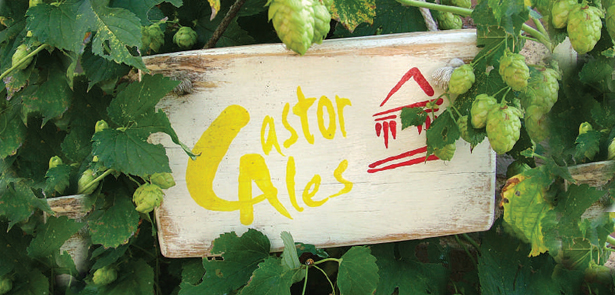 When real ale enthusiast Duncan Vessey learnt of some old brewing vessels up for sale he decided to go for it and turn his home brewing hobby into a fully-fledged microbrewery. Today Castor Ales supplies a number of pubs and events around the Peterborough area, earning itself a reputation for quality and quirkiness. Ben Vanheems shares a beer with Duncan and talks hop prices, pub closures and beer names
YOU ARE LIVING EVERY REAL ALE ENTHUSIAST'S DREAM! HOW DID YOU GET TO BE RUNNING YOUR OWN BREWERY?
My father was a keen home brewer back in the 60s and 70s. Then I took to home brewing eight years ago. I've always liked beer of course – I'm a member of CAMRA (the Campaign for Real Ale) and am supportive of the Peterborough Beer Festival. Beer runs in the family – my great aunt was a brewster and publican. The brewing side evolved from my initial dabble with home brewing. I'd been to a couple of breweries, including Digfield Ales near Oundle and Ufford Ales near Stamford. When I visited Ufford, Simon Raines the brewer there mentioned he had bought some new brewing kit. When I told him I was interested in taking my brewing further he offered his old kit for sale. And I bought it! That was five years ago and the rest, as they say, is history.
DOES THAT MEAN YOU'VE QUIT THE DAY JOB?
No, I still work in the social housing sector. That's my day job. Brewing is a labour of love and it just about pays its way. I can't afford to retire on it just yet!
YOU'RE ONLY FIVE YEARS IN. DO YOU SEE YOUR BREWING EXPANDING TO REPLACE THE DAY JOB?
All the brewing happens in my outhouse. I realised from the start that there is no room for expansion where I am. Because of the space restrictions I can only brew once a week. Of course I like the idea of expanding but to make it pay its way I would need bigger plant and larger premises to fit it in. And I'd need to brew a lot more and then I'd need to sell a lot more. I could hire a unit on an industrial estate right now but, you know what, it's nice to fall out of bed and start the brew by mashing in. That's not to say I'm not ambitious and that if a suitable opportunity came along I wouldn't snap someone's hand off for it.
YOU ARE HAPPY BEING SMALL BUT PERFECTLY FORMED, THEN.
That is absolutely how it is. I enjoy the passion I get from it while it's still a manageable size. It doesn't take over my life.
HOW DIFFICULT WAS IT TO UPSCALE FROM HOME BREWING?
Jumping from a home brewing scale to 500 litres per week was a bit daunting but I have to give credit where credit's due. Simon Raines, who is now at Star Brewery, was very helpful. The kit he sold me is definitely quirky and he'd fine-tuned it and basically showed me the ropes. It's gone from there really. I've picked a lot of stuff up along the way; we're a very collaborative bunch in the microbrewing sector. There are different techniques involved when you are brewing at a larger scale; it gets more technical. But at my level and the scale of a much larger brewery the principle is exactly the same – brewing is brewing.
500 LITRES IS A LOT OF BEER. HOW DID YOU FIND A MARKET FOR IT?
Well, I live in Castor, which is pretty much party village! There's always something going on here so I knew there was a market within Castor itself for weddings, parties, summer festivals, fund raising events and so on. The village was already buying in a lot of beer for these types of events, so it seemed likely they might want something local. And they did! There's also a free house in… [cont]
Leave a Reply