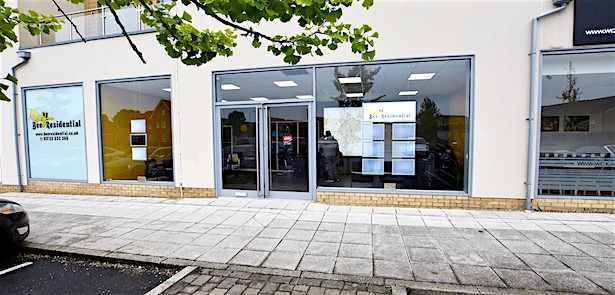 Bee Residential is a home-grown, independent buying and letting agent which prides itself on its friendly down to earth approach and personal service – and it's growing. The Moment talked to director Grant Biddle about the company's new directions and the importance of local roots.
You've recently opened new offices south of the city – tell us about that…
Well, they are at Hempsted, a new township between Fletton and Hampton, on a nice corner location. I saw it a couple of years ago and just thought it was quite a good area to be in. All the development in Peterborough is going to be south of the city over the next few years, so it seemed a good idea to base new offices at the heart of that.
So, this is an expansion, not a move?
That's right – we're keeping our city centre base in Park Road, but it was never a particularly visible location, so the new office is more of a showroom. We've actually doubled in size in the three years since I took over the business. It was purely a lettings business at that stage, which the owners had taken as far as they could, but it was a good solid business that had a base to grow, so I started to expand the sales side. So, Bee Lettings had been going for eight years altogether, but we rebranded last summer to Bee Residential to reflect the fact we were covering sales.
Most people talk about the property market as having gone through a pretty tough time, but this is precisely the period in which you've expanded. How did you manage that?
I think there's actually still quite a bit of movement. Not the volumes there were in the real peak period, maybe, but it's a steady business, and there's still a good market there for personal service. Ours is a different sort of experience from the mass market approach, and if you're offering quality and looking after people well, there's always going to be a demand for that. Experience matters too. Our lettings team has over 20 years experience, for example, and I have over 35 years experience in property and finance.
Is it also important that an agent has a sound knowledge of the area and its communities?
The more knowledge you've got, the better. The sales side will start growing over the next two or three years as the new homes on Hampton Beach and Hampton Gardens and so on come on to the market for the first time, because the newer estates turn over more quickly than, say, Longthorpe where someone perhaps lives for 30-35 years, or in outlying villages like Castor or Glinton. Typically, in Hampton Gardens, people stay for three or four years and then move on, or first-time buyers might go into a flat in Hampton and then buy a house there two or three years later. So actually, it's about understanding that it's an area where those sorts of houses are likely to turn over more regularly than in the more traditional areas. It's also just about being more local; rather than being just a Peterborough agent, we're a south Peterborough agent, covering the Hampton/Hempsted area. Our aim is to be that bit more focused.
As far as connection with the community goes, I understand you're also quite involved in certain football activities..?
Yes! I'm the Chairman of Peterborough Sports FC, and the company is also sponsor – so the ground is called the Bee Arena. We've had a super year – we got promoted so we're the highest non-league club in Peterborough now. We won the Southern League Division One this year, and we go to the Southern League Premier next year, which is only one league below the National League. We've really grown the club over the last six or seven years, and I'm very proud of that!
Bee Residential

96a Park Road
Peterborough PE1 2TJ
1 Columbus Road
Hempsted, Peterborough PE2 9FP
Leave a Reply