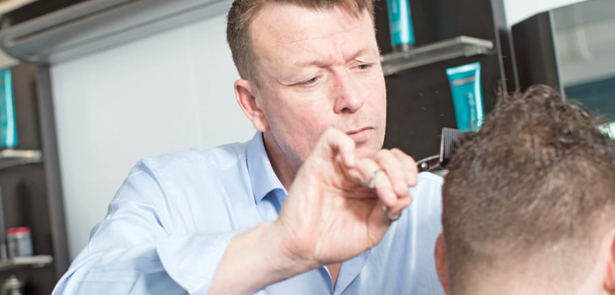 It's one of the most important aspects of how we look. It's one of the first things people see when they meet us. But for many, getting a decent haircut comes way down their list of priorities…
Everyone's busy. But maintaining wellgroomed hair can do more than simply keep you looking tidy – it can clinch a deal or land a job interview, even lead to your dream date. A great haircut doesn't just show the world you're ready and prepared for anything, it can give your self-esteem a real boost, too. Sliding into the chair and watching a skilled professional create a new you from a shaggy, neglected mane can make you feel as though you're undergoing a positive change in more ways than one. Quite literally – you're worth it!
In an era when the term "lunch break" actually means a quick sandwich while typing up a report at your desk, finding time to stay smart can be hard. Locks get longer and beards get more and more grizzly – or, heaven forbid, you get out the nail scissors and attempt a cut yourself.
Thanks to two enterprising young men, Michael and Dominic, the city now has the answer to the ongoing space/time/hair conundrum: barberpods. Uniting the ying and yang of modern urban existence – effectiveness and efficiency – stand-alone barber kiosks (barberpods) enable Peterborough men to combine a fantastic haircut in a relaxed, up-to-date and fully kitted out interior with the must-do chores of everyday life: popping out for groceries, travelling home after work or running errands. Just park your car (the pods are located in easy-access locations such as car parks) take a ticket, wait a few minutes (or go and do something else – stylists can text you when your number's up) then let your barber get to work. And hey presto – maximum return for minimum effort!
What could be more satisfying than that?
Visit barberpods.co.uk to find out more, or follow them on facebook.com/barberpods or follow on Twitter @barberpods
Leave a Reply