Back up and running: the Fane Clinic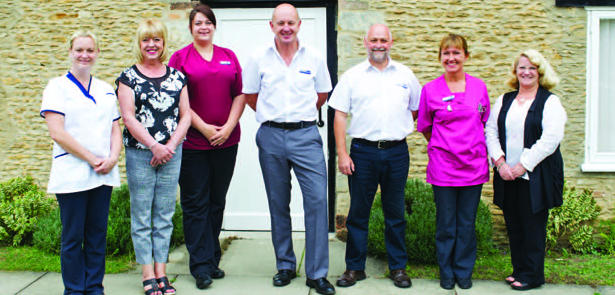 Injuries, tension and other musculo-skeletal problems can lay us all low, but The Fane Clinic's specialist knowledge of sports injuries and treatments can help – and you don't have to be a marathon runner to benefit... 
Sports therapy is not just for elite athletes or professionals, it is for everyone,' says Stephen Pinning. He is joint director at The Fane Clinic – specialists in musculoskeletal problems, with vast knowledge of treatments and solutions for foot, ankle, knee, leg and back pain, as well as many more complex issues. 'Our aim is to prevent injuries and help those who are injured return to full fitness, whoever they are and whatever level of activity.'
Stephen is the clinic's Podiatrist and Biomechanical Consultant, and when it comes to qualifications, Stephen has no shortage of letters after his name (FSSCh Dip Pod Med MBChPA). A Fellow of the School of Surgical Chiropody and Podiatry and with a Diploma in Podiatric Medicine, he is also registered with the Health Care Professions Council and has a particular interest in Biomechanical and Musculoskeletal problems. Fellow director Adrian Woolley FA Dip SMA is the practice's Injury Specialist, and brings a wealth of experience from the world of sport, including working in professional football and treating athletes of all abilities.
Adrian trained at the Sports for England Medical and Science Department at the Lilleshall National Sports Centre and has also lectured for the FA at Peterborough Regional College. He now specialises in sports injuries, rehabilitation and exercise programmes. He joined Stephen at the practice in 2008 when the pair realised that they had been referring patients to each other and could benefit greatly from joining forces, offering a multi-disciplinary approach. Thanks to this broad experience, the practice and its six members of staff can now offer not only regular chiropody and podiatry treatments, but sports therapy, sports massage and laser scanned prescription orthotics, using state of the art 2D and 3D scanners, with Dartfish software for gait analysis. All this is designed not only to get you back on your feet, but to keep you there.
Biomechanical consultancy
Most biomechanical treatments can be traced back to the foot. 'Biomechanics is essentially applying mechanics to the human structure; it's not much different to engineering,' explains Stephen. 'It all starts with the law of gravity. If you have a foot or ankle imbalance then the ankle joint compensates for this, which can then cause problems at the knee, the lower back and even the shoulders. There's a knock-on effect up the body.'
By conducting a thorough biomechanical assessment it is possible to trace the root cause of any foot, ankle, knee, leg or back pain. Scanning the feet and analysing the patient's gait establishes the diagnosis. Following this, a state-of-the-art Everflex 3D laser scanner is used to capture the unique shape and structure of the patient's feet. The resulting 3D digital model is then used to create custom orthotics, which offer years of comfort and support. Reassuringly, this initial assessment is free.
'There's no pressure or pushy sales – we assess the patient, tell them what's wrong, and if we can do something about it we'll tell them the price of the orthotics. It's then completely up to them to decide if they want to go ahead or not,' says Stephen. Many of the clinic's patients arrive by referral, or come to the clinic having visited other health professionals and failing to receive a satisfactory diagnosis. 'We're sometimes seen as the last chance saloon, but we should be the first port of call!'
Sports therapy and massage
While biomechanics and prescription orthotics helps those with foot or ankle abnormalities, sports therapy can assist those recovering from an injury, whether sports related or otherwise. Strains and sprains can occur when you least expect them, during day-to-day activities at work, at home or, of course, when playing sport. Discomfort caused by niggling pain can lead to stress, poor posture, anxiety and even depression, so it is important to start treatment as soon as possible.
'Sports therapy is an aspect of healthcare specifically concentrating on the prevention and rehabilitation of injuries,' explains Adrian. 'The aim is to return patients back to optimum levels of functional, occupational and sport-specific fitness, regardless of age and ability.'
Benefits of sports therapy at The Fane Clinic include tailored rehabilitation programmes, reduced re-injury risk, improved recovery and quicker healing time. They also offer sports massage to help alleviate the stress and tension which builds up in the body's soft tissue. But what makes sports massage different? 'While other forms of massage have some aims in common with sports massage – such as physical and mental relaxation – sports massage is specifically designed to assist athletes in their sport or fitness activities,' continues Stephen. 'Applied skilfully, sports massage is the most effective therapy for releasing muscle tension and restoring balance to the musculo-skeletal system, whether for sport or everyday life.' Used together, these can bring significant benefits (see box).
Far and wide
Clients of The Fane Clinic are of all ages – they have testimonials from patients as young as five (or rather, his mum), but their youngest ever is 14 months – and they come from all over the region and beyond. In fact, one client lives in Portugal. Having suffered severe ankle pain for several years she makes a point of visiting when in the UK, and says: 'The difference the orthotics have made to my quality of life is incredible.'
Sportspeople come from all backgrounds, with cricketers, county rugby players and Posh players all represented in the clinic's patient list. For Stephen the satisfaction comes from witnessing the difference the treatments make to people's quality of life. 'Some of our patients are now second generation – they came to me as a child and now they're bringing their own children to be treated,' he says. 'That's incredibly gratifying.'
Stephen and Adrian are clearly passionate about the treatment they provide and its ability to transform the lives of those receiving it. In fact, they are so confident in its effectiveness that as well as offering free biomechanical assessments, they also offer a 100% money back guarantee on all adult laser scanned orthotics. There's free convenient off-street parking directly in front of the clinic, but Stephen, Adrian and their six members of staff also offer home visits, as well as a full menu of chiropody, foot health care, nail surgery (using local anaesthetic), full body massage and reflexology.
Benefits of sports therapy and massage
■ Promotes recovery and prevents overuse ■ Promotes healing ■ Helps prevent injury ■ Restores mobility ■ Restores musculo-skeletal imbalances ■ Removes toxins and waste products ■ Relieves pain ■ Relieves muscle tension ■ Improves flexibility of the muscles ■ Reduces muscle spasms ■ Inhibits the formation of scar tissue ■ Reduces swelling ■ Increases blood and lymph flow ■ Stimulates the nervous system ■ Relieves emotional tension and anxiety ■ Stimulates physical activity ■ Increases the supply of oxygen and nutrients to the soft tissue ■ Stretches soft tissue
THE FANE CLINIC The Old Farmhouse Freston Paston Ridings Peterborough PE4 7XB 01733 571555 www.thefaneclinic.co.uk
Leave a Reply