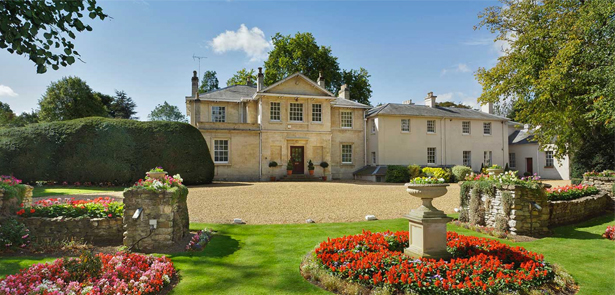 A beauty and wellness sanctuary to rest and rejuvenate…
THE former Alwalton home of Perkins Engines founder Frank Perkins has undergone something of an internal transformation in recent months – into the area's newest beauty and wellness sanctuary and spa. The beautiful Georgian country house, tucked away behind stone walls in pretty Alwalton village, has been home to owners Brian and Maggie Jones – but a team of craftsmen, tradesmen and decorators has been carefully and sympathetically preparing the interior and grounds of the Grade II listed building.
In addition to beautiful relaxation areas and Regency lounges, clients will be able to enjoy five specially themed treatment rooms, plus the former three-room guest suite which has been adapted for the ultimate in pampering. The room themes are all very different and designed to transport clients from their everyday lives to a new, restful and rejuvenating experience. Themes are based around Morocco, India, Japan, Kenya and Cleopatra.
The Hall is set in five acres of landscaped grounds and formal gardens. It offers a wide range of beauty and wellness treatments including facials, waxing, pedicures, manicures, massage and specialist skincare including the latest CACI non-surgical anti-ageing treatments. There is a 15m outdoor heated swimming pool and spa pool with dedicated changing rooms and sun terrace available for clients on half and full day packages for much of the year. The Hall is due to open at the end of March.
The management team has recruited seven highly-qualified therapists who have undertaken additional specialist product and treatment training with CACI, OPI, and premium skincare brand Decleor. Maggie Jones, who owns the Hall with her husband Brian, said: 'We want to create a very different beauty and wellness experience for clients and feel that it will appeal to a wide cross section from those wanting regular treatments in a wonderful setting to those who see this as an occasional pampering treat. It will also be popular for gifts and special occasions.' 'Forward interest has been amazing with people already contacting us to arrange treatment appointments.'
The Hall will offer a wide range of treatments and packages including half and full days complete with lunch and/ or afternoon tea in the Regency Drawing Room – just perfect for those special occasions or for gifts.
Meet the couple behind Alwalton Hall
The couple behind the transformation of Alwalton Hall is Brian and Maggie Jones. After many years working in the corporate world for they decided to turn what was their own family home into a beauty and wellness sanctuary and spa. They appointed well-known local beauty therapist Jess Topping (nee Dovaston) to the management team to help spearhead the project and chose to engage with leading skincare brand Decleor and non surgical anti ageing specialists CACI. Brian and Maggie have been working tirelessly over recent months to ensure that every little detail has been considered to ensure clients are guaranteed a memorable experience. They have employed a team of seven therapists who have undergone extensive product training with Decleor and CACI.
Alwalton Hall – a history
Alwalton Hall was originally built for the 4th Earl Fitzwilliam (later Wentworth Fitzwilliam) in the 1780s. A later wing was constructed c1820 for the 5th Earl, his heir, and is typical of the Regency period. In the 20th century its most famous owner was Frank Perkins, founder of Perkins Engines, who owned it from 1948 until his death in 1967. The Hall has been the family home of Brian and Maggie Jones and their five children since August, 2004. It is about to undergo a new chapter in its amazing history.
● To book an appointment or to buy gift vouchers please call the reception team on 01733 391166 or visit www.alwaltonhall.com
Leave a Reply