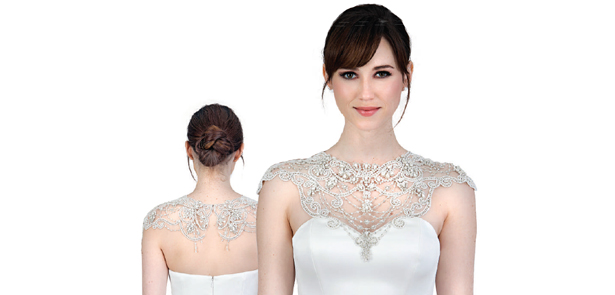 You don't have to limit yourself to one wedding look...
So many moods, so many looks
Your wedding. It may be just one day, but such a lot happens! As well as a formal ceremony, there are photographs to be taken that will last a lifetime, socialising, eating, reconnecting with old friends and family – and maybe even some dancing. The day doesn't just have different components, it has different moods: serious, frivolous, intense and – yes – emotional, to name just a few. For the bride who wants to feel comfortable and appear just right throughout the day, a multi-look approach to the dress could be just the thing. Gone are the days when a bride just popped a bolero over her frock to modify her outfit – now it's all about not appearing to wear many different layers.
Get the look
To get the look, you will need an expert – and this is where Vow Bridal Gallery comes in. Owners Lisa and her team have all the expertise (not to mention the gowns) that you need to make this work: 'It all looks integral and one-piece,' explains Lisa. 'Then you surprise your guests by taking something off and they don't even realise you could do that!' The examples that Lisa showed us would look gorgeous if they were simply one dress – with the bonus that they are so much more! A sexily demure, Kate Middleton-style dress with lace overlay transforms into a slinky, strapless frock you can party the night away in. And a romantic, frothy and full-skirted lace dress peels away to reveal something altogether more sophisticated and fitted for a sit-down wedding breakfast and reception. Finally, she showed us a stunning jewelled shoulder piece – part necklace, part cape – that can be worn with any simple gown to create something unique and stunningly beautiful. Subtle layering is a huge trend right now, and it looks set to continue well into next year and beyond because it offers so much choice, flexibility – and fun!
For a consultation with Lisa or a member of the Vow team to talk about layering, get in touch using the details below
Vow Bridal Gallery 26-30 London Rd, Wansford, Peterborough PE8 6JE T: 01780 783607 www.vowbridal.co.uk  
Leave a Reply