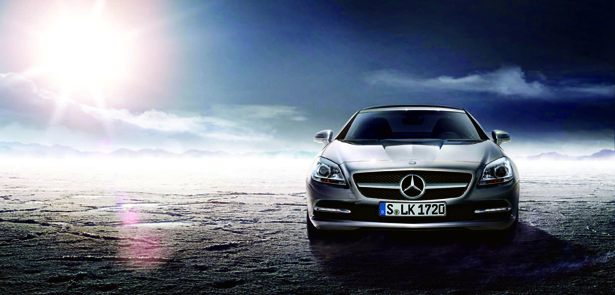 One year into the job and Mercedes-Benz of Peterborough General Manager Martin Brown is looking forward to another year of stellar growth
MARTIN, YOU'VE BEEN GENERAL MANAGER AT MERCEDES-BENZ OF PETERBOROUGH FOR 12 MONTHS NOW. TELL US HOW YOU'VE FOUND YOUR FIRST YEAR 
Working with the Mercedes-Benz brand is fantastic. It has just had a record year – we are selling more cars in the UK than ever, so it's great to be a part of that. Hopefully we will build on this momentum, which can only mean good things for me and the team. These are exciting times!
WHAT ATTRACTED YOU TO MERCEDES-BENZ IN THE FIRST PLACE? 
I had previously worked for Mercedes- Benz as a Sales Executive and then a Sales Manager. Becoming General Manager of a Mercedes-Benz site had always been an ambition of mine. Having gained that experience elsewhere I was thrilled when the opportunity to manage the Peterborough site came up. There's a really great team here. Some of the people in the sales department have been here for a number of years and some of the technicians have over 15 years' experience with the brand. Then of course we have some newer faces, so it's a really nice mix.
HAVING A GOOD TEAM MUST MAKE YOUR JOB A LOT EASIER
Definitely; it's all about the people you've got working for you. We try to create a coaching culture, so that everyone working here helps each other out. Those who have got a lot of experience help those who have just joined us. We work on that daily. Then, of course, there's the focus on the customer. We are looking to create a good journey for the customer through the dealership. Having a good bunch of people around you means providing that high level of service is considerably easier.
YOU MENTIONED THAT THIS HAS BEEN A RECORD YEAR FOR MERCEDES-BENZ. CLEARLY THE RECESSION IS BEHIND US! WHAT DO YOU ATTRIBUTE THE IMPROVEMENT IN SALES TO? 
It is down to a combination of affordability and new engines. Mercedes-Benz has developed an offering of cleaner diesel engines under the BlueTEC label, with fuel consumption as low as 76.4 mpg. The A-Class has made owning a Mercedes-Benz really affordable too, which has given us a massive opportunity to compete with other marques such as Volkswagen and Ford. It's helping to make Mercedes-Benz ownership more accessible and is opening us up to a younger client base. Once they are on board we can supply them with their next car and work with them in the future. There are a lot more models due to come out in the coming months, which will further expand the appeal of Mercedes-Benz to local drivers.
TELL US A BIT ABOUT THAT
Well, we've got a fully electric B-Class about to hit the salesroom. Following on from that will be a plug-in hybrid C-Class in both saloon and estate body styles. This is a new direction for the brand. Other models include a newshaped C-Class Coupe and replacements to the ML-Class All these additions mean more choice for the customer – in styling and engine, whether that's petrol, diesel or electric.
AS PART OF YOUR ROLE YOU HAVE GOT THE DEALERSHIP MORE INVOLVED WITH THE LOCAL COMMUNITY, INCLUDING SPONSORSHIP OF THE POSH 
We have a close working relationship with Peterborough Football Club. We provide them with a car and sponsor matches. We are also looking to get involved with an upcoming cycling event. Cycling is a massive up-and-coming sport that appeals to a wide range of people. So as well as helping support grass-roots sports, it's something we need to be involved with in order to bring the brand to more people. And Mercedes- Benz really does appeal to a much wider audience that it did perhaps four or five years ago.
IT'S BEEN A BUSY FIRST YEAR FOR YOU MARTIN. WHAT ARE YOUR PLANS FOR YOUR SECOND? 
This is indeed a really busy and exciting time for Mercedes-Benz of Peterborough. We are looking to employ more people. That means another technician to expand our service department capability and two more sales executives to help on the sales side. It's going to be another big growth year for us and I can't wait. 
FINALLY MARTIN, I HAVE TO ASK… WHAT'S YOUR FAVOURITE MERCEDES-BENZ? 
It has to be the 300SL, which was introduced in 1954. It's an iconic car that boasts effortless style. It spawned the SL-Class, of which my favourite of today's models is the SL 63 AMG – just beautiful! 
MERCEDES-BENZ OF PETERBOROUGH Club Way, Cygnet Park, Peterborough PE7 8JA. 01733 294900, www.mercedes-benzofpeterborough.co.uk
Leave a Reply