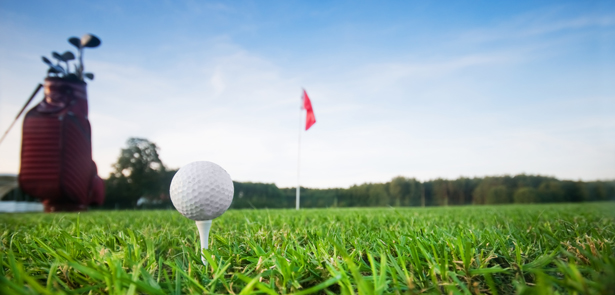 The Fane Clinic Ltd, co-founded by director Adrian Woolley, has offered foot care, the provision of prescription orthotics, and the treatment and management of injuries since 2008 – and it continues to grow and develop. The Moment talks to Adrian about his latest venture – a partnership with local pro golfer Suzanne Dickens
The Fane Clinic has a strong connection with sport and a history of sponsoring local youth teams, but this is something a bit different. Tell us about it…
Suzanne is the pro at Thorpe Wood Golf Course. She turned professional in 1995 and has been a full member of the PGA and Ladies European Tour since then, with 23 WPGA Individual strokeplay wins to her credit. She also has 23 years' coaching experience and has worked with worldrenowned coaches. She's former coach to Northamptonshire County Ladies 1st, 2nd and Junior teams and England Regional Junior Coach and also former tuition contributor to Women & Golf magazine – plus she formed Nene Park Ladies Golf Academy. Of particular interest from my point of view is that she formed Special Olympics Golf Peterborough and is Disability Golf Coach for the Eastern Region. That's one of the areas that we come together on – in trying to promote sport for all.
How did the sponsorship come about?
I met her when I went for some golf lessons, and during those sessions she mentioned that she had a painful foot. I said: 'I'm the man to fix that for you…' Suzanne came to our clinic and I prescribed some orthotics for her to correct the problem – and she's since sent various other people to me, including her mum! If someone trusts me with their mum, that's everything to me… I see her fairly regularly now to look after sports injuries and to keep things ticking over, but we decided it would be good to team up on a more official basis. So, in 2019 I'm going to be sponsoring her to help her with her travel around the world, and she's going to be an ambassador for my services. She's coaching people more or less fulltime, so she gets to see a lot of people who may have biomechanical issues and sports injuries. Basically she's confident in what I do and I'm confident in what she does. We're like-minded, and both want to help people where we can.
Do golfers have specific issues that you can help with?
Golf looks very sedentary but can involve a walk of 7-10 miles, spread over quite a long period of time, so for anyone who is not generally fit or used to that it can be hard on the feet, back and joints. In addition, if someone is not stable in their base due to an injury – bad knee, bad ankle, bad feet from walking, or the lower back – it will affect their golf swing. Some of these are issues that could affect you from day-to-day, of course – walking is walking – but for a golfer I would prescribe a slightly deeper heel cup in the orthotic insole for stability. Hopefully I'll be able to do more of this with Suzanne's support. She's very highly thought of in her world and I'm more than happy to get involved, especially with the Special Olympics and disabled golf that she does. Overall, an honour to be working with her!
THE FANE CLINIC The Old Farmhouse, Freston, Paston Ridings, Peterborough PE4 7XB. 01733 571555 www.thefaneclinic.co.uk  

SUZANNE DICKENS ● Full member of PGA & Ladies European Tour 1995-2018 ● Winner of 23 WPGA Individual strokeplay titles ● 6 WPGA Order of Merit titles ● Glenmuir WPGA Club Professional Champion, ● Winner of numerous worldwide events ranging from Ladies European Tour 9 hole Championship, Pro source Tour Championship & Order of Merit, 72 hole NPGA Overseas Pro Am Portugal, 36 hole Cantrell Cup, Company days, Pro- Ams, Ladies European tour Shoot out in Portugal. ● Wins in 2018 include: PAC Air Pro am at Welwyn Garden City, WPGA Foursomes with partner Alison Nicholas, & Beds & Cambs Captains Day. ● Played in 7 British Opens ● Holder of 6 Professional course records ● Lowest round at Thorpe Wood 62
www.freepik.com/free-photos-vectors/background
Background photo created by bedneyimages – www.freepik.com
Leave a Reply