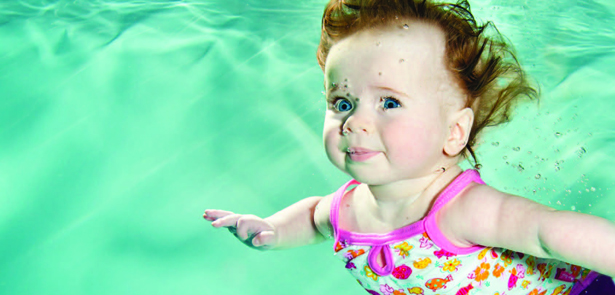 The gentle, rhythmic movements of Calmababy's swim, massage and yoga classes can lay the foundations for early childhood development. Ben Vanheems talks to owner Alison Duff to find out more  
ALISON, CAN YOU START BY TELLING US A BIT ABOUT WHAT CALMABABY IS AND THE SERVICES YOU OFFER?
Calmababy is a unique centre that was built to provide a welcoming, relaxed place for families to bond and enjoy time together. We offer a range activities and quality, progressive classes. Our classes cover every stage from pregnancy up to the age of four. Many of our classes are water-based and include aquanatal yoga (water-based yoga classes for pregnant mums), water birth workshops, and newborn flotation where we get the babies into the water as soon after birth as we can. Then we move onto baby swimming classes, toddler swimming and child swimming. For the dry classes we run courses on pregnancy yoga, childbirth preparation, postnatal yoga, baby massage and mother and baby yoga.
I'VE HEARD AMAZING THINGS ABOUT THE BENEFITS OF SWIMMING FOR A BABY'S PHYSICAL AND MENTAL PROGRESSION. ARE THEY TO BE BELIEVED?
Yes! Movement and physical activity play a vital role in the healthy development of a baby's brain. Essential connections are made between the left and right hemispheres, which underpin the foundations for all learning, in the early stages and later on when a child starts school. Swimming offers a unique sensory experience that cannot be found on land. They have the freedom to enjoy unrestricted movement and can, for short periods of time, swim underwater freely unaided. We use a lot of strong, firm movements through the water. This creates pressure on the body – in effect like a water massage, which helps the nervous system to develop and the reflexes to integrate. And, yes, we see a lot of instances where babies become physically more developed through regularly attending swimming classes.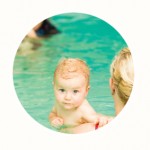 The benefits aren't just for the baby. We find that parents become more confident handling their little ones. Parents can sometimes be quite nervous at first, usually through a fear of dropping their baby. So a lot of our work with newborns and young babies focusses on getting the parent at ease and feeling safe and grounded in the water. In my classes, for example, I encourage parents to mirror the movements made by their babies, which begins to relax them. You see their breathing settle and their body open and relax, allowing the baby to float more easily. So rather than having the baby held on top of the water, he or she is allowed to float. This is where babies really come into their element. They wriggle, they kick and they start to roll – movements they simply can't do on land until they are older.
BABIES HAVE AN UNCANNY KNACK OF PICKING UP ON SUBTLE CUES FROM THEIR PARENTS.
Completely. In the early years we regulate our children, so your child feels how you feel. If you're tense, your child picks up on it straight away. We work hard to make the parents feel comfortable and confident. Nothing is forced and everything is gentle, so even though a baby may be ready to swim under the water, if the parent isn't we won't do it. Both parent and child have to be ready. We see some pretty brave parents who come to the pool even though they themselves are scared of swimming. They don't want their children to have the same experience of water that perhaps they've had. It's amazing what people do for their children. With gentle encouragement we have had parents progress from being terrified of water to floating with their baby within a couple of terms!
WHAT ARE THE AIMS FOR EACH AGE GROUP? WHAT DOES EACH SWIMMING COURSE HOPE TO ACHIEVE?
At baby level we work with developmental milestones. To begin with it's very much floating based, taking them back to that womb-like environment – the warmth, movement and pressure from the water help create this. Then we start to work on the next developmental marker, which is rolling. At this stage they can sometimes sit up in the water too, on your hand like a little egg, nestled in a spoon. They use the water to adjust and support themselves. In the early stages there's also a heavy focus on bonding and on parents being able to understand what their child's communication in the water is telling them. When they… [cont]
Leave a Reply