Pboro Celebrates: Perkins Great Eastern Run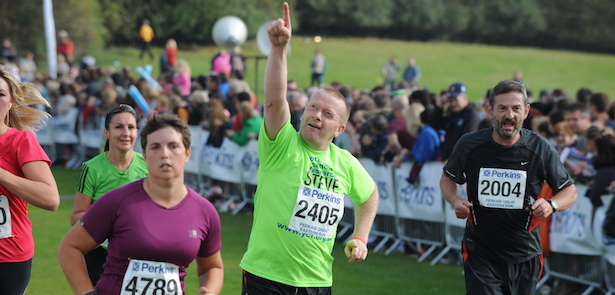 The Perkins Great Eastern Run (PGER) returns on 14 October 2018, and it's not too late to take part (entries close 12 October)! For all taking part – but especially those running for the first time – we present the essential info, plus some expert tips from sports therapist and Director of the Fane Clinic, Adrian Woolley
The time, the place…
The assembly point for the half marathon, wheelchair race and Anna's Hope Fun Run on 8 October is at the Embankment where all races start and finish.
Fun Run competitors will move to the start line at approximately 9.45am for a 10am start. The wheelchair race will start at 10.25am and the half marathon at 10.30am. Please check the website for more detailed information, including times of prize presentations.
There will be plenty of stalls, refreshments and a continental market for spectators to enjoy at the Embankment, with the city centre shopping area a five minute stroll away.
Keeping up the pace
The PGER takes place on a flat, fast course which means runners have a good chance of setting their best possible time. 2014 saw the introduction of race pacers and once again this year will be helping runners to achieve that goal on race day.
Pacers will lead seven different target times ranging from one and a half hours finish time to two hours and forty five minutes.
1:30 (6.52 min/mile)
1:40 (7.38 min/mile)
50 (8.23 min/mile)
00 (9.09 min/mile)
10 (9.55 min/mile)
20 (10.41 min/mile)
30 (11.27 min/mile)
Get you round – target pace 2.45 (12.35 min/mile)
Free PGER training sessions still available!
If you are thinking about taking part in the 2018 Perkins Great Eastern Run but need a little extra help to get you prepared for the big race, then these free training evenings are for you.
Runners of all abilities are welcome to attend the free training sessions that take place at the Peterborough Embankment Athletics Track. The training sessions have been organised by Advance Performance and are held in conjunction with experienced runners and coaches from local running clubs, who will lead the runs.
Each training session begins at 7pm with a warm up. Runners will be divided according to level of fitness and aspirations before being taken for a training run.
Free parking is available at the Regional Fitness and Swimming Centre car park and the athletics track has full changing and shower facilities.
Remaining training sessions are on:
Get into training – with Yelling Performance!
The Perkins Great Eastern Run has teamed up with Liz and Martin Yelling to offer runners the best available advice to help them train for and complete this year's half marathon.
Olympian long distance runner, Liz, ran the 2011 Perkins Great Eastern Run and set a new course record for a female runner, completing the course in 72mins 14secs.
You'll find the training tips – all compiled by Yelling Performance – free on the PGER website.
If you have really got the running bug then you can enter the Perkins Great Eastern Run 2018 or Anna's Hope 5km fun run, both on Sunday 14 October, on the Perkins Great Eastern Run website: www.perkinsgreateasternrun.co.uk
---
Failing to prepare is preparing to fail!
Expert tips to help you run your best race – and avoid injury – from PGER veteran and sports therapy specialist Adrian Woolley. Adrian is co-founder by director of The Fane Clinic Ltd, which has offered Foot Care, Prescription Orthotics and treatment and management of injuries since 2008
Its time for one of Peterborough's great events again – one I am pleased to say I have completed many times myself.
There will be many of you out there who are good club runners and have completed half marathons before. When running long distances preparation and experience are equally important. However if you are embarking on your first half marathon you will be lacking in experience so please do prepare properly for your run.
The majority of runners will finish between 1.5 and 2.5 hrs which is a long time to be running. By the time you read this most of your training will be completed. If you have followed your training plan you should be ready and eager to go!
My top tips for the day:
If you have been training seriously for this event you will have probably been trying to eat more healthily. This is particularly important in the lead up to the event where you should be loading your body with foods high in carbohydrates with the right blend of protein and fat.
If you are having regular massages, please don't have one within 48hrs of the event.
Make sure any hard skin and calluses have been removed and your toenails have been cut to the correct length. This is something our Foot Health Practitioners can do for you here at The Fane Clinic.
Make sure your running shoes are well bedded in. You don't want painful blisters ruining your run. Blisters are caused by movement and friction so stick to a pair of training shoes you are comfortable in. Do not be tempted to "treat yourself to new trainers" for the event.
Wear running kit that you have worn before, you don't want anything irritating or rubbing.
Use suntan lotion, you will be surprised how many people get sunburnt whilst running long distances even on a cloudy day.
If it's a hot day try to avoid pouring water over you and allowing it to get into your training shoes as although it may be nice to cool down it could lead to your feet becoming wet and blisters.
Stick to your plan – do not get carried away with the emotion of the event. Don't be tempted to high five people on the way around as this is wasted energy and will mean you actually run further. RUN YOUR RACE!
Gently stretch your main muscle groups afterwards and several times over the next 48hrs.
Treat yourself to a massage and good stretch 48-72 hrs after the event. Here at The Fane Clinic we have two very experienced Sports Therapists who can both provide this.
Most of all good luck and make sure you enjoy it!
Adrian Woolley
Clinical Director – The Fane Clinic
The Old Farmhouse, Freston, Paston Ridings, Peterborough PE4 7XB
01733 571555
Leave a Reply