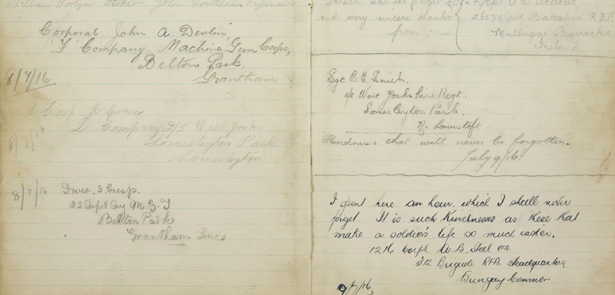 After three years of painstaking research by dedicated volunteers, Vivacity's most poignant exhibition to date is set to open at Peterborough Museum and Art Gallery. 'The Soldiers' and Sailors' Rest' brings to life the stories of those passing through Peterborough East Railway Station at the height of World War One. As we prepare to mark 100 years since the end of Great War, the exhibition serves as a moving tribute to those who served.
The exhibition tells the stories of some of the many servicemen and civilians who signed two visitors' books kept at the station's tearoom . The books cover the years 1916 and 1917 – a time when the station buzzed with activity as people passed through on their way to or from the front line.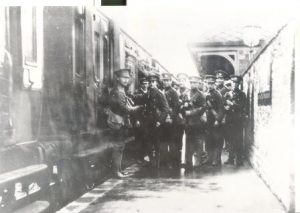 The visitors' books were maintained by the Women's United Total Abstinence Council, who ran the tea stall in a bid to keep servicemen out of the pub while they waited for their train. They have been kept in almost perfect condition by the Peterborough Archives Service, run by Vivacity at Peterborough Central Library, and offer a glimpse of the experiences, hopes and fears of the time. Some entries offer little more than a name, while others include drawings, poems and thoughts of the servicemen travelling through – including some from as far afield as Australia and New Zealand.
The exhibition would not have been possible without the support of the Heritage Lottery Fund. But it's been the job of a truly dedicated group of volunteers to bring the stories behind the 590 visitor book entries to life. Together they've contributed over 3,500 hours of their time to research and have found information on more than 370 of the people behind the entries. The volunteers have also made contact with more than 30 families of the servicemen, helping to fill gaps in their stories and bridge 100 years of history.
Vivacity's Archives Manager Stacey Kennedy explains how the project has helped to bring history to life: 'We're used to having static documents but what the volunteers have done is research the soldiers' lives from what can be very minimal information – even just a signature – to find out about the real people at the end of it. It demonstrates the possibilities of what you can do with archives. In some cases the volunteers have made contact with living relatives, who have been able to add to their research, which is really lovely.'
All of the entries – as well as biographical information, photographs and excerpts from the books – have been made available via Vivacity's 'Peterborough & The Great War' website – www.peterboroughww1.co.uk – on social media and on video screens at Peterborough Station. The final stage of the project is the exhibition, which runs at the museum from 20 January to 8 April.
The exhibition uses a variety of formats, from creative writing, to audio and visual projection. Images of numerous receipts, invoices and minute books from the tea room give an insight into the sorts of food and tobacco being purchased for the tea room. Together with the research, this information has enabled community actors at the Lamphouse Theatre Company to recreate the tearoom and a few of the men researched, who will talk a little about themselves in a recorded performance.
'It's a ground-breaking exhibition for Vivacity,' says Stacey. 'Because the stories are being portrayed in such an audio-visual manner, there's a real ambience about it. Visitors will be able to gain a new perspective on the information, rather than the traditional approach.
Researching the visitor books
Project starts: The project began in February 2015, with volunteers starting work in July. The first task was to digitise the books so they could be analysed in detail without damaging the originals.
Entries deciphered: Vivacity Archives Services ran courses on palaeographical skills (reading old handwriting) and family history, which helped the volunteers decipher the book entries and then transcribe and research them.
Research phase: After deciphering the names volunteers could begin researching for more information behind the names using sources such as census data, parish registers, birth, marriage and death certificates, and military documents. With details also gleaned from specialist family history and community websites, and the Red Cross and Commonwealth War Graves Commission websites, every search was different.
Onto the website: Every item of research had to be double checked, written up and edited before uploading onto the 'Peterborough & The Great War' website.
Living relatives: Each entry has been released via social media in an attempt to find family members. If the search led to a family contact then volunteers were often able to get further information and even a photograph to accompany the entry.

Able Seaman Roger Tyrrell Hazelwood
Roger Tyrrell Hazelwood was born in Kirton, near Ipswich, Suffolk on 15 February 1895 to parents William and Julia. In the 1911 Census, Roger is listed as living with his parents at Walnut Tree Farm, Levington, near Ipswich, where he worked on his father's farm. At the time he also had a brother and sister, and his parents went on to have another four further children, making Roger one of a family of seven siblings.
Roger trained at HMS Ganges, the Royal Navy's training establishment at Shotley, Suffolk. He joined Ganges as a Boy Sailor in April 1912, then on his 18th birthday signed up for 12 years' service on as an Ordinary Seaman. He was promoted to Able Seaman in July 1914 and joined HMS Warspite on 1 April 1915, where he served until his discharge on 11 November 1919. Roger would have participated in the 1916 Battle of Jutland, during which time the ship was hit no less than two dozen times by enemy fire.
He married Emily Harris in 1925. Emily was born in Cerne Abbas, Dorset. They met while Roger was working as a groom, and she a cook, at Broke Hall in Suffolk. They had a son, Edward (1926) and a daughter, Daphne (1927) and five grandchildren.
In 1939 Roger was working as a farm stockman and the family were living at Martin's Farm, Gipping, Suffolk. Roger died in Samford, Suffolk in September 1970, aged 75.
Service information: Roger Tyrell
ROYAL NAVY
Service number: J16887
Ship: HMS Warspite
Rank: Able Seaman
Campaign medals: The 1914 Star; The Allied Victory Medal; The British War Medal, 1914-18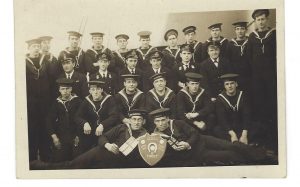 HMS Warspite
A framed picture of HMS Warspite stood on the couple's sideboard throughout Roger's lifetime. This Queen Elizabeth-class battleship was the sixth warship of the Royal Navy to carry the name. Her 30-year career covered both World Wars and took her across the Atlantic, Indian, Arctic and Pacific Oceans.
The relative's reaction:
"Being contacted by the project volunteers to say they had found my grandfather's signature in the visitors' book was amazing. I too pass through Peterborough station on a fairly regular basis and it was strange to feel I was following in his footsteps. It prompted me to search through family photos, finding pictures of him in his naval uniform and to research about HMS Warspite, his ship from 1915-1919. This uncovered some more of his story, which I have shared with our wider family. Given that so many people perished during that dreadful war, it is sobering to think that he survived and that therefore we are here today." – Sharron Goddard, granddaughter
William B G Stammers
William Bertie Gostling Stammers was born in Southwold, Suffolk in 1879 to parents William, a bricklayer and Mary Ann. He was one of four children.
In 1903, William married Florence Emma Reddy in Blything, Suffolk, and they had six daughters: Edith Alice Reddy (1902), Daisy Emily A (1903), Lily May (1905), Viola Wilhelmina (1907), Iris Muriel (1909) and Sylvia E (1910).
In the 1901 Census, William is one of the eight-man crew on the vessel Reward fishing off Newlyn in Cornwall.  In 1911, the family were living in Lowestoft where William was a fisherman in the driftnet fishing industry. William died in Lowestoft in 1934, aged 55, and is buried in Kirkley Cemetery, Lowestoft.
During the war years William skippered more than one fishing vessel operating out of Lowestoft, including the Steam Drifter Newark Castle, a type of fishing vessel using driftnets. Newark Castle was sunk on 6 July 1916, around 23 miles southeast of the river Tyne by the German U-Boat U23, under command of Oberlieutnant zur See Ernst Voigt. During a three-day patrol the U-Boat sank eight British vessels of similar size, one of which was Girl Gracie, a boat the William had previously skippered.
Crew members came through Peterborough East Station on 8 July 1916 and wrote two detailed accounts of the attacks in the visitors' books, describing how the German U-Boat U23 captured the vessels, allowing the crews off before sinking the vessels with bombs. The crew were rescued by a British submarine and landed in Blyth six hours later, along with crews from Girl Bessie and Petunia.
U-Boat U23 sank 51 ships until it was badly damaged by depth charges from the patrol boat HMS P
C-60 off the Lizard on July 26 1917. U-Boats under the command of Oberlieutnant zur See Ernst Voigt sank 80 ships in total.  Voigt, who was highly decorated, died on 25 August 1917 when UC 72 hit a mine in the Straits of Dover.
William and his nine crewmen could possibly have been returning to Lowestoft, following their unfortunate encounter with the German submarine.



Visitor book entry, 8th July 1916
This is to certify that the entire crew of the Steam Drifter "Newark Castle SN 2 29" called at the Soldiers & Sailors rest at Peterborrough on Saturday morning July 8th after being submarined off North Shields at 6 o'clock on Wednesday morning.
We were landed at the Port of Blyth Northumberland at 12 o'clock the same morning by a British submarine all safe & well, the British submarine also picked up the crews of the Girl Bessie & Petunia 4 of whom were wounded & had been in the water for 20 minutes.
William Stammers. Skipper Sidney Sayer Mate Henry Stone, Helmsman Theophilus Alp. Whaleman. George Mayhew. Net Stower. Richard Nicholls, ditto Herbert Rose. Castoff. Arthur Cleveland Cook. William Corbyn Stoker John Loutham. Engineer

The Soldiers' and Sailors' Rest – Stories from a wartime tearoom
Peterborough Museum, Priestgate, Peterborough PE1 1LF.
20 Jan-15 Apr
Read more entries into the guest books or search for relatives of your own at www.peterboroughww1.co.uk

Leave a Reply