Why does a cathedral matter?
Peterborough Cathedral recently launched a campaign called Cathedral Keys, which invites individuals, groups or businesses to pledge a regular monthly amount over three years. But while we all understand and appreciate the need to keep the fabric of the building sound, it's not just about the bricks and mortar – it's about keeping the life of the Cathedral and its vital community work going. Toby Venables talked to Canon Missioner, Revd Sarah Brown, about some of the work the Cathedral is involved in.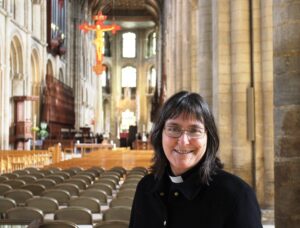 First of all, could you describe what your role is?
I've been here three years now and I'm still working it out! My title is 'Canon Missioner'. A canon is effectively clergy at a cathedral, and I'm also what is known as a 'residentiary' canon, which means I'm full time here, living not far away. We take services, we look after people, we do all the things you'd expect and hope the clergy would do. But we each have a slightly different portfolio, and slightly different emphasis, and mine is Canon Missioner. So, we have beautiful services, we have a beautiful building, but we're also about speaking the name of Jesus and bringing people to God. There is a mission here about loving God's world – loving, including and welcoming all God's people, whether they're of faith yet or not. And that just touches on almost anything. It is like a great big, sweet box, because in a city like Peterborough there is so much that we can be helpful with and so much that we can get involved with. In the old days, if there'd been asocial initiative, the Cathedral would probably have been in the chair and would have used its position and its status and its building for doing good. But there is so much that is going on in this city, for the community by the community, that to try and reinvent that wheel would be daft. There are phenomenal pieces of work going on, and I think the best way we can serve the city and the surrounding area is by joining in, supporting, resourcing where we can –though at the moment we're a little limited on that front, which is why Cathedral Keys is so needed. But, you know, serving. There's a line in Jeremiah 29, where the Israelites have gone into exile in Babylon, and he says: 'Seek the welfare of the city, and in its welfare, you will find yours.' And I think that's actually the call here, that here we have a phenomenal, diverse, confusing, messy city – like most others – and we can help make it a little bit better for some people some of the time. And we do that in God's name. That's the essence of the mission. We also have inward looking things – we have to run the place, to make sure the bricks and mortar don't fall down. We have to be sustainable in funding terms. All of that is work to be done. But in terms of mission, it's how do we enable those who come to us to look up and go 'Wow, there's more than my life going on here… There's a bigger something.' And, you know, here is what can change the world and transform lives. And that's what I believe I represent – that transformation of life. So, what we can do in the city is always done in the name of Jesus Christ, but it's very much about getting in up to the elbows and mucking in.
You're involved with an initiative called Near Neighbours. What does that do?
Near Neighbours is an initiative of the Church Urban Fund, which is a central body – part of the Church of England, in fact, but very concerned with inclusion, neighbourhood cohesion, making places better places to live by means of integrating the people and getting people to understand one another. There are12 or 13 hubs in the country, basically funded by the Church Urban Fund, who in turn are partly funded by the Ministry of Housing, Communities and Local Government. They're all in places of great diversity, often in places of need. The diocese was first approached by Near Neighbours to say 'We'd like to have a hub in Peterborough. Are you interested?' And fortunately, somebody had the wit to say, 'How about the Cathedral?' We were absolutely delighted by this and recruited Femi Olasoko. I should give a shout out to Femi… I am nominally supervisor of the hub, but Femi does all the work! She had some background in community work but is also a very strong Christian who worships at Kingsgate. Her knowledge of this community and her commitment to the people she serves is phenomenal. And part of what she does is work with tiny community groups – often very minority community groups – and show them how to be stronger. How do you apply for something? How do you use digital better? How do you get funding? How do you sort your GDPR out? How do you become a legal body within a community? I just made a list of some of the communities that I know we work with: the Roma community, the Chinese community – very much in need of support at the moment because of hate crime as a result of COVID – the Latvians, the Lithuanians, the deaf community. We work with Muslim communities, Hindu communities – one of the extraordinary things that Near Neighbours does is bring women together, often involving food under normal times, we've all sampled much of each other's food over the last few years! But you know, if you get the women together, you start to see stitching together of different neighbourhoods. That doesn't mean anybody's trying to change anybody, it just means that we have a better understanding and can meet in a room and talk and laugh.
Can you give some more examples of the work you do?
One of the initiatives that Near Neighbours has been involved with is something called Real People Honest Talk, which was about getting people from all neighbourhoods in a room, over tea or whatever, to talk about the issues that matter to them in Peterborough, then pulling all of that together and bringing Council members in to hear and respond to some of those things. The actual output might be quite limited, but actually the process is really important in a place like Peterborough. We help get grants to little organisations, work with Muslim women, and we increasingly work with mental health issues and lockdown domestic abuse – we're seeing that across the whole community. It's about picking up those commonalities and saying 'What can we do about this? How do we help?' We've also done a lot of inter-faith work. During lockdown we did Hope in the Face of Loss, and looked at what the major faiths had to say about loss, all in a room together – well, via Zoom, actually. We then followed that with stories of hope – the great things that had been happening that we could share. In a sense these are all small-scale things, but really exciting in their implication and I'm so proud that Peterborough Cathedral was able to be part of that.
You mentioned COVID, and obviously the pandemic has had a pretty terrible impact on everyone. But is it possible that in some ways it's actually brought people together?
Yes. Because we can't do a lot of the other stuff we normally spend our time doing, it has meant that people have focused on other things. As an example, during lockdown the residents of the Precincts – not a deprived neighbourhood – joined in with the Garden House Care for Homeless People and provided a lunch for 108 people once a week, from their own home kitchens. It's on a small scale, but there are lots of examples like that. I think people have taken stock, and the priorities are different. I just hope and pray that we remember that when normality comes back. We're so keen to get back to normal – whatever normal is going to look like – that I really hope we don't leave behind some of the gifts that we've actually had from this. You know, just the way the council responded, dealing with the homeless… Suddenly we were able to take them all off the street and find a way forward. Now isn't that something?
The community work that the Cathedral does is its less visible presence – but what is very visible is the building itself. Is that an important presence, and does it make a difference by simply being there?
I do think that it has something really important to contribute in the sense that it is our Cathedral, in the middle of the city – it is stones and mortar as well, and it means a lot to the city. It's got a civic role, and has had for centuries, and that still matters. And I think that works for people of faith or of no faith. One of the most moving things in the building, for me, is the Orme Memorial, which is an incredibly fancy family memorial from the 17th century. And of course, what happens soon after they finish making that memorial is that the Civil War comes along, and Mr Cromwell's men break up anything that looks like idolatry. This memorial has remained in pieces – bruised and battered with all the noses knocked off – and I look at that every day when we can get in there. And I just think, it's been through hell and high water, and yet it's all still here. That's a really potent thing for the city, that this Cathedral is still here. This one building contains 900 years of people's sorrows and joys and prayers – a great procession of humanity – and that's really what it stands for. It's all a continuity of human life and faith and joy and sorrow, all rolled together.
To find out more about the work of Near Neighbours Peterborough go to www.near-neighbours.org.uk/about or find it on social media https://www.facebook.com/NNPETERBOROUGH/ and https://twitter.com/NNPeterborough/
Leave a Reply