Once Upon a Festival 2018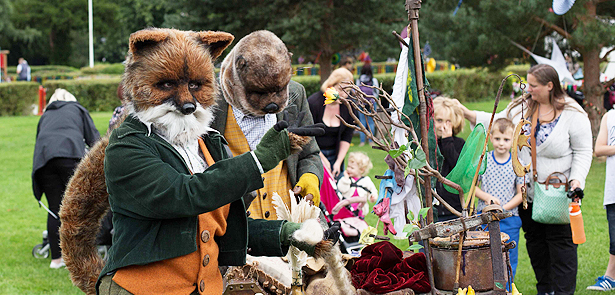 Last summer, Vivacity put on the fun, family-friendly Once Upon a Festival in Central Park. Based around the universal appeal of stories and what they mean to us, this brand new event was expected to attract around 500 people. Over 3,000 turned up. This year it's back, bigger, better and with even more arts festival elements and performances; a great family day out packed with story-based entertainment and activities for all ages, which also helps to boost literacy in the city. Toby Venables talks to Vivacity Reading Development Manager & Team Leader Elaine Wilkinson about how the event has grown and what we can expect this year...
The phrase 'back by popular demand' might have been coined for this event – but how did that first, hugely successful festival in the summer of 2017 come about?
The first one was part of a funded project, which aimed to engage with families in a creative way around the theme of reading and literacy. It was part of our drive to help improve Peterborough's literacy rates, and we were aiming for about 500 people but the combination of the beautiful location in Central Park and the events that had gone before it drew a bit of a bigger crowd! We did a lot of community events prior to the festival itself and those people who had been to those community events in Orton and Bretton and central areas came along because they'd had a taster of the experience. Everyone really enjoyed those, so we knew they'd enjoy the bigger festival. What we provided was also something a bit different; we had storytellers, dramatic performances and workshops and it provided families with a lot of different experiences. It was something we hadn't really done before – having an arts-style festival aimed just at families. But it showed there was a huge demand out there, and that families really enjoyed it, so building on that we knew that it would work again and would be something the community would really enjoy.
So what's new this year?
This year's will have some of the elements that you'd find in a bigger arts festival, kind of combining the idea of the arts festival with an offering that is very creative and arts-based, with a specific focus around stories and storytelling. That's the big theme. It will be slightly different to last year's in that we will have some quite big, impressive arts acts alongside the family events, so it will be for everybody, and the location should work really well for that. In the past, we have always had lots of families visit the Arts Festival, and young children have always loved the performances, so we knew they would work well.
Among the highlights this year we've got Bees, which is a static installation where you peer into little beehives and all sorts of things going on in them, and there's a dramatic performance based around that. We also have Baba Yaga, which will be a very interactive dramatic performance based around the Russian folk tale. Both of these are presented by big arts acts that are touring the country at the moment.
We've also got children's theatre; there's a company called Booster Cushion Theatre who are  going to be doing Red Riding Hood and Friends – a very interactive, outdoor theatre production for families which gets the audience very involved. It's the familiar story, but with a few twists! And there will be storytellers and workshops as we had last year, costumed characters, and a baby chill-out tent Peter Rabbit himself will be making an appearance, and there will be a linked Beatrix Potter trail around the Park for children to hunt for Mrs Tiggy-winkle, Jemima Puddleduck, and their friends. Plus there will be some live music to enjoy with popular band, Pennyless.
We'll also be having some local artists who do a thing called Battle Lines – basically, a race to create huge artworks which then get voted on by the audience.
One act, called Carousel, will also be in Cathedral Square on Friday 10th as a precursor to the main festival, just so people in the city can get a taste of what's happening the next day.
Obviously this is fun for everyone, but it's also aimed at increasing literacy rates in the city. How does it achieve that?
We found last year that bringing in creative, arts elements as a new approach to reading really worked. It's really engaging for families that perhaps don't read a lot at home or don't use the library; presenting a lot of fun, hands-on activities as another way in seemed to work really well as a way of getting children and families enjoying stories and reading together. And once you've done that, they hopefully will read more books and join the library!
We haven't got quite the same workshops leading up to the event as last year, but our new children's Book Bus will be going out into communities during school holidays doing similar events and activities in many of the same places, such as Orton, Bretton and Dogsthorpe. Those activities will be based around reading and stories, and we'll be working with a lot of partners in Peterborough to put these on as part of the Vision for Reading – the City Council, children's centres and other organisations.
We'll have the Book Bus present at the festival as well, so families can join the library, and we're going to be running the Summer Reading Challenge from the Book Bus as well as our static libraries – so it all ties in nicely to the Summer Reading Challenge. Also, Ellie Sandall – a local children's author and illustrator who also illustrated our Book Bus – is going to come along and do a workshop, so children will get to see the beautiful illustrations on the side of the Book Bus and meet the author who created them and do some bunny-themed activities!
Will this become an annual event? The potential of stories seems almost endless…
We'll see how this one goes, and if it works really well, it's certainly something we'd consider for the future. But yes, pretty much everything is based on a story, whether it's a film a play or a magazine, drama, art – even lyrics of songs. It really is universal. And it engages both adults and children, and as part of The Vision for Reading – which is a citywide, three-year strategy for improving literacy and reading – we'll be doing as much as we can to bring reading and storytelling into everything we do. The more we do it, the more we're discovering ways of using creativity to really enrich the process. A lot of our young volunteers last year did their bronze Arts Awards during the summer, and they based that on a lot of the reading activities they did with children.
Does it help that Vivacity is an organisation that covers all the arts?
In a way we're perfectly placed to do this, and having library, arts and heritage teams within the organisation gives a much broader scope. Having specialists within the one organisation who have really good contacts in all those areas, both locally and nationally, makes a huge difference. If, for example, we want to do a workshop based around Peter Pan – which we're theming one of our workshops around – then we can locate a local artist who can come up with a really creative activity that they can do with the children based around that idea. The Peter Pan workshop also ties in nicely with the Key Theatre pantomime later in the year, so hopefully that will also encourage them to go to the theatre, perhaps for the first time. So we're very lucky having that expertise – it enhances the offer, really.
Once Upon a Festival 2018
Saturday 11 August, Central Park
"An absolutely amazing event, jam-packed with fun things to do. No one was bored – in fact we were spoilt for choice. Thank you so much! It's been fabulous." – 2017 festival-goer
For the latest information on Once Upon a Festival and other events, visit: vivacity.org
Leave a Reply