Time to play together again…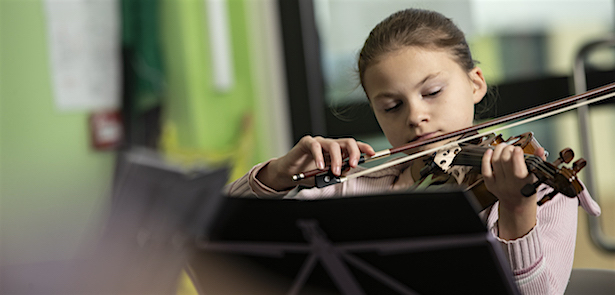 Amongst many other things, the pandemic has shown us just how much music matters to us, with people singing and playing from windows and balconies and sharing virtual performances worldwide. We've all been missing personal interaction, but as any parent will know it's been especially tough on young people – which is why the return of PCYM's Saturday music sessions, offering the chance to perform together – online, and hopefully, in person – will literally be music to their ears...
All parents want to give their children the best, most rewarding experiences in life and from 12 September 2020 the Saturday morning music sessions at Peterborough Centre for Young Musicians (PCYM) – supported by Peterborough Music Hub, and open to all young musicians from ages 7-18 – will again be helping local parents to achieve exactly that. Provision is being made for online delivery with physical gathering when possible. Safety is paramount, ensuring that whatever restrictions may be in place, young people can play, perform and enjoy music in a safe, structured environment.
PCYM doesn't just give the city's young people the much-missed opportunity to enjoy music together, though – it equips them with valuable life skills, too. Recent research shows that engagement with (and enjoyment of) music in solo and group situations brings advantages that go way beyond the subject itself, developing confidence and social skills, encouraging greater levels of concentration, boosting numeracy and literacy and helping individuals to be happier in their daily lives.
For Peterborough parent Joanna Cadman, whose son Edward started the sessions with PCYM just over two years ago, the effects were clear to see. 'We've definitely noticed the level of confidence in Edward that he didn't have before,' she says. 'At school he did a reading in front of everyone, which two years ago I'd never have thought he could have done.'
Because PCYM groups students according to ability rather than age, it's a also a great place to expand children's social horizons. 'He's made a whole set of new friends who are outside of school – and across the age ranges as well. It's a fabulous leveller.' As normality slowly returns, it's a great way to resocilaise, boost confidence and get young brains back up to their full potential.
The full morning of musical activities at PCYM includes not only one-to-one instrumental lessons from professional musicians (all DBS checked), but singing, ensemble playing and coaching for performances – with FREE instrument loan available. PCYM operates in association with London's prestigious Guildhall – ranked as one of the top ten performing arts institutions in the world – with regular visits from Guildhall musicians. 'You don't get that in school or other places. PCYM really do bring in some expertise that wouldn't be accessible in any other way – it's more than just a music lesson.'
PCYM has also provided opportunities to visit and perform at some amazing venues. Edward himself was involved in a spectacular performance at Peterborough Cathedral – an experience that his mother Joanna describes as 'a light-bulb moment'. 'He came away from that with such a buzz. He said it was just one of the best things he'd ever done, and he's never looked back. You could really see him growing, and it's so great to see that.'
Edward's little sister Olivia followed in his footsteps and had been attending PCYM's Saturday sessions prior to lockdown. 'She is quite small for her age, so PCYM had to organize an eighth size violin for her. But they're brilliant like that. And she came away absolutely loving it. She skipped in and she skipped out! The whole thing is done in such a fun way, I don't think they actually realise that they are learning!'
Manager of Peterborough Music Hub and PCYM, Kirsten Goldthorp, adds: 'One thing about learning an instrument on your own, just doing lessons and practising at home, is that it can get boring for kids and they lose motivation. The idea of being part of PCYM is that they're doing a full morning with lots of other students who share a love of music – and we're so glad to be able to offer it again. Our aim is to provide every child in Peterborough with the opportunity to play music solo and with others. All we ask of them is that they enjoy it!'
Parents can find out more and book a FREE introductory session by visiting pcym.org.uk
Leave a Reply