The Thomas Cook History Man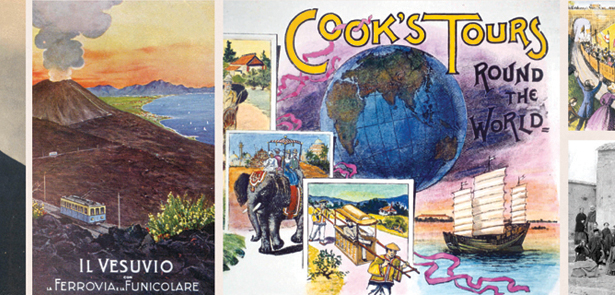 The Thomas Cook Exhibition 'Wish You Were Here' at Peterborough Museum offers a fascinating glimpse into the 175-year history of the company that brought global travel to the masses. Ben Vanheems talks to Thomas Cook archivist Paul Smith about what it's like working for such an esteemed company
First off Paul, what's it like being resident archivist for a commercial company like Thomas Cook?
In my case you get to deal with 175 years of history, so it's a wonderful collection to work with. It's also great fun because travel has such a universal appeal. There's material in the archive from all ages, social classes and corners of the world. An archive like this connects all of those people together, which in a way is what Thomas Cook wanted to do – to encourage people to travel and get to know new places and new people.
The archive contains an incredible amount of material. Who uses it?
We get enquiries from across the business and externally from researchers, academics and journalists, TV and radio companies from across the world. It means no two days are the same.
Where did all the material come from?
It's a living company, so the archives are expanding all the time. There's material coming in from the across the business today, but also material from 50 years ago, 100 years ago. We also get lots of donations from members of the public whose ancestors either worked for Thomas Cook or in some cases travelled with Thomas Cook. So there's always new material coming in.
You mention enquiries from researchers and academics. Why are they interested in the archives?
Since I started 20 years ago travel and tourism history has become an academic discipline in its own right, rather than merely part of another department. Like business history, tourism history allows us to chart our social history. Both business and history is everywhere and affects everybody. Archives such as ours can help academics to explore specific aspects of this social history and its knock on effects.
Have you always been an archivist?
I am an archivist by profession and I've always worked in business. Before this I worked in London for Guinness where I looked after the archives of the brewery outside of Ireland. I've also worked for a bank. Personally, the Thomas Cook archive is the best business collection I have worked with because it's such fun and it paints such a clear picture of our past. For example, if you wanted to see what it was like to travel on a Nile steamer in 1900 we've got the brochures, photographs and diaries to bring it to life. It's that sort of material that makes the archive so exciting.
What would you say is the most precious piece in archive?
The documents in Thomas Cook's handwriting because there aren't many of them. We have a collection of letters that Thomas Cook wrote to his wife when he travelled around the world in 1872-73. They offer a direct connection with the founder and encapsulate what the business was all about – exploring the world and encouraging people to travel. When you piece of paper that Thomas Cook actually held – he wrote that letter'. That sort of connection is very special.
Is the Thomas Cook Exhibition the first you've coordinated with the museum?
In the 20 years I've been here we've never done anything like this; this is certainly the first time we've collaborated with the museum in a major way. We've been looking to do this for five years, ever since we first mooted the idea. The exhibition gives us a chance to show off some of the archive, much of which is usually locked away or only on display to staff or visitors to the Peterborough head office. Some of the things in the exhibition are being displayed for the first time and having a proper museum setting means we can display actual objects, rather than just images. Of course, the exhibition only scratches the surface of what's in the archive but it certainly gives a flavour of the incredible 175 years of Thomas Cook and travel and tourism during that time.
Thomas Cook 'Wish You Were Here' Exhibition
The Thomas Cook Exhibition runs until January.
Peterborough Museum, Priestgate, Peterborough, PE1 1LF. Tel: 01733 864663, www.vivacity-peterborough com
Opening times: Tuesday to Sunday, 10am – 5pm; Mondays (school holidays and Bank Holidays), 10am – 5pm; Mondays (school terms), pre-booked groups only.
Leave a Reply