The Katharine of Aragon Festival 2019 | The Aragon Connection
The Katharine of Aragon Festival 2019 | The Aragon Connection 1 2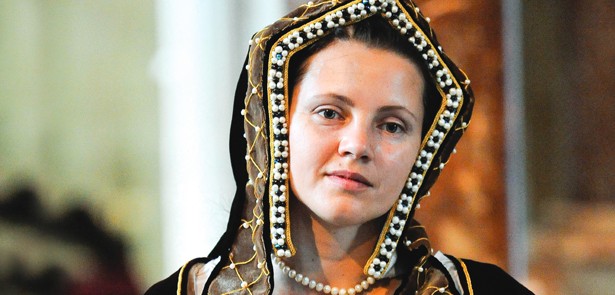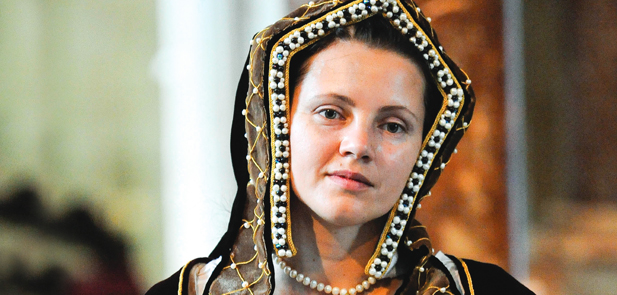 The annual Katharine of Aragon Festival takes place 25-27 January, with a host of Tudor themed events. But how did a Spanish princess and wife of the notorious King Henry VIII end up being buried in Peterborough Cathedral? Richard Gunn explores the life and legacy of the ill-fated queen, still much-loved almost 500 years after her death
Every January, Peterborough commemorates one of the most famous names associated with the city, albeit one who never actually lived here. Katharine of Aragon came from Spain to be King Henry VIII's first wife, but her divorce from him had far-reaching repercussions for the whole of Europe. After her death, she was laid to rest in Peterborough Cathedral, where her tomb remains today. And although she may have fallen from favour with the King, her popularity with the English public – who considered her a wronged woman – endures. But why does a woman who died 483 years ago still attract such interest and passion? Katharine – or Catherine, for her given Spanish name was Catalina – was born at the Archbishop's Palace in Alcalá de Henares near Madrid on December 16, 1485, to King Ferdinand II of Aragon and Queen Isabella I of Castile. Although her parents were Spanish, she was descended from English Royalty as her maternal great-grandmother was Catherine of Lancaster, the daughter of John of Gaunt. Not only was Katharine named after her northern European ancestor but she also strongly resembled her, with fair skin, blue eyes and reddish hair, an appearance that was strikingly different to the typical Spanish looks of the time.
Her birth was hardly run-of-the-mill too, as her parents were at the palace in the midst of a campaign to drive the occupying Moors from the southern part of Spain. Fortunately, win
ter had called a temporary halt to the conflict although it would rage on for several years as Katharine grew up. The Moors were finally repelled from Spain when she was six. Their last stronghold was Granada and once routed, Katharine so grew to love the southern Spanish city that she adopted the pomegranate – the fruit that the Moors had renamed the city after – as her emblem. To this day, pomegranates are still left on her grave in tribute. As a female, and the fifth child, Katharine's main worth was as a diplomatic tool for strengthening political alliances. Thus, at the age of just three, she was promised to Arthur, the eldest son of Henry VII, giving her the status of Princess of Wales. Thanks to Katharine's regal English heritage, it would also help reinforce the Tudor claim on the English throne, as Henry VII had only gained the crown by defeating Plantagenet King Richard III – born outside Peterborough at Fotheringhay Castle – in battle. It would also make England and Spain closer; useful if France became petulant against either – or both – nations.
Arthur and Katharine were formally betrothed in 1497 in Woodstock, Oxfordshire, although as Katherine was still in Spain, her place in the ceremony was rather coyly taken by the Spanish ambassador. She eventually left for England in May 1501 and arrived at Plymouth in October, bringing with her a group of African servants who would be the first recorded people from the continent to arrive in London. En route to the capital, 14-year old Arthur and 15-year old Katharine met for the first time at Dogmersfield, near Fleet in Hampshire. Arthur reported that he was very pleased to 'behold the face of his lovely bride'. Unfortunately, behold was all he really could do, as Arthur spoke English, Katharine spoke Spanish and they couldn't understand each other's Latin because of their dialects. Communication was carried out through sign language and with bishops as interpreters. Nevertheless, the marriage between the 14-year old Arthur and the 15-year old Katherine took place in St Paul's Cathedral in London on November 14. Responsible for escorting the bride to the altar was Arthur's 10-year old brother, Henry.
FROM WEDDING TO WIDOWHOOD
The Prince and his new Princess of Wales then left for the Welsh Marches and the English powerbase there of Ludlow Castle. It turned out to be a fatal choice; a bout of sweating sickness, a mysterious and highly virulent disease now extinct, raged through the area. Both Arthur and Katharine contracted it, but while the Princess recovered, the Prince didn't. He died on April 2, 1502, leaving Katharine a widow after being married for less than six months. This presented the rather mean and miserly Henry VII with a problem. Katherine had come with a large dowry, not all of which had been paid. If Henry was to get his hands on the rest, he had to come up with a way of keeping her in England. He first proposed that he should marry her himself.
"I always say, if I'm being a tad more provocative than usual, that there is a direct line from Henry VIII to Nigel Farage. The Reformation is the first Brexit. This Cathedral, with the tomb of Katharine of Aragon, is literally the crucible of that process."
– Dr David Starkey
However the wedding of the 45-year old English monarch to the 16-year old widow of his dead son was, perhaps unsurprisingly, rejected by her parents. Instead, it was suggested that she should marry the king's second son Henry, instead. There was a religious obstacle to this, found in Leviticus 20:21, which stated 'And if a man shall take his brother's wife, it is an unclean thing; he hath uncovered his brother's nakedness, they shall be childless.' To get around this, it had to be proved that the marriage to Arthur hadn't been consummated; only then would the Pope be able to give permission for a union between Prince Henry and Katharine. While the discussions went on, Katharine was kept virtually a prisoner in London, with little money; one of her complaints was that in over four years in England, she'd only had two new dresses. She did strike an early blow for women's rights by serving as Spanish ambassador in 1507 – the first female to hold an ambassadorship in European history.
All this ended in April 1509 when Henry VII died. One of the first acts of the new King, Henry VIII, was to marry her two months later, a few weeks before his coronation. He was 17, she was 23, but it seemed the two were genuinely in love. Enthusiasm for the new Queen extended to the people, as a series of social events cemented her as a favourite with the public. Whatever the affection between Henry and Katharine, she had one overriding duty as Queen, and that was to provide a male heir. After a stillborn daughter in 1510, she gave birth to Henry, Duke of Cornwall in 1511, but he survived only 52 days. Another son was stillborn in 1513, followed by a further potential heir in 1514, who was also named Henry and took the title of Duke of Cornwall. He would live only one month.
In 1516, Katharine finally had a healthy child, christened Mary. Another daughter followed in 1518 but only lasted a few days. This might make it sound like Katharine was merely a baby-making machine, but there was much more to the early years of her marriage. While Henry was away fighting the French, she effectively ruled England. In 1513, King James IV of Scotland mounted an invasion of England and Katharine rode north, dressed in armour and heavily pregnant, to rally the English troops. At the battle of Flodden Field in Northumberland, the English vanquished the Scots and James was killed. Katharine sent a fragment of his bloody coat to Henry to use on his banner in France. Meanwhile, she cemented her positive reputation with the English public by persuading Henry to be lenient to those who broke the law, visiting and helping the poor, donating money to colleges and founding schools for girls. She influenced English agriculture by introducing new fruits to the country, and industry by bringing lace-making to the Midlands. She also helped forge a new alliance between England and Charles V, the Holy Roman Emperor and the most powerful man in Europe. As ruler of Spain, Italy and Austria he presided over an empire stretching from the Far East to America. Of course, it helped that he was also Katharine's nephew…
TIMES OF TROUBLE
Behind the scenes, the inability of Katharine to provide a future King of England meant that her marriage to the present one was running into problems. By 1519, Henry had already had an illegitimate son who was made the Duke of Richmond. Then, in 1525, he fell for Anne Boleyn, one of Katharine's ladies-inwaiting. She was 16 years younger than Henry, and with his wife now unlikely to conceive again, the King started thinking about divorce. He used the small matter of Katharine's previous marriage to Arthur as a convenient excuse for telling her they must separate in 1526. The plan was to keep it a secret but then, just as now, rumours soon got out and travelled around the nation. Considerable sympathy was felt for her among her subjects. Henry's argument hung on the Leviticus passage; that no male heir had been forthcoming because the marriage had been wrong in the eyes of God. Katharine refused to go quietly though, insisting that the marriage to Arthur had never been consummated and resisting suggestions that she removed herself to a nunnery with the exclamation 'God never called me to a nunnery. I am the King's true and legitimate wife.'
"When the Dean said: 'Would you come back and launch your book on Katherine at the Cathedral?' I couldn't think of a more appropriate place. I spoke in front of the high altar about Katherine's life, and it was such an experience standing within feet of where she's buried."
– Alison Weir
A major weapon in her armoury was the document from Pope Julius II that had permitted her marriage to Henry; however, this was declared a forgery by the King. The Pope of the time, Clement VII would probably have granted Henry his divorce, had not Rome been under the rule of Charles V who, as Katharine's nephew, was resolutely on her side. The case came to a special court at Black Friars in London, before the Pope's envoy Cardinal Campeggio and Lord Chancellor and Archbishop of York Thomas Wolsey, King Henry's right-hand man. Katharine threw herself at the feet of her husband, proclaiming 'And when ye had me at first, I take God to be my judge, I was a true maid without a touch of man. And whether this be true or no, I put it to your conscience.' The court failed to come to a decision – in part because Katharine refused to co-operate with it any further – and the matter was referred back to Rome. Henry regarded this as a failure by Wolsey and he was removed from office. Had he not died of natural causes in 1530, he would probably have been executed.
Henry was now caught between two very strong-willed women; Katharine who refused to divorce him, and new love Anne Boleyn, who wanted to be Queen no matter what. The only way out, as far as he could see, was to threaten to label the Pope a heretic unless the marriage was annulled. He took his troubles to the great minds in the universities of Europe and, in 1531, felt he had enough weight behind him to declare himself the Protector and Supreme Head of the English Church and Clergy, which effectively meant he had the final say on matrimonial cases, above the Pope. The last time Katharine ever sawHenry was on July 14, 1531, at Windsor. After that, she was ordered… [cont]
The Katharine of Aragon Festival 2019 | The Aragon Connection 1 2
Leave a Reply