Surprise, surprise at Burghley House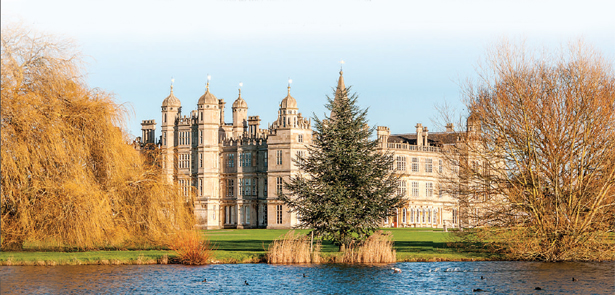 Looking for the perfect not-so-obvious day out? There are always surprises at Burghley's whimsical garden
Turn the clock back to Tudor times for a whimsical garden with a difference at Burghley's aptly named Garden of Surprises. For a splash of summer fun, youngsters delight in getting wet amidst the 32 water features of the Tudor-inspired 'trick' garden, which nestles in the shadow of the stunning architecture of Burghley House on the edge of the Lincolnshire stone town of Stamford. Hidden behind a traditional hedge, fun and history combine in the garden, which is based on an original design created by the first Lord Burghley back in the 16th Century but packed with modern tricks to create a host of features including a moss house, swiveling Caesar busts, curtains of water and a mirrored maze.
While the design may reflect times gone by, subtle changes continue to add new twists to this historic garden – the most recent being transforming transformations! The obelisks, which represent the four elements, transform in various ways to reflect their element, such as one occasionally 'fuming' with smoke to signify fire.
They have been part of the garden since it opened in 2007, but this year Burghley has given them a 2018 transformation using new planting to create fresh sculptures. For instance, the Earth obelisk now supports a green wall with butterflies, using plants like ivy, hostas, ophiopogon, ajuga and trailing heuchera. Five centuries ago, transforming obelisks – along with ponds, classic statues and hidden 'divers conceits' – all made an appearance in one of the gardens of passionate gardener William Cecil, the first Lord Burghley.
This modern version is inspired by those Elizabethan plans and deliberately hidden from the outside by the high hedge – waiting to reveal their surprises to those who enter. Offering a real sense of fun, the garden has been designed to be accessible to all regardless of age or interest, and the water jets, curtains and pools prove especially popular for the young or those young at heart who enjoy a paddle on a warm day. Tickets are available for the House and Gardens combined or just for the Gardens, covering both the Garden of Surprises and the Contemporary Sculpture Garden.
Burghley House and Gardens
● When to visit: Burghley is open until Sunday, 28 October 2018, daily (house closed on Fridays) from 11am until 5pm, with the last admissions at 4.30pm. The House and Gardens close for the Land Rover Burghley Horse Trials, from 30 August to 2 September.
● Admission: Tickets are from £16.50 per adult and £8.50 per child, visit the website for more information. The Parkland remains open daily from 8am to 6pm or dusk, if earlier, and is free to enter (apart from special event days).
● More details: For more information about Burghley, visit www.burghley.co.uk
Leave a Reply