Step into Peterborough's history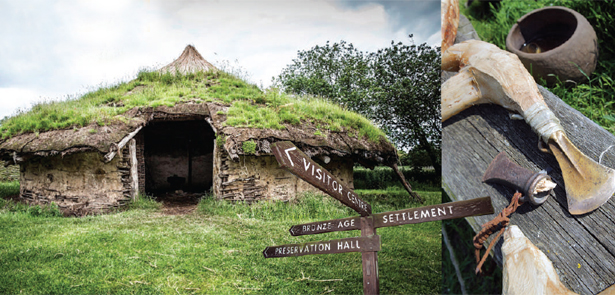 Peterborough is fortunate enough to have two of the UK's most significant heritage sites right on its doorstep – Flag Fen and Longthorpe Tower. Now spring is here, both are gearing up to re-open for the season, with a host of events and activities for families to enjoy. The Moment takes a look at what's on and what's remarkable about these two jewels in Vivacity's crown
Flag Fen
When pioneering archaeologist Francis Pryor first started to dig out at Flag Fen in 1982, he can hardly have imagined what he was going to uncover. What emerged was a wooden Bronze Age causeway 1km long, consisting of more than 60,000 vertical timbers and 250,000 horizontal planks, along with valuable finds of swords and jewellery.
Now, a purpose-built visitor centre tells the story of the site's history and provides visitors with the opportunity to see the original timbers and other significant finds alongside a reconstructed Bronze Age roundhouse – as well providing a venue for regular themed workshops, lectures, exciting re-enactment events and fun activities for children exploring nature and history.
More startling discoveries two miles away at Must Farm have revealed the incredible extent of Bronze Age settlement in the area, and Flag Fen has become home to the eight prehistoric log boats known as the Must Farm boats. These internationally important archaeological discoveries arrived at Flag Fen in 2013 to undergo conservation in public view in a purpose built chiller unit funded by Historic England. We talked to Vivacity's Archaeological Development Manager about what there is to discover at Flag Fen this season:
What makes it so special?
Flag Fen is in the middle of a unique ancient landscape. Why it's so important is that nothing of a similar scale to that causeway had ever been uncovered before. There are very few places in the world where you can see organic material from a prehistoric setting, and some of the associated finds are incredible.
What is there to see and do?
It's a lovely 10-acre site with lots of wildlife that people can enjoy, with activities from spring to autumn. In addition to the archaeology itself we have our Bronze Age roundhouse which people can explore, and the Big Dig tent so kids can have a go at being archaeologists. The idea is that kids under 12 can go into the site hut, find out a bit about what archaeology is all about via some screen-based activities, including a quiz, then they pick up their hard hats and high-vis jackets and head for the dig tent. Here they have four dig pits with features built into them, filled to the brim with a kind of rubberised soil – a lot cleaner than the real thing! They dig with trowels and have a little identification pack so they can record and find out about the artefacts they've discovered. It gives them a sense of what archaeology is all about and why Flag Fen is so significant. There's also a series of lectures and workshops at various times of the year, which will include updates on what is happening at Must Farm, and also mean you can get hands on with some ancient traditional crafts – in the past we have had everything from basket weaving to sword-making. We'll also have some special summer activities for kids, and some exciting visits from Romans, Britons and Vikings!
What's new?
We have a new guide book, produced during the summer of 2016, which is a comprehensive guide for a visitor to Flag Fen, and gives them a real sense of the history and archaeology of the site. We've also got some new trails for kids – one aimed at slightly older children, one for the younger ones, to get them out and about exploring the site and the parklands.
Flag Fen
The Droveway, Northey Road, Peterborough, PE6 7QJ
Throughout the year – including the winter months – this internationally significant Bronze Age site and Visitor Centre with 10 acres of parkland offers guided tours and school visits (please telephone the Education team on 01733 864 700), and opens for general public admission in March.
● General Information: 01733 864468
● www.vivacitypeterborough.com/ vivacity-venues/flag-fen 
Longthorpe Tower
Longthorpe Tower was built in about 1290-1300AD by the Thorpe family, and is a rare survival of a medieval 'solar tower'. It is also internationally important, thanks largely to the spectacular wall paintings depicting religious, secular and mythical subjects which offer a fascinating insight into the medieval mind and daily life. We talked to Dr Miriam Gill, an expert on medieval wall paintings, about Longthorpe's history and significance:
What makes it so special?
The thing about Longthorpe is that you have these very extensive paintings. Most wall paintings that survive from the Middle Ages in England are in churches or monasteries, but these are unusual because they're in a domestic building. In fact, it's the most complete scheme of secular medieval wall paintings in Britain, and it means you can experience what people would have experienced being in that room in the 14th century. To actually see everything people saw nearly 700 years ago is amazing.
What do they depict?
One might call them 'encyclopaedic'. There are the months of the year, the ages of man, the apostles' creed, the nativity, the five senses, lives of the philosophers – a mix of religious and general knowledge. There's also a very interesting painting warning about the shortness of life, called 'The Three Living and the Three Dead'. So, a whole range of subjects spread out along the walls and ceiling like the pages of a book. What do they tell us about the owner?
In their day, these paintings would have been considered very modern – one could even say aspirational. The house was occupied at the time by Robert Thorpe, who was lay steward of Peterborough Abbey, so there's a strong connection with the Abbey, and the owner is demonstrating the breadth of his interest and knowledge as well as his status – a secular person who had done well in life. The subject matter comes from various books of the time, and owning those books would have been considered quite prestigious – but wall paintings weren't the most expensive form of art. In effect, they're a cheaper substitute for tapestries, which were the really desirable type of wall decoration. So, grand as these are, they're imitating something even more luxurious and expensive!
The medieval year at Longthorpe
● At Home with the Thorpes 8-9 April, 10am-5pm (last entry 4pm)
It's 1371 and Sir Robert Thorpe has been appointed Chancellor of England. As he prepares to join the King at court, this medieval owner of Longthorpe Tower and his family transport you back in time to discover what life was like in the 14th century. Families can also get involved with soldier's weapons drill and perfect their curtseys! No need to book, just drop in. £3 children, £4 adults, £12 families.
● Medieval experience day 13-14 April, 10am, 12.30pm, 3pm
Have you ever wanted to be a valiant knight or fine lady? Now's your chance! You'll be dressed in authentic medieval costume before getting to sample medieval food, have a go at traditional crafts, make medieval cures, and try on a suit of armour. Sessions last 2 hours. Over 18s only. Booking essential, call 01733 864663. £15 per person.
● An evening with Dr Miriam Gill 18 May, 7.30pm
Explore the extraordinary paintings of Longthorpe Tower with Dr Miriam Gill, lecturer at both the Universities of Cambridge and Leicester. Light refreshments included. Booking essential, call 01733 864663. £10 adults, £8 concessions.
● Knights & Princesses 12-13 August, 10am-5pm (last entry 4pm)
Knights in shining armour and princesses in wonderful gowns bring Longthorpe Tower to life for the whole family. No need to book, just drop in. £3 children, £4 adults, £12 families
● Merry Medieval Christmas 9-10 December, 10am-5pm (last entry 4pm)
Get a taste of Christmas' past and experience a Medieval festive celebration first-hand. There's no need to book, just drop in. £3 children, £4 adults, £12 families
Leave a Reply