Stamford Shakespeare costume sale
Now that the auditions have taken place and the 2018 season plays have been cast, the wardrobe department comes alive...
It's that time of year when designs are drawn up and measurements taken. However, to make room for next year's costumes, there is a need to create some space at Tolethorpe Hall. The Stamford Shakespeare Company has carried out a very early Spring clean and sorted through all the stock rooms to get ready for a sale of some of its incredible costumes.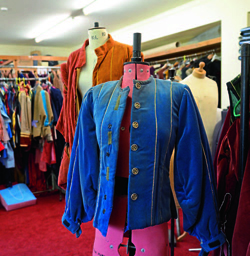 The costume sale will take place on Sunday 19 November, 10am-4pm at Tolethorpe Hall, near Stamford, and is open to everyone. Overseeing the event is Miriam Spring Davies who has just been appointed Costume Designer for the Company. Miriam graduated from LIPA (Liverpool Institute for Performing Arts) with a First Class Honours in Design for Performance (specialising in Costume Design). At the Rio Webfest she won Best Costume Design for the web series Ren: The Girl With The Mark for which she was Costume Designer and Wardrobe Mistress. Miriam's first role with the Stamford Shakespeare Company was in 2013 as part of the voluntary wardrobe team working on costumes for that season's production of A Midsummer Night's Dream.
She returned to the Company in 2016 and took inspiration from the TV series Game of Thrones to design the stunning costumes for Macbeth. This year she was responsible for the beautiful creations in bothAMidsummer Night's Dream and Hobson's Choice. In future, Miriam will be responsible for costuming all three productions every year. She is already hard at work on designs for the 2018 season, an important one for the Company as it celebrates its 50th anniversary. Miriam will head the costume team, which includes Wardrobe Mistress, Anne Mason, and a group of dedicated and enthusiastic volunteers consisting of school teachers, who taught dress making and tailoring, those who took A level dressmaking whilst studying and those with a love of Tolethorpe, theatre and of making things.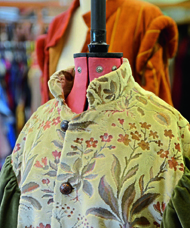 Abilities range from highly skilled to sewing on buttons and everything in between. Everyone is currently hard at work clearing out the costume rooms and getting ready for the sale. There should be something of interest for everyone, particularly local theatre groups. Go and grab yourself a bargain!
● The costume sale will take place on Sunday 19 November, 10am-4pm at Tolethorpe Hall, near Stamford, and is open to all.
● If anyone is interested in joining the wardrobe team or has any material they would like to donate please contact Company Administrator, Lynnette Ford, on 01780 754381.
Coming in 2018…
The booking line is now open for the 2018 summer season. The plays are: • The Merry Wives of Windsor • The Merchant of Venice • The School for Scandal ● Box office: 01780 756133
● Find out more at www.stamfordshakespeare.co.uk
Leave a Reply