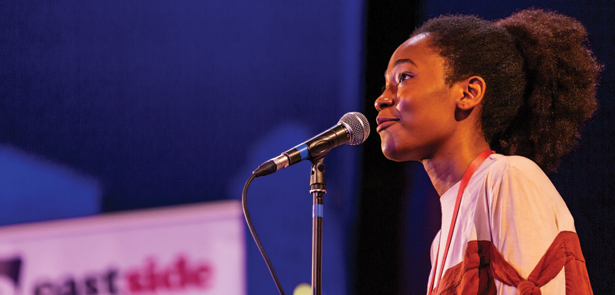 Young poets to take to the West End stage Arts organisation Metal is working with Eastside Educational Trust to bring a poetry competition called 'I Know I Wish I Will' to the city that could see Peterborough young poets performing on the West End Stage. Here, Jade Ball, a young poet and work placement at Metal, tells us more about it...
Being a young person, especially in the arts can be a challenging path. I am a poet struggling to make my mark in a city and I am always looking for ways to get involved in arts projects, particularly events and projects that give me the chance to publicly share what I have written or created. I know that there are so many other young people in the city that feel a similar way. The 'I know I wish I will' poetry project allows for all young people to have this opportunity. I have been working with METAL to help them to make this opportunity open to as many young people as possible. So, what is this once in a lifetime opportunity? Well, it is a competition for 5 – 25 year olds to perform on the West End stage, creating the world's longest ever youth led spoken word poem.
Hosted by Stephen Fry, the event will take place on world poetry day (20th / 21st March 2020) and be live streamed around the world! All you have to do is write an original poem on the theme of what you know about yourself or the world, what you wish could be different or what you will do to make a change. You can enter individually or in a group of up to 5 people, but the poem must be under five minutes long. You must use language that is respectful and kind to all people and groups. To enter just write your poem, get a friend to film you performing it and then upload it via the project website knowwishwill.com. If you're wondering how to get started, it's worth visiting the project website as there will be lots of films and activities to get you inspired and help you along the way.
Every successful poet will also have their poem published in book after the event. 'I know I wish I will' allows young people to have a platform for their voice to be heard. Young poets from across the city, and the UK, are invited to speak up about what they believe in. Taking part in projects such as these are not only helpful for personal development as a writer but also allow you to meet and perform with other young poets from across the country. This is such an incredible opportunity for young poets to make their mark. We have a long history of a Peterborough Poet Laureate. A group of poets in the city are trying to develop a new poetry festival in November called Syntax and I have been working with them to introduce a new 'Young Poet Laureate' role for 16 – 21 year olds. The theme to enter this will also be I Know I Wish I Will. So, you could write a poem and use this to enter both competitions. So, what more could you possibly need to be convinced? Get writing…and remember – you have to be in it to win it.
The deadline for applicants is the 20th December 2019. 500 performers will be selected from across the nation to perform in London and Metal will be supporting those selected from Peterborough to get to London. For more details or any questions please contact METAL by emailing or calling 01733 893077. For inspirational tips to get you going and to submit your poem please go to https://knowwishwill.com
Leave a Reply