History repeating itself – Peterborough Museum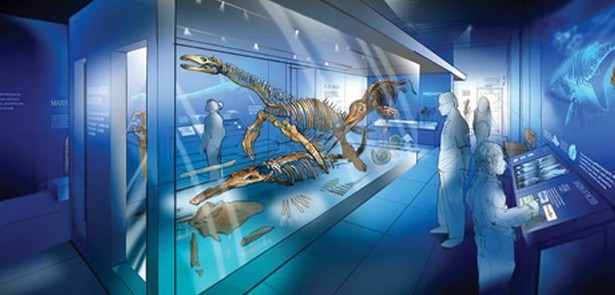 So, you think you've seen Peterborough Museum? Think again, for the venue has just reopened after a complete revamp and visitors are in for a stunning historical treat with a wonderful new take on telling the story of the city, reckons RICHARD GUNN
My first question upon meeting up with Stuart Orme and Gemma Morris, the heritage interpretation manager and sales, marketing and communications officer respectively for Vivacity Culture and Leisure Trust is, perhaps, a strange one. "Um, has that lintel always been there?" I ask, pointing up at the elegant sculptured slab of Georgian masonry that now graces the inner entrance to Peterborough Museum, which Stuart and Gemma are about to give me a sneak preview tour of. "Oh yes," replies Stuart, with rather a satisfied smile. "It was always there. Just covered up with hardboard!"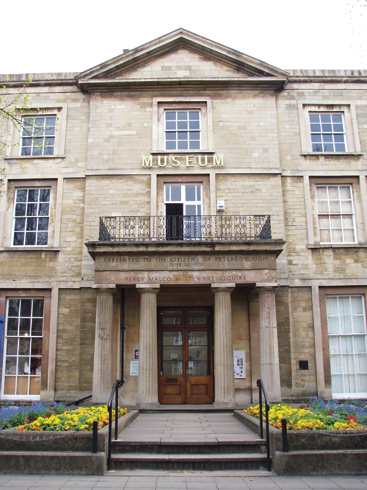 By the time you read this, Peterborough Museum will have re-opened fully after its £3.2-million revamp that had seen it closed for 15 months. I urge you to go and see that freshly uncovered lintel, for in a way, it is symbolic of what has happened here – a building that, maybe, didn't reveal all it had to offer quite as effectively as it could have done, but now showcases its treasures and secrets in a whole new different and exciting way. Then walk under the lintel and go and explore the rest of the museum, all three floors of it. And be absolutely amazed, exquisitely educated and incredibly intrigued. For whether you've never been before or if, like me, you used to be a regular visitor, you're in for a totally new experience. As some of those who have already seen it have testified, Peterborough now has a museum worthy of a much bigger city. Even if that city happens to be London.
"It's gob-smacking that it has finally become real," says Stuart, who has been an integral part of the team behind the reincarnation (which is effectively what has happened) of the Priestgate site since its genesis six years ago. Gemma is newer on the scene – she took on the role of sales, marketing and communications manager at the beginning of 2012. "On day one, it was like "Here's the kettle, here's your desk…oh, and the museum is reopening soon by the way, off you go,"" she laughs. But she is no less delighted about how things have turned out. "It's a fantastic thing to have as your first project, and it is going to have such an impact. We really want this to be the people's museum, a flagship space for the city." And that impact started right from the museum's re-opening day, with Gemma securing Tony Robinson from TV's Time Team to perform the ceremonial duties.
With something as important as this, I felt we needed somebody like Tony to put his stamp on things. And he has such a connection to the local community with so many Time Team digs here. He was really happy to do it.
For Stuart, the transformation has exceeded many of his expectations. "You don't quite realise what it is going to look like when you see the design plans and schematics and artists' impressions. And then suddenly it is reality and you just go "wow" because it's far better than expected." He cites the Norman Cross gallery, which he has been quite heavily involved with, as a special favourite. Before, it used to be a fairly standard (if informative) display of artefacts from the world's first purpose-built prisoner of war camp, situated near Yaxley during the Napoleonic Wars. Those items are still there. But they've now been joined by a full-size partial recreation of the barracks where the inmates slept, an escape tunnel for children to explore and a marketplace displaying the sort of things that the captives made and sold to earn themselves a little extra cash.
It's going to blow you away walking in there and seeing what they've done. We have much more of the collection of artefacts on display now, and there's the chance to tell the human side of the story much more effectively now too. And it's all done in a very family-friendly kind of way. It's designed – as with everything else in the museum – to bring the past to life for people.
FAMILY-FRIENDLY
Catering to a family audience – "people of all varying ages and interests," cites Stuart – is paramount. "One of the things we wanted to do is develop the galleries so that there are, both literally and metaphorically, things on different levels for people. So there are hands-on activities that are sometimes quite low down for children to do, with more information further up for adults to appreciate as well. It's all about families coming in together, learning together and having fun together." This is in contrast to museums of the past – in general, not just Peterborough – where areas for kids were often kept off to one side, creating almost a children's ghetto. "At the end of the day, the best way that families can have a nice day out together is if they can explore the museum together." One thing that children should keep an eye out for is Peter Burrow, the small cartoon hare to be found throughout many of the museum's rooms, giving various activities to try or bits of information that they might find particularly fun. Peter will be just one of the trails, for both young and older visitors, that can be followed throughout the building. For the first time, there will also be an audio tour too, using hand-held devices. "This is great for people with visual impairments, lower literacy levels and obviously, a lot of people in Peterborough who have other languages, and find more difficulty reading English material than understanding it when spoken," says Stuart. "It will also tell more about the stories throughout the building, for people who just want to find out a little extra. And there's also a children's version as well, of course."
Disabled entry has also been greatly improved – the only area of the museum now that isn't accessible is the operating theatre. "What we've done with that is a digital version of the theatre, so for any disabled visitors, they can at least see it in that form," clarifies Stuart.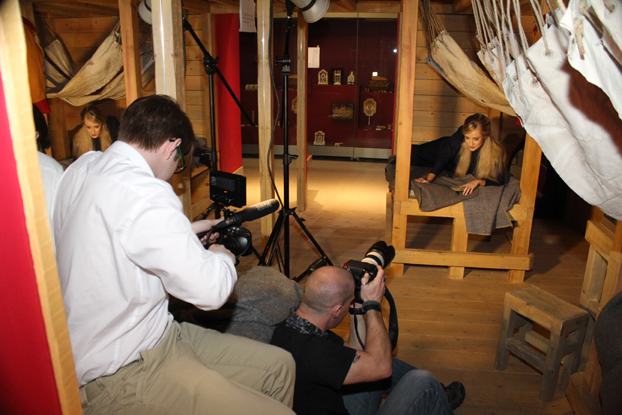 Another aspect of the new museum that wasn't much explored in the old is the museum itself – or rather the building it's housed in, which has one of the most fascinating histories of perhaps any structure in the city centre aside from the cathedral itself. Priestgate itself was laid out by Peterborough Abbey monks in around 1150. The first building known about on the museum site appeared about 1536, a home for the Orme family, who were local MPs and also constructed the Guildhall in Cathedral Square. And were (probably) no relation to Stuart, although he does rather appreciate that his surname features prominently in the history of where he now works. Some of its original fabric still survives as the Tudor era cellars under the current building. In 1815, the house was sold to the Cooke family headed by local magistrate Thomas Cooke. He rebuilt the core of the building into the grand Georgian house it still largely is today. It was converted into Peterborough's first proper hospital in 1857 and became the city museum in 1931. Peterborough City Council took over the running of it in 1968. "They still own the building and the collections, but when Vivacity was formed two years ago, it assumed responsibility for its management." Vivacity's status as a charitable trust means that it can apply for grant funding to help with future projects. The current refurbishment has been funded partly by the Heritage Lottery Fund (HLF), match funding against substantial support from Peterborough City Council, with other money coming from Vivacity itself as well as private and commercial sources, all of who will be recognised on a acknowledgements plaque close to the entrance. "We are immensely grateful to them all," stresses Stuart. "Without them, this could not have been achieved. There have also been a huge amount of people who have given very freely of their time, their expertise and their good will as part of this project."
"A lot of the money has gone on restoring this beautiful building back to its period grandeur," says Stuart.
Sadly, over the years, it was treated a little bit like an office; we had the old 1970s' carpets and wallpaper. So much of it has been about taking it back and opening up features that weren't previously accessible to the public, things like the operating theatre and Victorian kitchen, and restoring them, but also telling much more of the stories around the building.
On the first floor, a lovely old room with high ceilings and a bay window opening onto a balcony overlooking Priestgate has been turned into a gallery devoted to this. What looks like a grand Georgian table sits in the middle of it – but it's actually a touchscreen table. "You can scroll along the timeline – a bit like an iPhone – and then just select different stories." As a whole, the museum is now more hi-tech than it was, with several more screens and interactive displays situated throughout. "It's much more hands-on than it once was," concludes Stuart.
CENTRE OF OPERATIONS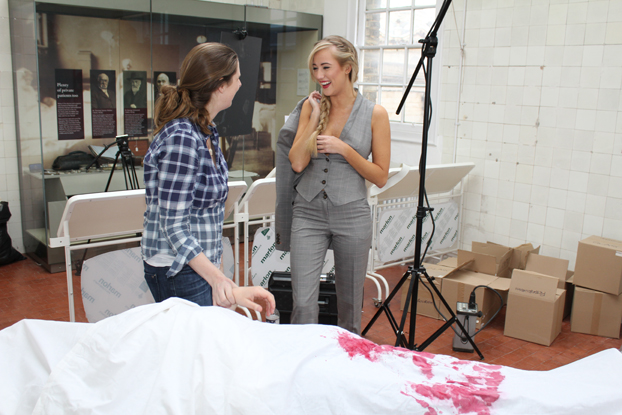 The operating theatre is particularly fascinating, if a little gruesomely thought-provoking. "It's one of our big selling points," says Stuart. "We've got one of only three genuine historic operating theatres in the country and it's also one of only six in Europe. But it's the only one of its time, from the turn of the 20th century; the beginnings of modern scientific surgery, the era of carbolic and chloroform."
Elsewhere, the changes for the better are just as easy to find. For the first time, there's a café (with a genteel Georgian tea-room feel), catering just as much for people who simply pop in – for a quick lunchtime coffee and cake, and to make use of its free wi-fi – as those wanting somewhere to rest and recharge their batteries after hours spent immersing themselves in local history. "It will be a very different vibe to Costa Coffee," reckons Gemma. Especially as there are plans to hold lunchtime talks there as well. The shop next to it has been expanded considerably with gifts. Upstairs are the new look geology and wildlife galleries, part of which is designed to give the impression of being underwater with some of the huge prehistoric monsters that inhabited this region before man arrived. And there's the Changing Lives gallery too, which tells the story of the city over the last 200 years, with recreations of typical period kitchens, a station platform and a small cinema, with old seats rescued from the Key Theatre during its refurbishment. It's Gemma's personal favourite spot.
It has the ability to literally take me back in time when I step in there; it has been done so well. I want to get involved. I feel like I should be a 1950s housewife as soon as I go in there!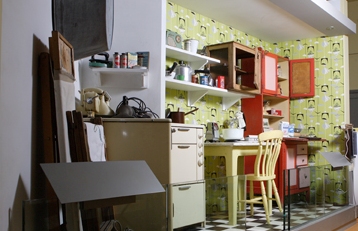 Although the museum has now re-launched, it won't be standing still. As well as plans to frequently refresh the displays as well as stage weekend events, temporary and special exhibitions – later this year, there will be one on the Vikings and Peterborough – there are further plans to continue the revolution already started. "We're billing this really as just phase one," reveals Gemma. The next stage will be opening up the infamous cellars under the house for guided tours – the spookiest part of the ghost-inhabited museum as anybody who saw the episode of Most Haunted filmed there a few years ago will agree. That stage, pencilled in for this time next year, will be followed by further work on the archaeology gallery as well as inside the operating theatre. "The archaeology gallery is the one area we haven't done significant work with this time around," says Stuart. The purpose of that will be to tell the story of Peterborough from the very first arrival of people 15,000 years ago, up to and including the civil war back in the 17th century. There have been some small nips and tucks of course, but a much more significant change is planned for two to three years' time. So watch that space!
And, best of all, there's still no charge to visit. "We're really happy about that," says Gemma. "In fact, we're shouting from the rooftops about it; we didn't want to put up any barriers. There are select charges to special exhibitions, as you'd expect, but general admission is still going to be free and will remain free. We've also got a special 'heritage pass', which is £10 for individuals, £35 for a family, which gives unlimited entry to any of the chargeable museum activities as well as unlimited entry to our fee-paying heritage sites at Flag Fen and Longthorpe Tower throughout the year, which we think is great value."
"At the end of the day, we think we've got something stunning here," sums up Stuart. "We're very proud of it, and we hope lots of other people will come in, enjoy it and also be very proud of it too." Gemma agrees completely.
I am proud to have been involved in such a landmark project. I hope that our visitors will be as impressed as I am with the improvements and continue to support the on-going development of the museum as it continues to grow and thrive in the coming years. This is just the beginning!
Peterborough Museum and the attached City Art Gallery – currently showcasing Chris Porsz's compelling exhibition of photographs spanning 30 years of city life – can be found in Priestgate, Peterborough, PE1 1LF.
Telephone 01733 864663 or email: for details.
Vivacity's website is at www.vivacity-peterborough.com
Leave a Reply