Have a browse through Peterborough Archives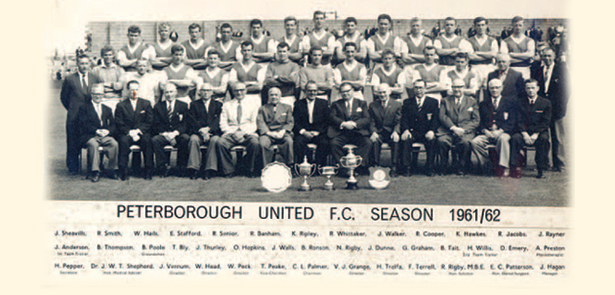 Ever wondered what stories you might unearth if you spent a day browsing through Peterborough's archives? Vivacity's Archives Manager, Anna Sexton, picks out some of her highlights from the collections and invites you to come and have a look for yourself…
Come and have a browse
When I go out to talk about Peterborough Archives Service people are often surprised to find out that you don't need a particular research interest to come and use our collections. Anyone can make an appointment. We can help you if you have a specific line of enquiry relating to the history of Peterborough, as well as if you are simply curious to see what you might find out if you have a browse. Our archive collections are growing all the time and we rely on donations from Peterborough residents and local organisations to build up a documentary history of Peterborough.
As the Archives Manager I have the pleasure of overseeing what we take in. On average, we take in around 30 new collections relating to the history of the city every year. These collections come in all shapes and sizes. A recent small donation came from the family of the former landlord of the Cobden Arms in Westwood Street. They gave us 20 photographs of Peterborough United Football Club (players and managers) from different seasons between 1938 and 1965. These photographs were previously framed and adorned the pub's walls. A recent larger donation has come in from the Peterborough Child Poverty Action Group. This collection comprises minutes, papers, and reports that give us a snapshot of what this local group has done and is still doing in the city. If you think you might have some archive material that might help us build up a picture of Peterborough, past and present, we'd love to hear from you!
Celebrating success
Peterborough Archives Service is celebrating becoming an Accredited Service. This means we have met the National Archives rigorous standards for the preservation, management and use of archives. It is an indication of the high standard of service that we provide, and we are thrilled to be in one of the first rounds of services to be approved under this new scheme
The history of women in Peterborough can be told through our collections
I have a particular interest in women's history and there are so many stories still to be told from our collections. We have recently started sorting and cataloguing the records of the National Fire Service in Peterborough. The story of Kathleen Lines jumps out from this archive. Kathleen Lines (nee Bevan) was born in 1921. She moved to Peterborough with her parents in the 1930s and went to the old County School for Girls in Cobden Avenue. On leaving school, Kathleen (who liked to be known as Kay) went to work for the Public Library rising to be the Manager of Walton Branch Library. Her working life changed in the early 1940s when, with the onset of WW2, she left the library to join the National Fire Service, where she became a leading firewoman in the Dogsthorpe Branch. It was there that she met her future husband, Frank Lines, also a firefighter who she married at Paston Church, Peterborough, in 1944.
I would love to know more about women like Kay. What would it have been like to be a librarian one day and a firewoman the next? It tells us something about the lengths that this city's women went to in order to support Peterborough during the war. Of course, it's not just the story of the women that makes this archive so interesting. There are also photos of the firemen who under the charge of S.O.GWilson (better known as SOG) bravely guarded Peterborough Cathedral on the night the German bombers hit Peterborough. Through every collection we take in, it is possible to learn something new about the extraordinary things ordinary Peterborough people have done over the years to help make this city was it is today.
Did you know?
Peterborough Archives Service is also an approved Place of Deposit (PoD) for Public Records. This means we can take in classes of national archives with local significance. Records that we hold that fall into this category include our Peterborough Development Corporation Archive and the Coroner's records (mentioned below)
Delving into Peterborough's darker past
One of our most popular archive collections relates to the Liberty of Peterborough Police Force. It was the Police Act of 1856 which prompted the creation of county constabularies across England including the Liberty of Peterborough Police Force. Following on from this, the City of Peterborough Constabulary was created in 1874. In 1965 all the forces in the area were amalgamated to form Mid-Anglia Constabulary which became Cambridgeshire Constabulary in 1974. Therefore, our police records for Peterborough cover the period from 1856-1965. My favourite item within the collection relates to the City of Peterborough Police Force, and it is the Register of Previous Convictions which dates from 1889 to 1922. In it you can find photographs of Peterborough's criminals with an accompanying description including name, alias, trade, age, height, complexion, eyes, hair, whiskers, build, where born, distinguishing marks, and previous convictions. It is a fascinating read!
Our ability to portray Peterborough's darker past has recently been supplemented by the return of Peterborough's coroner's records which were previously held by Northampton Record Office. We also have a range of smaller collections that trace the history of criminal activity in the city including the Association for the Protection of Property and Prosecution of Criminal Offenders, a local group for people residing within 20 miles of Peterborough Market Hall that existed from 1803-1898. Members paid an annual subscription and the association paid the members costs and charges to apprehend and prosecute offenders, giving rewards out for any criminals caught, or for any information that might aid the apprehension of an offender. It is amazing what you can find out if you spend a day browsing through these archives!
About the Archives Service
Peterborough Archives Service is located in the Central Library, Broadway, Peterborough, PE1 1RX. Archives can be viewed by appointment, phone us on 01733 864160. We are open Mondays, Tuesdays, Fridays 10-5. Wednesdays 2-5. Closed on Thursdays. For more information on Peterborough Archive Service visit www.vivacity-peterborough.com/libraries-and-archives/archives
Leave a Reply