A Spooky Night At The Museum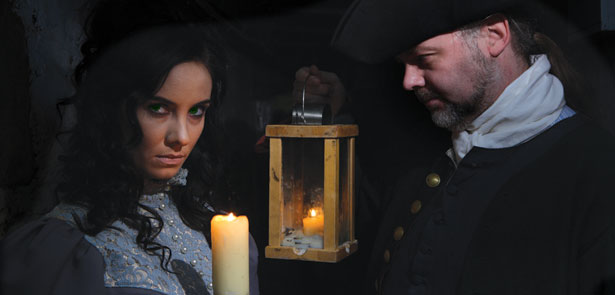 Peterborough's most haunted building is reputed to be the City Museum. Which is why our very own Richard Gunn decided spent the whole night there as a prelude to Halloween. Did anything uncanny happen? Well, make up your own mind..
By day, Peterborough's Museum is warm and welcoming, telling the story of the city in which it stands in an educative yet entertaining way. At night though, it has an altogether different character; the alleged home of many local phantoms. After-hours, the building is usually closed to the public but such is its supernatural reputation that it has become a popular ghost hunting venue. So it seemed too good an opportunity to pass up when Stuart Orme, heritage interpretation manager for Vivacity, the charitable trust that runs the city's culture and leisure services, invited The Moment to spend a night there. And perhaps discover its much darker side.
Arriving at the museum at 9pm with a friend, Karen (who, having worked for the science department of the BBC, I regard as the sceptical Scully to my Mulder), Stuart introduces us to some of our fellow victims – sorry, I mean companions of course – for the night. They're a group of friends who have spent several nights there before. Natalie, Ross, Sam, Dani, Geoff and Claire have become fascinated by the place since some of them came along one Halloween and subsequently discovered Natalie's birthday was shared with the date the museum's most famous ghost died. We'll get to him later. The friends have formed themselves into a loose paranormal investigation team– think the Mystery Incorporated gang without a funky green van or a giant talking Great Dane named Scooby Doo – and you're getting close. They've come armed with essential equipment such as an EMF meter (for measuring electromagnetic fields, to detect the energy of a ghost) and a sound recorder (for…well, that one is self-explanatory). Among the recent noises they've caught – and play for us – are a random bell ringing and a voice from nowhere saying what sounds like "Look". The final members of the night crew are Simon, The Moment's photographer and Mark, its publisher. Presumably, if a ghost does decide to advertise itself, he'll try and sell it a prime half-page spot somewhere in this issue.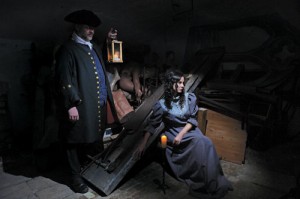 Introductions made and vital supplies of roast beef Monster Munches opened – our equivalent of Scooby snacks – Stuart takes us on a tour. There has possibly been a building on this site since the abbey monks laid out Peterborough's central street plan in the 12th century. The earliest known structure dates back to the 16th century when Humphrey Orme – not a relation of Stuart's, as far as he knows – built a grand house to reflect his exalted social position as Groom of the Bedchamber to King Henry VIII. In 1815 it passed into the hands of city magistrate Thomas Cooke. He rebuilt it as a Georgian-style mansion, albeit incorporating some of the original fabric into the new place. After his death in 1854, it became the city's first hospital; invariably a good CV entry for any location aspiring to be haunted. It opened as a museum in 1931 after the new Memorial Hospital was built, paid for by subscriptions given in tribute to the fallen of World War One.
It's from this confli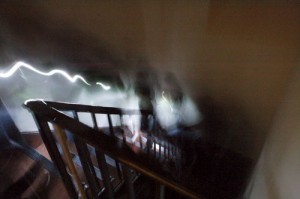 ct that the museum's best-known apparition comes. 'The lonely ANZAC' is Thomas Hunter, who'd emigrated to Australia from Country Durham in the 1880s. Wounded in the Somme trenches in 1916, he died in the hospital on July 31; Natalie's later birthday.
He reappeared again in 1931, shortly after the museum opened, and since then has been a regular visitor, mainly glimpsed on the main staircase. Elsewhere, another staircase – this one not open to the public – is reputedly frequented by a female servant who either fell or was pushed down it and killed. A woman's voice and noises have been heard there and females often feel uncomfortable in the area. Elsewhere, a little girl makes infrequent fleeting appearances in the geology gallery, and has occasionally been captured speaking on recorders set up there. In total, there are at least eight different ghosts associated with the building.
While the most famous apparition haunts the central stairs inside, the most infamous one can be found down yet another set of steps, in the museum's cellar. This has acquired a dubious reputation following a visit from Yvette Fielding and TV's Most Haunted team when one of the heavy doors there supposedly slammed shut of its own accord. Our group seems somewhat dubious of Most Haunted's veracity which I find rather reassuring. It suggests a down- to-earth, realistic approach to whatever may happen. Besides, anything that can scare (former) Blue Peter presenters – generally regarded as the bravest of the brave – will be going a little beyond what we want to experience tonight. Nevertheless, Stuart admits to the cellar being the only place he feels genuinely disconcerted in the building, after having seen a hooded figure materialise in front of him while with other ghost hunters. It is a sinister place, with claustrophobic stone arches, inky shadows and bits of mannequins stored in one room. Random body parts scattered around a Tudor- constructed cellar don't exactly soothe the mind…
The alleged inhabitants of this underbuilding underworld include a phantom dog, a monk or priest and a small, hairy individual in dirty clothes who doesn't seem to like visitors. Stuart has nicknamed him Baldrick. Unfortunately, he didn't appear when the actual Baldrick – Tony Robinson – reopened the revamped museum back in March. Pity really. It could have been an interesting encounter.
Once back up in the main building again – and bright electric light – the first slightly weird things start to strike. In between taking a photo in the Victorian kitchen and returning from the cellar, the dioptric adjustment on my camera has gone wildly out of focus. It's controlled by a tiny wheel next to the viewfinder, turned using a fingernail and prior to tonight hasn't accidentally moved a millimetre. Now, in the space of just half an hour, it's gone majorly out of true. Now, I accept that an elementary knowledge of Canon camera controls may not be overwhelming evidence of the ethereal, but it's still strange. Then, while checking Twitter – on which I'm posting live updates – I notice one just saying 'BOO!' from an Octavia Hill. Her avatar is of a Victorian woman. It turns out that Octavia Hill co-founded the National Trust and died in 1912. Curiouser and curiouser; tweets from a long-dead social reformer and preservationist. Maybe she approves of how the museum has been restored? Again though, a twittering presence from beyond my iPhone isn't quite compelling enough truth for anyone.
As the clock moves towards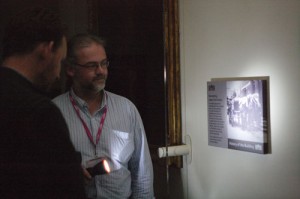 midnight, the investigation kicks off properly in the old operating theatre which, let's face it, can't have been a happy place in the past. We opt for a glass divination experiment. Two or more people lightly rest their upturned fingers on a glass on a flat surface and then ask questions. Any spirits wishing to respond can use the energy of the participants to move the glass. Without any letters to be pointed to, it feels somewhat less menacing than an Ouija board, yet I still sense some discomfort among the group. However, aside from some twitching and turning of the glass, which could easily be down to just involuntary reactions from any or all of us taking part, not much happens. A move to the geology room and a similar test within the shadow of the big plesiosaur skeleton there is even less productive. The little girl in this room obviously doesn't want to play much tonight. Neither does the dinosaur.
When we move up a further floor though, it all starts to become a little more real. Or maybe unreal is a more pertinent word? Amid the barracks and hammocks recreation of the world's first prisoner of war camp in the Norman Cross gallery, there's a palpable feeling of not being alone. Natalie and Stuart feel like there's 'something' in one corner of the room and although our eyes become used to the dark – for all this is being done by torchlight – that particular part seems to remain unnaturally murky. Three of our party are equipped with walkie talkies for communicating yet for this vigil, we're all in the same spot. Which makes it a little bizarre when Stuart's suddenly crackles into life, as if somebody on one of the other radios has pushed the transmit button. Yet nobody has.
In the midst of this Mark suddenly gets very unnerved, claiming to have felt as if somebody has just "walked through" him. Such things aren't like Mark at all; as The Moment's publisher, he's quite a level-headed, firmly-grounded sort of bloke. Stuart checks his pulse to find it's racing and for the rest of the morning, he goes very quiet until he decides to abruptly leave not long afterwards.
After Stuart and I have said a hurried farewell to Mark, we're joined by some of the others who have been exploring. Walking past one of the office doors, which was slightly ajar, they pulled it shut. A second or so afterwards, it gave a loud thud. A check inside the room revealed it to be totally empty. Efforts to replicate the noise are only successful when somebody gives it a sharp shove. From the inside.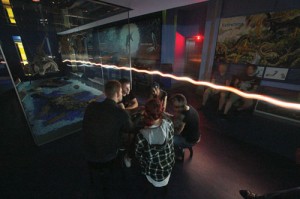 The comfy armchairs of the surgeon's office – on the first floor, with a balcony overlooking the road below – seem very welcome after this. Compared to the Norman Cross gallery, it seems a much more innocuous place. However, the big central table seems ideal for some further glass work, with Karen, Natalie and Rob as the channels. And, almost immediately, there's a strong and seemingly intelligent interaction. The glass seems to be moving very freely, in a flowing curved motion around the table, giving very definite responses. The spirit 'talking' to us reveals itself to be a young boy born on June 27, 1867 and who died in the hospital of tuberculosis on either November 11 or 12 in 1876. The accuracy of the dates comes from counting up through the numbers; for the '27' there is nothing from one through to 24. Then, with '25' and '26' the glass starts to twitch and move gently, while '27' produces an enthusiastic sweeping movement.
It is almost as you would imagine a small boy to be, getting excited and straining to remain quiet until he can finally 'speak'. Further questioning divulges that his name is Charlie, with Stuart – who doesn't take part in any of the glass divination – coming up with 'McDonald' as a surname after the name pops into his head for no real reason, once it has been ascertained it starts with 'M'. A few wildcard queries produce interesting reactions. Given a choice of three Victorian prime ministers – Gladstone, Disraeli and Palmerston – 'Charlie' picks the right one (Disraeli) as being in office when he died. And a question as to whether he wears glasses elicits no response. However, when asked the same question but using the word 'spectacles' – more likely to be in use during the Victorian era – the glass moves. Other details from our enthusiastic ethereal interviewee include that during his life, he had both a nanny and a tutor, suggesting a well-off middle class family.
Stuart is as enthralled as the rest of us at the quality of the responses and how much information is given. The hospital records are still within the museum's possession, but kept away from public gaze, so he can check the accuracy of the material later.
Those of us remaining – Stuart, Karen, Natalie, Rob and I – decide the cellar would make a suitable climax. It's a far more disquieting experience. Everybody immediately feels uncomfortable down there. Nevertheless, we decide to press on with some more glass divination; with unsettling results. The movements are harsh and sudden, with the container moving sharply across the board and nearly always pointing to a spot where the spirit – apparently a murdered servant whose death went unpunished – claims to be. It's exactly where Stuart is standing; no wonder he looks more nervous than he has done all night. The actions are completely different to how the glass moved with 'Charlie' up in the main building and disturbing in their forcefulness. This, coupled with the brooding atmosphere of the cellar as well as how tired we're all starting to feel, prompts us to call it a night as it gets close to 4am.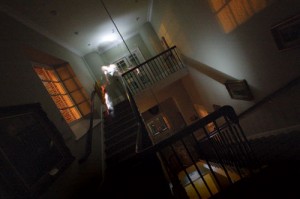 It has been an intriguing experience. And while I don't feel that anything definitive has happened to utterly convince me that the museum is haunted, there's been a lot beyond the normal to reflect on. It's been a night of curiosity and chills and sharing it with other open-minded and inquisitive people has made it all the more interesting. Above all, I've found it more fascinating than frightening, although others may have had those feelings transposed. 'Charlie' has been the highlight although he could also be the one that breaks it for everybody, depending on whether it can be found out if he ever existed, 150 years ago. Watch this space.
You can find out more about the ghosts of the museum (and the rest of the city) by going on one of the popular city ghost walks which start from the venue and there are also evening candlelit guided tours of the building as well. If you want the real hardcore experience, you too can spend the night there on an organised ghost hunt. Those preferring the less-scary safety of their own homes can always check out the museum's cellar ghost cam and see if they can spot anything untoward. Without having to be in the same room as it.
See the Museums and Heritage section of the Vivacity website at www.vivacity-peterborough.com for more details.
The really brave can join the All Hallow's Eve Midnight Tour of Peterborough Museum on 31 October, for a ghost tour from 11.50pm. £35 per person. Pre-booking is essential, call 01733 864 663.
There's also a chance to find out more in Stuart Orme's recent book Haunted Peterborough, available from Vivacity heritage sites and local bookstores, as well as from internet sellers.
Leave a Reply