Peterborough Music Hub news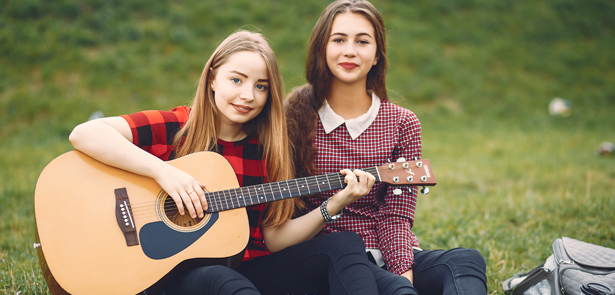 Peterborough Music Hub continues to be at the heart of the city's provision for youth music and in 2018 will support a range of events, performances and workshops, working with the Peterborough Centre for Young Musicians and others to create superb opportunities for local young musicians and vocalists
New Youth Music Showcase is On-Song
2018 brings the third New Youth Music Showcase and with musical maestro Simon Cowell introducing new music to the most recent X-Factor competition, Peterborough has clearly been ahead of the game. The New Youth Music Showcase celebrates the creativity and skills of the city's young composers and songwriters, providing a platform for new work to be performed at the Key Theatre, with feedback from an industry professional and the chance to win cash prizes. This year's event will be held on Thursday 15 March, as part of the Peterborough Music Festival.
Last year's winner was singer/songwriter Chloe Lorentzen (aged just 11 at the time). Her original song Circus Clown was a hit with both the audience and special guest judge Hayley Sanderson (from BBC's Strictly Come Dancing). The 2017 line up of talented musicians also included a guitarist, a rapper and a five piece band.
All music styles and genres are welcome to take part and the competition is open to young people up to the age of eighteen. For full details and online applications visit peterboroughmusicfestival.org
Dancing with Dvorak
Peterborough Youth Orchestra, (including PYO Too and the Peterborough Youth Jazz Orchestra) will come together over the February half term – with a fantastic weekend workshop featuring Dvorak's Slavonic Dances. This special two-day event is once again led by conductor Robin Norman and is also scheduled to include a half day session with players from Britten Sinfonia. All local instrumentalists (aged 18 and under and playing at Grade 3+) are invited to take part.
The weekend course, to be held on Saturday 10 and Sunday 11 February at Ormiston Bushfield Academy, costs just £30.00 per person. ● For more details and application forms, contact
Community Orchestra Tunes Up
PYO's latest initiative, Peterborough Community Orchestra, offers a great opportunity for local musicians to pick up their instruments and join in with a group of like minded people making music. It is hoped that the orchestra will attract players of all ages, across a range of skill levels and disciplines, encouraging out-of-practice players, friends and families to play together. The emphasis will be on creating fun-filled rehearsals with the aim of presenting a concert at the end of each term.
Membership of the orchestra will be open to all musicians aged 14+ (including adults) and playing at grade 3 standard or above. Ten rehearsals will take place each term on a Wednesday evening, from 7.15-9.15pm, held at Ken Stimpson School in Werrington for the termly cost of £40. That's just £4 each rehearsal, or £2 per hour per person. There are additional subsidies available for 14-18 year olds, senior citizens and full-time students. The group's first meeting is planned for Wednesday 10 January at 7.15pm in the Music Room at Ken Stimpson Community School and the first rehearsal is due to take place on Wednesday 17 January.
To register interest use the online form found at https://goo.gl/forms/wVJaqmcBwhT4qnYy1  
River Nene Inspires Musical Journey
Nene is a new piece of music from composer Benjamin Till, who grew up near the river and was a member of the Northamptonshire County Youth Orchestra and County Youth Choir. The piece celebrates the people, places and history of the River Nene, and is based on two folk melodies: one from the Badby Morris Men, who hail from the source of the river and another collected by Vaughan Williams on the Fens. One section of the 25 minute piece is influenced by the Nene's approach into Wansford and along the Peterborough Steam Railway.
Following its premiere at the Royal Albert Hall in November, Northamptonshire Music and Performing Arts Trust, working with Peterborough Music Hub, will present a performance of Nene at Peterborough Cathedral – on Saturday 17 March, starting at 6.30pm. The Peterborough performance of Nene will feature a massed choir including children from six local schools. The programme for the evening will also include the premiere of a new piece written by Martin Bright for the Peterborough Centre for Young Musicians' Percussion Ensemble – Reeds Sway at Water's Edge.
● For further details and ticket information visit www.NMPAT.co.uk/Nene  
Young Musician Wanted
Pig Dyke Molly is a group of men and women who perform their own modernised version of a Fenland Tradition, Molly dancing. The group is seeking a new young musician to join them for the 2018 season. Pig Dyke Molly perform at both local and National Festivals, having performed in France, Ireland and the USA. Interest from violin, brass or woodwind players would be welcome. The group is seeking a creative performer, capable of playing as lead musician, when needed. There is no pay but the lucky applicant would be joining a great, friendly group – and have free tickets at some brilliant Festivals throughout 2018.
● Visit the website www.pigdyke.co.uk or contact Peterborough Music Hub for an introduction.   
Even You Song
Back in February 2017, local school children sang in the premiere performance of Even You Song, a new piece of music, inspired by an imaginary trip to the moon, composed by Cheryl Frances Hoad. A recording of the piece is now due for release from First Hand Records, with some lovely images of the performance in the CD booklet as well as the full libretto.
● CDs will be available direct from the Peterborough Cathedral Shop and from First Hand Records for £9.99 + postage. There is a link to their website here: www.firsthandrecords.com/products-page/album/cheryl-franceshoad-even-you-song/  
CPYE
The City of Peterborough Youth Ensemble (CPYE) is recruiting new members, with their spring rehearsal programme starting on Thursday 11 January. The group meets on Thursday evenings, during term time, at Ken Stimpson Community School in Werrington. The Junior Band session is from 17.00-18.00 for players at grades 1-3. The Concert Band meets at 18.15-19.15 and is for players at grade 3+. Prospective players can attend a free taster session.
● Visit the website – www.cpye.org.uk or email for more details. It's a brilliant way to meet new friends and be a part of making great music.
● To be part of the action and to find out more about the work of Peterborough Music Hub visit www.peterboroughmusichub.org.uk or email
Image: www.freepik.com/free-photo/girls-with-guitar_1462154
Leave a Reply