Peterborough Museum into 2023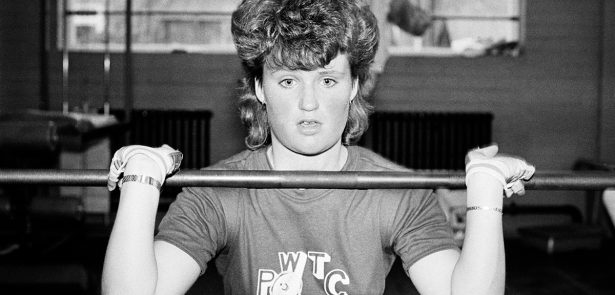 It's all going on... Peterborough Museum & Art Gallery presents a look ahead to its New Year exhibitions, events and more.
Exhibitions
New Town Youth 1985
Jan 21 to April 16 2023
New Town Youth 1985 is a documentary photographic exhibition that examines the challenges, hopes and aspirations of diverse youth groups who were growing up in Peterborough in 1985. The pictures were taken by award-winning news photographer Russell Boyce, who at the time was only 23 and fresh out of art college. Part-commissioned by the Peterborough Arts Council, the stories took a year to complete and the exhibition is the first time all the work has been exhibited together.
'In 1985, Britain was struggling out of a deep recession in "Thatcher's Britain". Unemployment was 11% and interest rates were over 11%. This generation of young people, myself included, had grown up in an age of uncertainty, one in five under 18 unemployed and homelessness on the rise. The concerns that young people had in 1985 all seem alarmingly familiar today. Despite all the challenges young people were facing, it wasn't all bad and I hope my pictures show this. I wanted to capture the hope, drive and passion that young people channel into their lives as they find their place in society. This is as true today as it was in 1985.' – Russell Boyce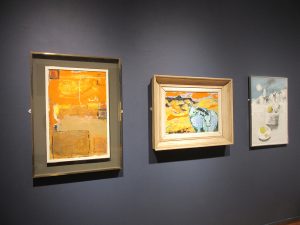 The Shape of Colour
March-May 2023
This exhibition draws together a selection of work from our own collections to explore the theme of colour. The work on show is part of the Museum's Ealand Warwick Bequest and includes renowned artists such as Patrick Heron, Mary Fedden, Julian Trevelyan, Henri Hayden and Josef Albers. The exhibition features works that span the 50s, 60s and 70s.
The Ealand Warwick Bequest is a personal selection of artworks brought together by Thomas Ealand (1916-1979) and Richard Warwick (1916-1989) who lived in Oundle, Peterborough and in Windsor in Berkshire. The collection was left to Peterborough Museum as a bequest from Richard Warwick as a valuable resource of post-war art up to the 1980s.
Community Treasures
Showcase your treasures at the Museum and tell their story! This could be almost anything that is precious to you; do you have something from your childhood, a present, something you bought on holiday, or a favourite book that has meant a lot to you? Do you have a hobby you want to tell people about? We would love to hear from you to be part of our Community Treasures. Anything you bring will be safe and secure in one of our Museum cases. The contents will be changed regularly.
● If you are interested, please contact us: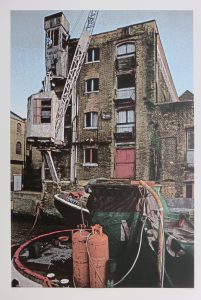 John McGowen: Trains, Boats and Cranes
8 Jun-16 Aug 2023
John McGowen has been making prints for over 50 years, working across the UK as both an artist and teacher. John taught at the Oundle School before retiring and continues to make prints in his own studio near Peterborough. This exhibition draws attention to architecture and industrial structures that explore the theme of lost heritage using a variety of image-making techniques.
Peterborough and its Branch Lines
19 Aug-15 Oct 2023
The railways arrived in Peterborough in 1845. The lines grew fast and within five years Peterborough was connected to north, south, east and west, becoming a hub of the railway network.
There are few other cities that have been so radically altered as a result of the railways. Peterborough's cityscape, the townships and key historic buildings, and structures such as the architectural marvel of the Crescent Bridge, Great Northern Hotel, the imposing chimneys
of the Kings Dyke brick pits and even the Museum – once the city's infirmary – are all testament to its railway heritage. The development of healthcare in the city was, in part, due to railway companies ensuring their workers who sustained injuries were properly treated and cared for.
Peterborough Museum & Art Gallery are working with partners to bring together an exhibition telling the story of the railways in Peterborough and some of its branch lines, through a collection of postcards, memorabilia, maps and photographs stretching back to the early 1900s.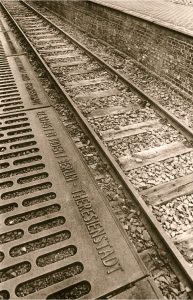 Absence and Loss
19 Jan-19 Feb 2023
In January, we will be marking Holocaust Remembrance Day with a free exhibition by Marion Davies, Absence and Loss.
Absence and Loss is a photographic essay based on Marion Davies' quest to further understand her family's heritage. The daughter of Jewish refugees who fled Nazi Germany, Marion felt a strong desire to visit Germany where her ancestors had lived for centuries. Struck by the number of Holocaust memorials,
Marion began to question how Germans of today are confronting and dealing with consequences of their past. The exhibition is presented through a series of photographs of Holocaust memorials.
With the issues surrounding the recent arrival of waves of refugees in Europe, the exhibition makes an important contribution towards examining the continuing relevance for us all of discrimination, prejudice, racism and extremism.
Alongside this exhibition we will feature objects from our own collection of Lotte Kramer, a former volunteer at Peterborough Museum & Art Gallery. Lotte was a poet and painter who started writing poetry to help her process the traumatic childhood experiences she faced in Nazi Germany, and being parted from her parents when she left for Britain on a Kindertransport train in 1939. Several objects have been gifted to the Museum by Lotte's family and these objects will be on display for the first time.
Community Exhibition space
We plan and programme our main gallery spaces two years in advance, which means it is difficult to offer space at short notice to artists and community groups. However, we now have two other options for exhibition space: our café space, and a community gallery on the first floor. Both these spaces give us opportunities to work with city- based artists, communities, and organisations.
The community gallery started with The Windrush – a project over six months which culminated in an exhibition of the Peterborough Windrush generation. It was closely followed by the Ugandan Asian exhibition celebrating 50 years in the city. During our Christmas period we will have communities sharing their Winter Festivals, including Christmas, Chinese New Year, Hanukkah, Diwali and Eid.
Our café space is ideal for smaller, local artist exhibitions – we welcome proposals!
● If you are interested, please contact us: | peterboroughmuseum.org.uk
More at the Museum…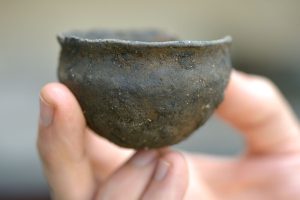 Must Farm Collection
In 2011/12 the discovery of the most extraordinary archaeological finds of the British Bronze Age, the Must Farm archive, were found three miles from Flag Fen. This unique and internationally important collection includes log-boats, weapons, textiles, beads, fish- traps, weirs, cooking and household items, a palisaded dwelling, and Britain's earliest wheel.
Must Farm dates back to the Late Bronze Age (1000– 800BC). Not long after the settlement was built, the roundhouses caught fire and collapsed into the mud and water below. Stunningly preserved, they give us a rare insight into the day-to-day life of the Late Bronze Age. Must Farm is often described as Britain's Pompeii. The entirety of the Must Farm archive was transferred to Peterborough Museum & Art Gallery Trust (PMAG) from Hanson, then owners of the archive. Since then, we have been working on ideas to show this internationally renowned collection at the Museum and Flag Fen.
For Schools
Peterborough Museum would love to help you with your history curriculum. And your science curriculum! And your art curriculum! The Museum has a range of school visits that cover 150 million years of history, and a range of topics.
At Peterborough Museum pupils can get hands on with history, using real objects from our collection to support children's learning through themed sessions. Alternatively, come for a self-led visit and use our spaces for your own teaching. The Museum can also run outreach sessions where we bring our collection and expertise to you.
● Get in touch with the learning team at the Museum on 01733 864731 to find out more about what we can do for you.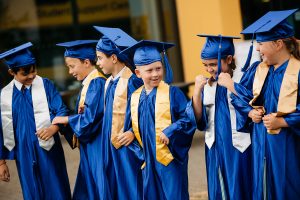 Children's University
Every parent wants the best for their children. Children's University is a charity run via schools that helps raise children's aspirations and broaden their horizons, to make a positive impact on their lives and open their eyes to as many different opportunities as possible.
In Children's University, children are encouraged to try different activities, develop new skills and enjoy new experiences. It rewards children for what they do in their spare time, including clubs, extra-curricular activities in schools, and visits to places like Museums, parks and other visitor attractions. More than 1,000 children across the city have already benefitted from extra-curricular learning experiences supported by Children's University, which is run from the Museum.
Children aged 5-14 can join Children's University, and it costs just £6. Activities are in school, local and national, so there will be an activity for you wherever you go. If you would like your child to take part, or you are a teacher who would like to sign up, let your school know about Children's University and get in touch with us. Or if you would like to sign up as a learning destination, let us know.
Contact Peterborough Children's University Manager on or visit www.childrensuniversity.co.uk
Escape rooms return to the Priestgate Vaults!
For the first time in two years, teams are being welcomed back to play immersive escape rooms in the atmospheric cellars below the Museum – the Priestgate Vaults.
In partnership with Escape Peterborough, Peterborough Museum have reopened two escape rooms – The Hunt and The Great Wine Cellar Swindle – based on the Museum building and its changes through time. Can you hunt for the hidden information about the King in Sir Humphrey Orme's Tudor House? Thomas Cooke has stashed away some valuable treasures in his Wine Cellar, do you have what it takes to steal them before he notices?
You will be locked in the room with 60 minutes to solve all of the puzzles to escape. Plenty of riddles, brain teasers and clues to work through, these escape rooms will be no easy challenge!
● Due to the nature of the environment and the difficulty of the games, these rooms are for family teams only, or groups of people aged 18 and above. For available dates and times, and to book, visit www.escape-peterborough.co.uk/book-now
Christmas Gift Shop
Running in conjunction with Winter Festivals, our special festive exhibition and gift shop is the perfect place to pick up a unique gift and support local artists, with a variety of handcrafted gifts from a range of artists in the city. If you need that perfect piece of jewellery, distinctive ceramics or original artwork and textiles, we have it all. The exhibition is free and runs from 26 Nov-23 Dec.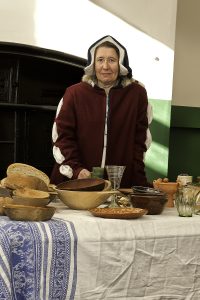 Meet the Tudors!
Events form part of the Katharine of Aragon Festival programme (see p.8 for more)
Tudor Peterborough Walk
Fri 27 & Sun 29 Jan, 2pm
Meets at Peterborough Museum Explore Peterborough's historic city centre with a costumed guide and find out what the city was like during the time of Katharine of Aragon. The tour then enters Peterborough Cathedral where you will hear about the funeral of Queen Katharine.
● Tickets: £7 adults, £5 under 16s via peterboroughmuseum.org.uk
At Home with the Tudors
Sat 28 & Sun 29 Jan, 10am–4pm, last entry 3.30pm
Travel back in time to the 1500s, with a chance to meet Tudor characters. Try out some Tudor food and find out about life for ordinary people in the sixteenth century. There will be family craft activities and you can take a taster tour of the Tudor vaults of the Museum.
● Tickets: £4 adults, £3 concessions, £12 families, under 5s free. This is a drop-in event, so there's no need to pre-book.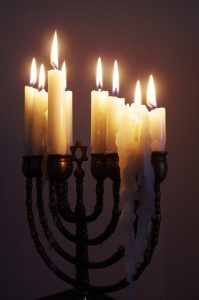 Winter Festivals
This winter, Peterborough Museum & Art Gallery will be celebrating Winter Festivals from 26 Nov-23 Dec. We will be highlighting festivals including Diwali, Hanukkah, Christmas, Eid and the Chinese New Year across our galleries, bringing together the wonderfully rich variety of the city's diverse cultural communities to celebrate.
This exhibition is curated with local communities, displaying winter at home with stunning decorations and lights. We will also be inviting visitors to add to our displays by making decorations and adding them to our Christmas trees. Craft areas will be available throughout the exhibition for visitors to get creative. Join us to enjoy the best of the season!
For updates on events, follow Peterborough Museum on social media – Facebook and Instagram @peterboroughmuseum – or check the Museum website at: peterboroughmuseum.org.uk
Leave a Reply