Peterborough Museum & Art Gallery: Exhibitions at the Museum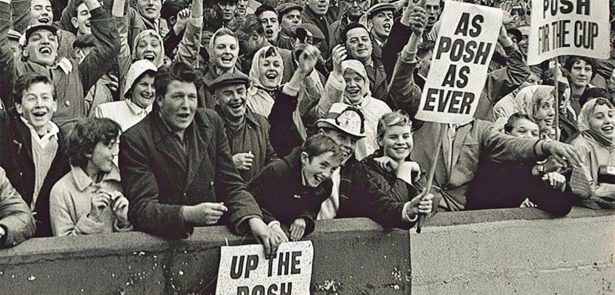 POSH
Peterborough United fans have something special to look forward to at an unusual footie venue: Peterborough Museum.
The upcoming POSH exhibition, opening on 18 June and running until 25 September, will look back at Peterborough United's 88-year history since the founding of the club in 1934, with chairman Jack Swain declaring "I think that with the revival of old enthusiasm in the city, Peterborough will ultimately find a place in the Football League". It brings the story right up to the present day with a look at the 2020/21 season that was largely played behind closed doors, and saw the club promoted back into the Championship, giving fans an insight into how the club functioned at this time with ever-changing COVID restrictions and the new challenge that all clubs faced of playing to empty stadiums. It also looks forward to what the club could be like in the future.
This will be a real family-focused exhibition. Football is often something that a family enjoys together, through multiple generations, where members of the community from diverse backgrounds make pilgrimages week in, week out to support their local club – and the exhibition reflects that.
With lots of activities for visitors throughout the exhibition, it aims to get fans involved in making sure the exhibition truly reflects what it's like to be a POSH supporter. The Museum is keen to hear fans' memories from the club, away days, and big wins!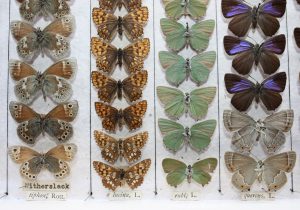 Extinction
This year's summer blockbuster at the Museum is Extinction running from 25 June – 6 November 2022. This will be an opportunity to learn about extinctions past and present in a family-friendly exhibition.
Extinction affects us all. In the UK, one in ten of our wildlife is critically endangered. Scientists have identified five periods of mass extinction over the geological record. The question is now being asked: are we in a sixth?
This exhibition will cover the demise of the dinosaurs and marine reptiles, death of the ice age mammoths and the impact of humans on the dodo. Climate change, asteroids and human action have all been recognised as contributing to past and current extinctions.
Highlights of the exhibition will include an almost complete plesiosaur excavated from the local Must Farm brick pit, which will be on display for the first time since its discovery in 2016. Get up close to bones from the ice age collections including woolly rhino and massive mammoth, and step into nature with the Museum's natural history collections.
Working with environmental organisations in Peterborough, this exhibition highlights the work of conservation in preserving our wildlife for the future.
So if you want to help save a tiger, hug a hedgehog or dance with butterflies, this is the exhibition for you!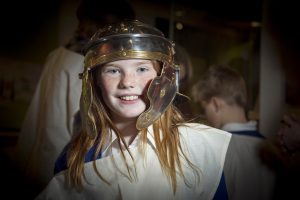 Schools at the Museum
What comes to your mind when you think about learning in a museum? Something old, dusty and dull? A school trip somewhere indoors when you'd rather be in PE?
Museum learning is not about that any more. Creating fun and exciting learning opportunities, and being interactive, is at the heart of learning at Peterborough Museum. School sessions bring history to life in many ways, through meeting characters, handling and interacting with objects, and exploring life in the past through creative learning.
There is a lot of 'past' to choose from in Peterborough. The history of the city, and of the Museum covers characters, events and people from the Jurassic times through to World War Two. Tudors feature, as do Victorians and Romans. In fact, there is a Museum learning session for almost every aspect of Peterborough's history.
When schools visit a museum for a learning session, the aim is not to lecture pupils with history, facts and information about the past. It's not a Victorian school – it's lucky the Museum was a hospital at the time! Hopefully pupils leave having learnt something new about the history and heritage of the place they live in, but there are many other skills to build on during a museum visit.
Skills like teamwork, listening and communication, presenting knowledge to each other and thinking creatively. Let's look at the Really Roman Day session… Pupils work together in groups helping each other, choosing and finding objects to understand life in Durobrivae, the Roman town that stood outside modern-day Peterborough. They act out visiting a Roman market stall for a real taste of Roman life, buying food for a banquet. Then they share with the class what they have learnt afterwards.
As well as these skills, a learning session at a museum can help other elements of children's development. So, there are many different benefits to learning in a museum. Encouraging curiosity, developing listening and questioning skills, building a sense of place, raising aspirations, breaking down barriers to accessing heritage, providing opportunities for imagination and growing confidence are some of the benefits of a school trip to a museum. An important part of learning at Peterborough Museum is to get pupils thinking about what they really know about the past. Challenging ideas and allowing students to ask 'why?' is a vital part of learning. Pupils can ask why the Museum has chosen certain objects to go on display, and what this tells us about the past.
The experience of being in a new environment, seeing new things and exploring new ideas is stimulating for young people. It can open up new ideas and new inspiration for them, and help children think in new ways about the world around them.
And it's not only history that the Museum learning programme covers. Science and maths skills are on show in sessions like Evidence of Evolution, and the Really Roman Day. Pupils can develop literacy skills, art skills, and more. Learning at Peterborough Museum connects these skills and shows how they are being used practically in our day-to-day lives.
So if you want to meet a Victorian nurse, a Roman, an Anglo-Saxon, or get up close to fossils or toys, or live like a washerwoman having a go on an old mangle, Peterborough Museum's school learning programme can give you all this. The possibilities for imagination are endless.
Peterborough Museum's learning programme has sessions ranging from Early Years and Foundation Stage up to Key Stage 3. Sessions available at the Museum include: Under the Jurassic Sea, Really Roman Day, Anglo-Saxons, Tudor Peterborough, Edith Cavell and Past Lives, Victorian Medicine, 10 May 1942: World War II, Evidence of Evolution, Toys from the Past, Homes in the Past, Story of Peterborough, and Crime and Punishment. Or schools can book an independent visit for a look around. Bookings can be taken for a school trip to the Urban Exhibition as well, until 29 May 2022.
However, it's not just about visiting the Museum. Peterborough Museum can come to schools, with an outreach session or a loan box. The loan boxes come with resources and information to help explore the objects, and the outreach sessions can give a taste of a museum session, with all the interactivity and learning from a trip to the Museum included – just in school!
To book a trip to Peterborough Museum please contact or 01733 864663.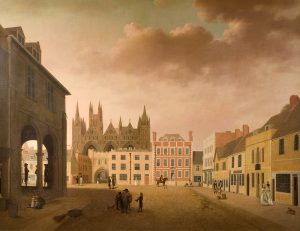 Talks and tours at the Museum

Discover secrets and surprises about Peterborough's past with a Hidden Heritage tour. This is the essential guide to the history of the city, and is perfect for both locals and visitors. The tour will give you a taste of Peterborough throughout time, from its Anglo-Saxon beginnings to the modern city.
Discover secrets and surprises about Peterborough's past with a Hidden Heritage tour. This is the essential guide to the history of the city, and is perfect for both locals and visitors. The tour will give you a taste of Peterborough throughout time, from its Anglo-Saxon beginnings to the modern city.
The tours take place around the city centre, so you can stand where history happened, and see the city in a new light. You'll learn things about Peterborough you never knew.
Or, if you're feeling brave, join a Vaults tour and explore the cellars of Peterborough Museum. They are the remnants of the Tudor building that stood on the site of the Museum until 1816. They have plenty of stories to tell, from the Tudor house they belonged to, to their use as an air-raid shelter in World War II.
And beware – the Vaults are one of the places ghostly appearances are known to happen…
If you can't make a tour, look out for our online talk programme. This season they explore graffiti through history, and what the marks people have left can tell us about their lives. After starting with a talk on archaeology and graffiti in March, there will be talks on the marks left by the Romans in April, and by farm workers in May.
Hidden Heritage tours take place on Saturdays at 2pm. Vaults tours take place on Tuesdays, Thursdays and selected Saturdays at 11am. Unfortunately, Vaults tours are not accessible, as the cellars are accessed by a steep staircase. Book for tours and the talks on Peterborough Museum website.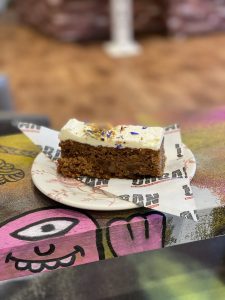 Urban Kitchen at the Museum
The Museum's coffee house had an urban takeover at the end of last year to launch the Urban temporary art exhibition. The coffee house was completely transformed, with street artist Nathan Nyces painting the feature wall with a new name – Urban Kitchen. He also added some local history to the exhibition by tagging street artists past and present on the pillars in the entrance of the Museum.
The Urban exhibition has been attracting new visitors to the Museum and the makeover aims to give them an immersive experience in a relaxed and welcoming environment, along with a new-look adapted menu to give more of a street food vibe – with plenty of vegan options.
One of the upcoming exhibitions will be Extinction (25 June-6 November 2022) and, as with Urban, this exhibition will spill over into the coffee house which will be going 100% vegan for the duration of the exhibition. It aims to encourage visitors to really engage with the topic, and to think about the choices they make when buying food and the impact that has on the environment.
The Museum is also replacing a lot of its gift shop stock with more sustainable products, bringing new and exciting ranges in for visitors. On top of that, they are training a member of the Museum team to become a carbon literacy champion to raise awareness of the carbon dioxide costs and impacts of everyday activities, and the ability and motivation to reduce emissions, on an individual, community and organisational basis.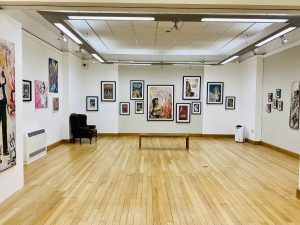 Venue Hire at the Museum
Peterborough Museum and Art Gallery is one of the city's most historic buildings, with original features from both Georgian and Tudor times. Alongside the galleries there is a variety of spaces available to hire.
The Museum's lecture room is a flexible space, perfect for either daytime or evening hire for meetings, seminars, lectures, workshops, and conferences. If you are looking for something more formal, the Squire's parlour is an elegant Georgian-style room modelled on the original décor of the Priestgate Mansion.
The Art Gallery is a versatile and multi-functional space, perfect for drinks receptions, meetings, and workshops.
Located along Priestgate, it is easily accessible through major road and rail transport routes.
Contact the Museum team for more details:
Leave a Reply