Peterborough and the Great War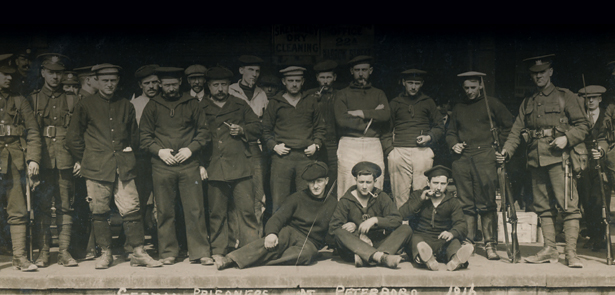 January 2016 saw the launch of Vivacity's www.peterboroughww1.co.uk – a website offering a unique insight into the lives of soldiers during World War One. The project is based around two guest books in a Peterborough station tearoom, in which travelling soldiers recorded their thoughts as they waited for rail connections to take them home – or back to the trenches. In addition to digitising and transcribing the many messages, doodles and poems in the books, the Vivacity project team (made up mostly of volunteers) researched each individual they could identify, piecing together amazing stories and uniting surviving family members with lost moments in their loved ones' lives. Toby Venables talks to WW1 Project Officer Beverley Jones about what the work has revealed, and the new exhibition that brings the books' contents to life
How did the WWI guest books come about?
On Christmas Eve 1915 ladies of WUTAC (Women's United Total Abstinence Council) opened a tearoom at Peterborough's East Station whose aim was to provide tea and comfort for men traveling through the station and also to dissuade them from going to the pub! It was open 24 hours a day, seven days a week. There was a kitty so if the men turned up without money they could still get something hot to drink and a bite to eat – and there were also visitors' books. There are two books that have survived from 1916 and 1917, so they include the period of the Somme.
What kind of information do the books offer?
They are a real snapshot into that period. We have this tangible bit of evidence, so we are able to say: 'On this day, this is where they were, this is what they were saying and this is how they were feeling'. They didn't all fill the book in with dates and times, of course, but because some did we can place the others in between with a reasonable degree of accuracy. And those messages vary greatly.Some are just a few lines of thanks, others a quirky joke, a comment about the ladies who were serving the tea, or banter between the men waiting for their trains – but you can begin to get a sense of who they were and what they were like. Some wrote poems or did drawings; some very witty, some quite sombre.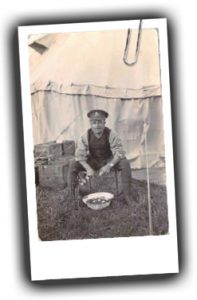 Private Luke of the Royal Army Medical Corps writes quite a sombre poem, for example. One talks about going home to have the honeymoon he never had. Others have written down addresses where they lived, comments about the food, comments about the army. You discover a lot in those few lines. The research period is now complete on each entry that we have, and out of the 593 names listed we have information on 366 servicemen – which is quite good, given that a large percentage of WWI records were destroyed in WWII. Also, the information in the book that we have started from has sometimes been quite limited – some simply signed themselves with initials or put something like: 'a farm boy from Essex'!
Who were all these men?
Some are training – a lot of them were with the Machine Gun Corps which wasn't very far from here, so they're passing through on the way to and from that. Some are coming from Norfolk where tank development is taking place. Some are going on leave. We have one fantastic account of a soldier who was interned in Holland, which was neutral, so he is home on leave but had to go back to Holland on a kind of gentleman's agreement when others were being sent to fight! It's a real mix. A lot of people assume it's just people coming home to Peterborough, and there are probably about 20 local men in there, but they are from all over the country, from as far north as the Isle of Skye, right down to London and beyond in the south.
Peterborough was, and still is a hub for people travelling by train – in fact when I've done presentations on it I've called it 'Just Passing Through' because that's exactly what they were doing! Also, it's not just servicemen, there are civilians as well. There are two policemen from Warwickshire, merchant seamen – even a crew of trawlermen who had been torpedoed and who wrote a fascinating account of their capture and their humane treatment by the Germans – a real mix of men from across the country and other countries too.
What other countries did they come from?
We've got entries from South Africa, Canada, Australia, Belgium and Ireland. Some of those Commonwealth soldiers from the UK had just recently gone out to those countries, and were coming back to fight for the Empire. Private Brettle, who will feature in exhibition, has a daughter alive in Australia who has been in touch with us. We've actually found quite a few sons and daughters still alive, which has been great. Joan Lacey and Freda Crewe came down from Lincolnshire. Their father was Private Drewery from the Machine Gun Corps. He survived and part of the reason he did was because he was from a potato farm in Lincolnshire. His father became seriously ill and needed help back on the farm so, while he signs our book in 1916 as he's passing through, by 1918 he's been released to return to the farm, and so misses the last few months of the war. His eldest daughter Joan took over the farm and ran it into her 70s, and Freda was a schoolteacher.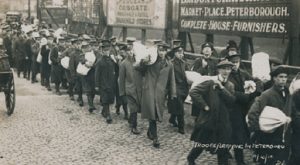 They were able to tell us a lot more about their dad after the war, and provide photos. There is a beautiful picture of him sitting outside a tent peeling potatoes! You can image they might have given him that job based on his experience… Joan and Freda, 91 and 87, both very sprightly, came down to see us and the BBC reported on the visit. They got to touch the book and see what their father wrote – 'Every cloud has a silver lining' – and they were both very emotional. Then we took them for a cream tea in Squire's Café at the Museum. They actually have diary entries that their father wrote during the war, so they're going to send those to us to add to his record.
What was the process for tracking down information on the entries and connecting with surviving relatives?
First of all, if we had a name, our researcher would look in military records to see if that name came up. Sometimes that's tricky, because it could be quite a common name, or they might have written it with a bit of a flourish. There was one entry that really flummoxed us for a while which was 'A GAY' and then 'GORDON' underneath, and it wasn't until we'd been looking for an 'A. Gay' for some time that we realised it was 'A Gay Gordon', because he was one of the Gordon Highlanders! But when we get a clear record, it's great, because it gives us a starting point. We also make the information available as we find it out, sharing on Twitter and Facebook in the hopes that someone might recognise a name or some other detail.
Joan and Freda read about it in their local paper when we launched the project, and we've had tremendous interest from TV and radio which has helped to get the word out. Bargain Hunt got in touch to feature the books on the programme which has recently aired. The website also remains there for people to look at, so they can still get in touch if they recognise a family member and tell us their story. Every entry has been transcribed as well as digitised, so people are able to click on the entry and read a transcription – because sometimes the handwriting is not that easy to read! You do also get a sense of different levels of education, with different styles of handwriting. There's also Scottish dialect in there, and a little bit of Welsh. I should add that the researchers and transcribers are all volunteers, and have done over 4,000 hours on this project. They're phenomenal! They just keep chipping away, and it's their hard work that has brought these results. I've just been the one providing the biscuits!
Are these books unique?
There are one or two other projects like this, but this is a fairly unique resource. The books themselves were at Vivacity's Peterborough Museum for a while before we realised what they were. They just looked like two very simple exercise books. Now they are digitised on the website so you can read through them with the originals having to be handled. There are over 590 characters in those books, each with a story to tell – some of whom we've found, some we haven't. Some of those stories are tragic, but some are not. There's one in which a wife gets a letter not long before Christmas saying her husband has been killed in action. Then she finds out he's not dead, but a prisoner – and he turns up on the doorstep on Christmas Eve!
We have a famous one, too. We had a Royal Flying Corps (now the Royal Air Force) pilot who died doing an aerobatic manoeuvre in 1923 – that was what his record showed – and who was buried up in Grantham. His name was Jaques, and when we researched it we found out he was actually Hattie Jacques' dad. So, we have been talking to her nephew about that. When we can get in touch with the relatives it can really open it up. We can get much more of the story and sometimes can put a face to the name. The nearest was in Stanground, just four miles away. We got in contact with a lady there who is the daughter of Private Alfred Davis, who actually signed the book twice. The first time he went through, he was Private Davis. The second he was Mr Davis, because he'd lost his leg and medically discharged, having been awarded the DCM – and then became a clerk at the railway station. She came in to see the book and talked to Radio 4 – and even met up with a niece who she had lost touch with – it brought about a family reunion. We hope there will be more like that! It's very much a social history, rather than a military history. It's not about the battles, but the ordinary people who were caught up in the war.
What can we expect to find at the exhibition?
The exhibition will focus on bringing some of those individual stories to life. It will be very atmospheric, playing with light and sound, using actors and projection to bring those stories alive. There will be sound posts, so you can listen to the messages they wrote. It will be very much about listening, as opposed to the traditional exhibition where you have to read lots of information, and we really wanted the accents and different ages and backgrounds to come across in the voices. There are also sketches in the books which we will bring to life on the walls and in light boxes, and we're hoping to recreate the tearoom through projection, with different characters in there.
There's been quite a growth of interest in family history, and especially this period. Why do you think that is?
There have always been people who are interested in researching their family history, but given that we're now marking the centenary of WWI, with the hundredth anniversary of the end of that war next year, that has made more people think about relatives who may have been involved. Because of the sheer scale it was on there will be very few families who were not affected in one way or another. Also, the death of Harry Patch, the last surviving Tommy, in 2009 was a pivotal moment for a lot of people – the passing of that first-hand oral history. I think often it's not until it's gone that you realise all the things you should have asked, and the people you could have spoken to – plus, of course, many people didn't like to talk about it, because it was such a traumatic experience for them. Hopefully this exhibition can allow some of those voices – so nearly lost – to speak out again.
'The Solders' and Sailors' Rest' – Stories from a wartime tearoom Vivacity's Peterborough Museum 20 Jan-8 Apr 2018 ● To find out more about the exhibition and other events, visit: www.vivacity-peterborough.com ● To read the entries in the guest books and read their stories – or search for relatives of your own – visit www.peterboroughww1.co.uk
Leave a Reply