Peterborough Cathedral's underground story…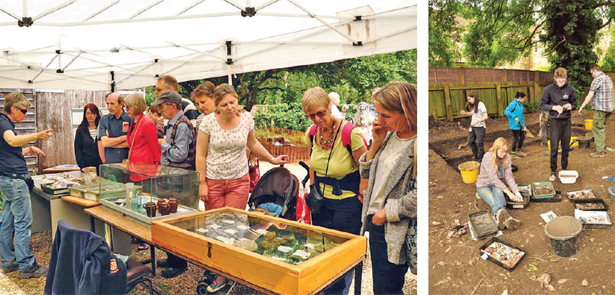 The 18th and 19th century Cathedral authorities who thought it was a good idea to back fill the inconveniently placed fish pond in the Dean's garden with 'rubble' from other parts of the site didn't make it easy for 21st century archaeologists
When the team from Access Cambridge Archaeology, and their numerous volunteer helpers, started to dig in the Precincts in June 2016, they discovered that the 'rubble' contained Roman pottery, medieval and post-medieval glass and all sorts of debris that had probably been moved from elsewhere on the site. This is not good news for archaeologists who would have loved to know where those Roman pots were originally placed, and where the medieval glass had come from.
Nonetheless, they did learn a great deal. Suppositions about the location of the burgh wall – the Anglo-Saxon defensive wall around the abbey site – were tested out, and information about the environment is being gleaned from a 'pollen column'. This is a core of soil taken from an undisturbed section of the site which is examined under a microscope to find out what kinds of plants were growing in that place in centuries past. Were they herbs, crops or trees and what does this tell us about how the site was used?
You can come and see a selection of the items found in an exhibition in the Cathedral Visitor Centre during April and May. These include Roman pottery pieces, some beautiful painted medieval glass and a collection of cream pots in good condition, dating from the 1910s and 1920s. It is thought that these were thrown out from the Deanery pantry when there was a change of Dean at around that time.
The exhibition will also look at the processes used to get as much accurate historical information as possible from the dig. The exhibition is well worth a look, especially for anyone who took part or who visited the site during last year's Heritage Festival.
● www.access.arch.cam.ac.uk
● www.peterborough-cathedral.org.uk
Discoveries
29 March-25 May
An exhibition in Peterborough Cathedral Visitor Centre
Come and discover more about the remarkable pieces found during the archaeological dig in the Cathedral Precincts in June 2016. They range from Roman pottery to medieval painted glass and early 20th century domestic ware. Find out what they can tell us about the site and its inhabitants down the centuries. ● Open Monday to Saturday, 10.00am to 4.00pm, and Sunday 11.00am to 4.00pm
The archaeology at Peterborough Cathedral in June 2016 was supported by the Heritage Lottery Fund.
Leave a Reply